Travis Scott Disappoints: The How and When of Rap Music
It seems that Travis Scott is the man of the hour, having performed at both the Super Bowl Halftime Show and the Grammys this February. This was certainly a notable moment in modern rap music, but nonetheless a disappointing one. I am a fan of the 26-year-old Houston rapper, but there is no question that he epitomizes the vulgarity, lyrical minimalism and gaudiness for which the "mumble-rap" genre attracts criticism. It's surprising, therefore, to see him on two such iconic stages.
But there is something about his TV performances that feels off. Travis Scott as a rapper is not celebrated for his lyrics or vocals, or for making particularly emotional music. He is celebrated for his energy, the rhythm of his beats, and simply because he is a figure loved by the youth. He cannot survive on such illustrious stages relying on the fame (or notoriety) of his songs alone — he needs to actually put on a good show. I think he failed to do so at either event. It did seem like he was having fun up there, and his performances were perhaps fun to watch, but they were far from good, and far from the quality expected at such big events.
On a TV screen, Travis's artistic expression and vibrant energy is lost in translation. It's lost in the artificial crowds that swarm him, the lack of talented, engaging backup performers, and frankly the sound system itself. Rap music is meant to be heard directly from speakers to ears — there is too much processing and filtering and sound design put into it on TV performances.
To his credit, Travis Scott was set up for failure at the Super Bowl when his performance of "Sicko Mode" was preceded by a 20 second tease of the Stephen Hillenburg Spongebob Squarepants tribute. I am sure that I am not alone in wishing that the Spongebob tribute was longer and incorporated more thoughtfully into the show. Yes, a longer Spongebob tribute would be silly and attract less viewers, but it would also be nostalgic, funny, and far more iconic than 3 minutes of "Sicko Mode." I say either make the Spongebob Tribute longer or take it out altogether.
The people accompanying Travis Scott on stage at both the Super Bowl and the Grammys, playing the part of "excited Travis Scott fans," were distracting and untalented. At the Super Bowl he was surrounded by a fake "crowd" of volunteers, and at the Grammys he had a group of millennials jump on and around a cage with him as he performed "No Bystanders." At the Grammys, a group of 50 or so millennials ran in, ready to mosh outside a cage for 3 minutes, jumping around in a cringe-inducing manner and catching Travis when he attempted to crowd surf. This awkward stage dive was less of a showy homage to punk rock culture and more of a half-hearted plummet into a group of 20-somethings.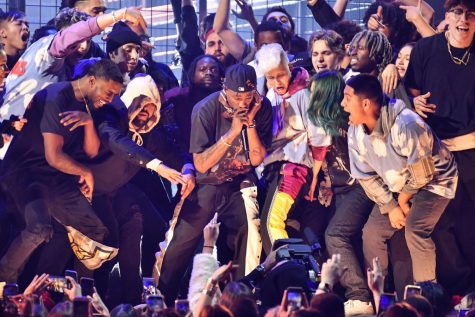 There were certainly redeeming qualities of each performance. When Maroon 5 joined Travis Scott with rock-band instrumentation, it produced a full sound that cleverly merged two styles and was a satisfying collaboration between the two artists. During "Stop Trying To Be God" at the Grammys, it was refreshing to see a rap artist like Travis Scott be given the opportunity to play a more soulful track and collaborate with big name artists. Yet, the concept, it seems, was better than the reality of the performance, which was lazily staged and performed.
Rap music can be performed well at nationally-televised events. Kendrick Lamar's 2018 Grammy performance was flawless and memorable. The stage design, costuming, and backup dancers were thoughtfully executed and eye catching. The back up dancers were phenomenal and incorporated well into Kendrick's set. He was even able to tie social commentary into his performance, which is certainly not necessary for a good performance but does add a layer of complexity to it. While Kendrick and Travis are certainly two different artists with different styles in terms of music and vision, Kendrick's performance reveals just how disappointing Travis's was.
I hope rap music is here to stay during big-scale televised events. However, for the sake of everyone, I hope the edges of live rap performance can be pruned before the next artist gets put on the big screen. And when that happens, I vote Young Thug.
About the Writer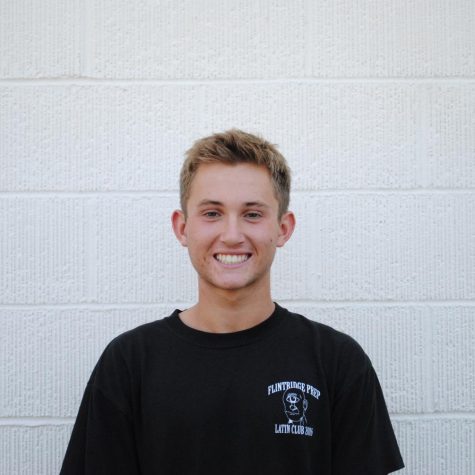 David Egan, Editor-in-Chief
Grade:  12

What do you like to do in your free time? In my free time I like to read poetry and play basketball.

Why are you writing for The Flintridge...