NBA As Leaders of Social Justice Movement in Sports World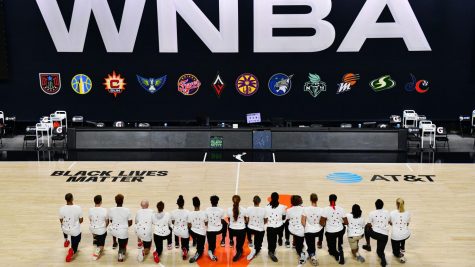 With the Black Lives Matter Movement resurging amidst social and political turmoil, players, coaches, and affiliates of the National Basketball Association (NBA) have emerged as proponents in the fight for change. Despite the idea that athletes–especially black athletes and those of color–are expected to "shut up and dribble," players around the league continue to prove that they are capable of much more than their abilities on the court. 
A multitude of NBA players, coaches, and managers marched to and demanded justice against racism and police brutality as protests consumed the streets of America this past summer.
With the 2019-2020 season put on hold due to Covid-19, the league's members were able to focus heightened attention on the current social climate. The most recent MVP Giannis Antetokounmpo was seen in Milwaukee preaching to protesters with a megaphone, while Russel Westbrook and DeMar DeRozan participated in rallies in Compton, California. Jaylen Brown, Damian Lillard, and Stephen Curry were also just a few of those who lent their voices and marched in solidarity. Those who weren't able to attend protests took to their social media platforms to amplify black voices and vocalize their support. 
Beginning July 7th, however, about half the league's teams and supporting staff traveled to what the NBA calls "the Bubble," in an attempt to resume this year's season. The players' homes for the next couple months would now reside in an isolated environment in Orlando, Florida, where top seeded teams and teams competing to clinch a playoff spot would arrive and begin preparing for scrimmages, seeding games, and the coming playoffs. But the activism was not left at the gates to the Bubble. In fact, one of the first statements was made as "BLACK LIVES MATTER," printed in large, bold lettering, embellished the side of the bus of the Toronto Raptors as they pulled in for the first time. 
When the first scrimmages had kicked off, the phrase "Black Lives Matter" could be spotted everywhere within the arena: on the hardwood court, on warm up attire, and on the backs of some players' jerseys. The association had allowed players to put social justice statements of their choice on the backs of their jerseys and as zoomed in shots of players were painted onto the screens of our televisions, phrases such as "Say Their Names," "Equality," "I Can't Breathe," and "How Many More" were distinctly read. 
Some were targeted at more specific issues, like "Education Reform." In addition, before each match, competing teams and staff alike linked arms and knelt as the national anthem echoed through the virtual crowd, protesting the contemptible institution of racism in America.
To bolster conversations addressing racial injustice, many players have devoted their media and press time to discuss current issues plaguing our society and to shed more light on the recent tragedies that have unfolded in the past months. As advocates for change, players like Lebron James, Alex Caruso, Marcus Smart, and Paul George have dedicated entire news conferences to talking about Breonna Taylor. 
When asked questions in pre or post game interviews, some players simply responded with a brief and frank statement: "We want justice for Breonna Taylor." Others have even criticized reporters for not asking more questions about current events. Some athletes have even banded together and held zoom calls seeking guidance from respected political figures, notably Michelle Obama, who spoke to them about the importance of voting. 
Another Zoom with about 40 players directly involved Breonna Taylor's mom, who was supposedly quite succinct and poignant with her tone, while there was a repeated outcry from others on the call on how they could help her and her family. 
Coaches in the Movement
Coaching staffs have also not been quiet in their roles off the court. Forming a union named "Coaches Against Racial Injustice" (printed on pins and worn every game), many have discussed the history of black lives and issues of race with their teams; Philadelphia 76ers coach Brett Brown led a conversation with his team discussing the recent death and legacy of John Lewis, the last of the living "Big Six" activists. 
Spontaneous Boycotts Cause Ripple Effect in Professional Sports 
But the most radical and unprecedented action taken thus far was the boycotting of multiple first round playoff games on August 26. Following the shooting of Jacob Blake in Kenosha Washington, Milwaukee Bucks players refused to exit their locker room ahead of their matchup with the Orlando Magic. Many players had been ambivalent on resuming the NBA season, pondering whether it was actually a distraction from the broader social justice movement. Fueled by frustration for lack of change, players decided to boycott their respective matches to bring attention to the larger issues at hand. The game was quickly postponed as were several other games scheduled for that night. A domino effect ensued throughout other professional sports leagues including the WNBA, MLB, and MLS, after athletes refused to participate in competitions. Tennis player Naomi Osaka also joined in on the boycott, tweeting, "Before I am an athlete, I am a Black woman, and as a Black woman I feel as though there are much more important matters at hand that need immediate attention, rather than watching me play tennis." Several hours later, Bucks guard George Hill and teammate Sterling Brown issued a statement calling for the justice of Jacob Blake saying, "For this to occur, it's imperative for the Wisconsin state Legislature to reconvene after months of inaction and take up meaningful measures to address issues of police accountability, brutality and criminal justice reform." The NBA's teams held a pensive meeting the next morning, seriously considering whether or not players were willing to continue with the postseason and if it was the right move. Ultimately the decision to go on was mandated but a renewed indignance had disseminated within the sports world. 
Members of the association across every field persist in their pursuit for equality, as organizing efforts only continue to develop and progress. In this crucial election year, the NBA recognizes the gravity in encouraging those who are able to exercise their right to vote and have declared all home arenas hosting each of the league's teams as voting stations for this November. It is imperative that we utilize such opportunities to demand the change that we are all so excruciatingly begging to see. Because ultimately, before athletes we are all humans, and humanity is precisely what we need more of in today's world. 
About the Writer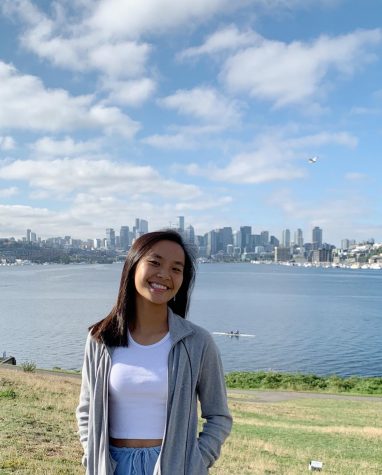 Ashlyn Zhang, Staff Writer
Grade: 11th

Years on Staff: 1

Why are you writing for the Flintridge Press? The Press gives me an opportunity to engage with the Prep community in...