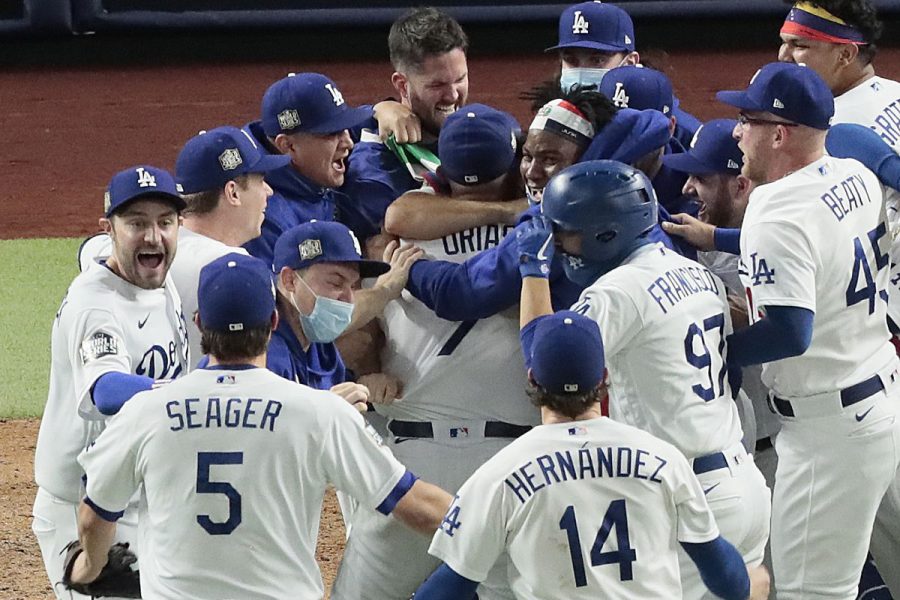 The year 2020 has been full of uncertainty and pain. In a year where so much has gone wrong, the people of Los Angeles can take refuge in one thing that has gone right: a championship for their hometown Los Angeles Dodgers.
For the first time since 1988, the Dodgers can call themselves World Champions. They officially brought home the Commissioner's Trophy with a 3-1 victory on Tuesday, October 27th, against the American League Champion Tampa Bay Rays.
Except for a couple of fleeting moments, the Dodgers dominated every step of the way. Clayton Kershaw and Walker Buehler were a combined 3-0 in the series, going a combined 17 ⅔ innings while only giving up four earned runs. The Dodgers' bullpen looked unhittable at times, with one surprising bright spot, Alex Wood, giving the team four innings while allowing 0 earned runs. That, coupled with a guy like Blake Treinen, who gave the Dodgers a huge save to close out the Game 5 win, cemented their place as a dominant postseason bullpen.
The Dodgers' offense nullified the Rays' vaunted bullpen. Their impressive showing was highlighted by World Series MVP Corey Seager, who went 8 for 20 with 2 Home Runs, and the backbone of this current Dodgers team, Justin Turner, who went 8 for 25 with four doubles and two home runs.
Guys like Turner made this Dodgers team a special one. Baseball fans will forever remember them as the team who defied all odds to win a championship amid a global pandemic. In the words of the great Vin Scully, "In a year that has been so improbable, the impossible has happened." Vin's words are as relevant today as they were in 1988 when he uttered them in the moments after Kirk Gibson's famous walk-off home run in the World Series. Yet this team will also be remembered for something else: how the front office compiled a group of 28 guys to reach a common goal. They can acquire and develop players who would have previously gone overlooked by other teams.
Now, the Dodgers are no strangers to spending money to get star players. They proved that with the signing of Mookie Betts to a 12-year extension worth more than $365 million. But what should not be overlooked is how this roster got value out of guys who might not be in baseball, if not for the strides the Dodgers made with their analytics department to reignite their careers.
Take a guy like Max Muncy, for example. He was released by the Oakland A's in 2017 and somehow found his way onto the Dodgers AAA team for the 2017 season. The analytics department seemingly unlocked something in Muncy, and he would eventually hit a combined 70 home runs in 2018 and '19. This season, he was their cleanup hitter and took some of the best at-bats in the playoffs for them. The Dodgers' analytic department unlocked his propensity to work the count and extend at-bats and drastically changed his career trajectory.
But any talk about under-appreciated players should not be had without the mention of Clayton Kershaw. Kershaw has had a rocky postseason career. Questionable managing decisions and fatigue in the postseason have plagued him. The narrative has always been that he cannot pitch well in the postseason, which could only be solved with a World Series ring. But his performance this postseason has silenced all of his critics. He went 4-1 with a 2.93 ERA and 37 strikeouts in 30 ⅔ innings. Now all the "pundits" and "sportswriters" can shift their Kershaw narrative to celebrate his World Series ring.
This Dodgers team has provided Angelenos with a reason to celebrate. In these challenging times, we need something uplifting to give us hope for the future. Hearing uplifting stories about people like Muncy and Kershaw speak to what can be accomplished when you persevere and work hard. And every Dodger fan for the rest of their lives can have the memory of the 2020 season when their Dodgers won the World Series and brought joy to all of Los Angeles.