A 2019 Playlist From Our Seniors
Hang on for a minute...we're trying to find some more stories you might like.
At the start of every year, Spotify sends its listeners a round-up of last year's music and suggests new music they might like for the new year. The songs we blasted in the car, or carried us through late nights: we leave them behind with the memories of the previous year for new songs. Fresh music, whether it be the angst of rising teen artists or oldies-but-goodies bops, keeps us on our toes and bonds us with friends of the same music taste. Most importantly, the soundtrack will set the mood for 2019.
Below, we've curated a playlist with the help of 10 of our seniors with a focus on the underrated or forgotten classics. What began as an idea stolen from Spotify turned into a wild list of songs so diverse it ranges from alternative to rap to country. As I listen to each new song and their distinctive feels, I vibe my way back in time or immerse myself in the present, and find the  initial surprise playlist's randomness fade away. The wide spectrum of music comes from the incredible individuals on campus who all have their own kind of music to offer. Take a listen and maybe you'll fall in love with one song or the whole variety too.
---
"Almost (Sweet Music)" by Hozier.
"It's got fun and interesting instrumentals set against his powerful and emotional vocals." -Emily Jacobs '19
"Butterflies" by Kacey Musgraves.
"I chose this song because it is my favorite off her album Golden Hour. The lyrics are perfect and I love how it's dreamy and easy to listen to." -Hope Codiga '19
"One Night" by Elvis Presley.
"Elvis Presley is the King of Rock and Roll, and deservedly so. "One Night" is by no means an underrated song, as it was quite popular, but it is somewhat lesser known than Elvis's huge hits (Jailhouse Rock, Hound Dog, Love Me Tender…), while still perfectly capturing the essence of the birth of rock and roll." -Evan Anderson '19
"Blackout Control" by Spendtime Palace.
"I think I like it because it just feels so 90's. It's my favorite type of music, mixing this sense of nostalgia and classic rock together to make something that doesn't feel like it's really from this era." -Sebastian Evans '19
"Right Now (feat. Pi'erre Bourne)" by Playboi Carti. *contains explicit language
"I chose "Right Now" by Playboi Carti featuring Pi'erre Bourne because the song comes really close to musical perfection. The beautiful production complements Carti's relaxed vocals to make a song that always satisfies. One of Carti's best songs for sure." -Miles Yamamoto '19
"Lucy" by Still Woozy. *contains explicit language
"I feel like it's a song that I can play in a lot of different situations, like I love driving to it but it's also a great song to listen to when I'm doing art 'n' stuff. Also I think it has a pretty good mix of sounds – it's not too poppy but it's still got a kinda catchy beat to it." -Caroline Wreszin '19
"Boom Boom Pow" by The Black Eyed Peas.
"I've been listening to this song frequently because it reminds me of when The Black Eyed Peas first released it and my mom and I would jam out to this in the car or at my house. As I start this new year, I'll be leaving to college and it's just a sweet memory to have of my mom when I'm gone." -Valentina Martinez '19
"Fallingwater" by Maggie Rogers.
"It's just such a serene song— kind of a mix of indie pop and folk music. It's beautiful!" -Emily Alameddine '19
"Movie" by Tom Misch.
"When I first heard this song, I thought the intro and the idea were really cool and unique. Overall, I just think it's a beautiful song, and I love the vibe too!" -Kyla Kikkawa '19
"Honesty" by Pink Sweat$.
I first started listening to this song fall of 2018, and I still love playing it in the car. It's so simple with the single guitar in the background, but with his falsetto vocals on top, it's just the right balance to set you in a happy mood. It's one of my favorite R&B songs, and anyone who likes Daniel Caesar and that calm atmosphere would appreciate this too. -Claire
About the Writer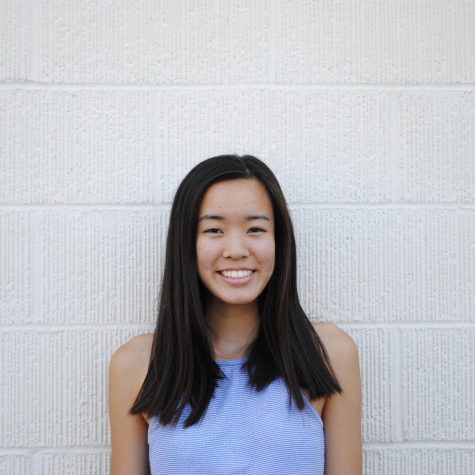 Claire Liu, A&E Editor
Grade:  12

Years on Staff:  2

What do you like to do in your free time?  Oil painting, learning arrangements and new pieces on the piano, reading...