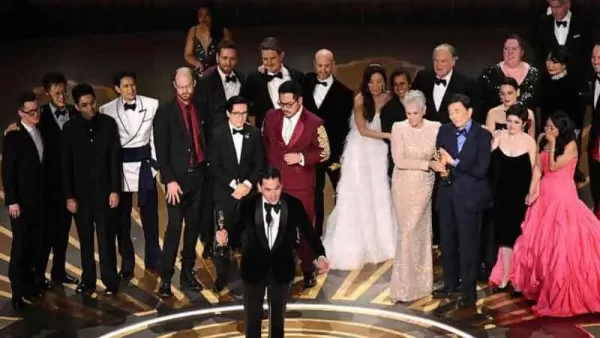 The 95th annual Oscars took place on March 12th at the Dolby Theater in Hollywood, celebrating the incredible talent of the film industry. It also marked the one-year anniversary of a notorious moment that broke the internet: Will Smith's infamous slap. The incident caused a scene at last year's show, and since then, Will Smith has apologized twice and been banned from the Academy Awards for the next 10 years. Chris Rock recently addressed the incident in a Netflix stand-up special a week before this year's show. 
Despite the drama of the past year, the Oscars picked right back up again with Jimmy Kimmel returning to host the show for the third time. The event showcased numerous films and talented individuals from various fields, including acting, cinematography, and costume design. Brendan Fraser won best actor for his moving performance in "The Whale," while designer Ruth E. Carter won for her costume design in "Black Panther: Wakanda Forever." One of the most notable moments of the night was "Everything Everywhere All at Once," a comedy-drama film sweeping through the awards with an impressive 11 nominations and winning 7, including Best Picture. Michelle Yeoh was recognized for her exceptional performance and won Best Actress in a Leading Role, while Ke Huy Quan received Best Supporting Actor. Jamie Lee Curtis, a long-time Hollywood figure received the award for Best Supporting Actress as well. Additionally, the co-directors of the film, Daniel Kwan and Daniel Scheinert, were honored for their outstanding work and received awards in both the Original Screenplay and Directing categories. The Oscars had many memorable moments for viewers, including Ke Huy Quan's moving speech about his rise to fame after spending a year in a refugee camp. Quan's  screen debut was at a young age when he played minor roles in "Indiana Jones and the Temple of Doom" as well as "The Goonies." Quan stated in his speech, "And somehow I ended up on Hollywood's biggest stage. They say stories like this only happen in the movies." Quan expressed deep gratitude and joy for receiving the award, highlighting the journey he has taken from being an overlooked child actor to winning an Academy Award. 
Nonetheless, it wouldn't be the Oscars without special appearances and performances throughout the night: Rihanna's performance of her Oscar-nominated song "Lift Me Up" from "Black Panther: Wakanda Forever" electrified the crowd and viewers alike. Lady Gaga also gave a unique performance, ditching her usual extravagant outfits, instead singing "Hold My Hand", a song featured in "Top Gun" in jeans and a T-shirt.
While the Oscars have always been the most cherished and prestigious event in the industry, it would be naive to deny that the people, actors, and movies are changing. The Academy consists of roughly 7,000 people who are deemed as "motion picture" professionals and are the ones who make these decisions on who should win the award. People, specifically younger generations, no longer respect the Academy as much, and the lasting image is not as impactful and respected as it was 20 years ago. This change is partly due to the numerous flaws prevalent in the Hollywood industry, extending beyond just the Oscar awards. Other award shows like the Grammys also exhibit a lack of diversity and representation, which highlights the Academy's favoritism towards specific individuals while often ignoring problematic media coverage and allegations against them. Additionally, a significant contributor to the change in Hollywood's culture is the eruption of the #MeToo movement in 2018 which brought to light the negative stigma surrounding Hollywood and its propagation of stereotypical gender roles in society. This movement catapulted Harvey Weinstein's sexual assault allegations into household conversations across America, prompting a demand for change within the industry and accountability for those in power. Speaking up and shedding light on this long-standing issue, which had previously been dismissed or hidden, became a refreshing yet challenging norm for people to come to terms with.
Ultimately, in Hollywood, viewers and outsiders have always complained and pointed fingers at the big awards shows including the Emmys, Tonys, and Grammys, claiming that they are too long, the Academy is not diverse enough, or the films themselves are either too woke or not progressive enough. Furthermore, the credibility of the Academy Award board, responsible for selecting award recipients and nominations, is in question. It is now commonplace for fans and celebrities to flood social media after every major award show, expressing their opinions on who was unfairly overlooked or "robbed" of an award. While backlash has always existed, people are now more vocal than ever, undermining the image and power held by the industry.
As society has progressed, standards and perspectives have shifted, and people's tastes and preferences have changed. An issue with the Academy is that people are not producing
 the same types of movies as they were 20 years ago. Many miss the classic star-studded cast designed to be viewed on the big screen, striking cinematography, and memorable musical scores. They want seriousness without cinema being too complex, as well as films that appeal to a wide range of mature adult audiences. However, the long-standing desire for classic old Hollywood-style films that were once beloved by many is gradually diminishing. Nowadays, directors and writers are taking a different approach to the classic movie genre. The old-style films that our parents used to watch while growing up are not as prevalent anymore. Even when directors attempt to revive these old styles, such as early 2000s rom-coms, they often fall short and disappoint audiences. While some people miss these types of movies, others, particularly younger generations, are open to this new era of film where new actors are being showcased and stepping out of the generic mold of a movie.
In recent years, a new trend has emerged in the film industry in which modern issues are being approached in more creative and unique ways. As a result, the conventional films that used to dominate our screens are slowly being replaced by a broader and more diverse range of cinematic experiences. This shift is allowing for a wider showcase of talent and themes, bringing attention to important issues that were previously overlooked.
The Oscars, once the pinnacle of film awards, has faced a significant decline in recent years. Controversies have decreased ratings and accusations of elitism have tarnished the awards' renowned prestige. While the Academy has made efforts to address these issues, it remains uncertain whether the Oscars can reclaim their former glory as the preeminent film awards show in the world. Furthermore, the very concept of award shows themselves may become relics of the past if the elitist Hollywood culture that often accompanies them persists.