A Closer Look: What Will Hybrid Learning at Prep Look Like?
As we near one year of living with the COVID-19 pandemic, you may be wondering when it will be safe to return to campus and what that return will look like. As of now, the end of the pandemic seems indefinite, and LA County's cases remain too high for a return to campus.  Yet, hope is on the horizon with the discovery of two 95% effective vaccines. LA County schools are currently in the process of researching and designing models for hybrid in-person/remote learning on the assumption that they will become feasible in the next few months. This hybrid model will be used during the transition to a full return to campus.
Prep's COVID-19 compliance team, composed of administrators and faculty, has been meeting once a week to discuss protocols for a hybrid return to campus. Prep has already begun the process of implementing necessary changes to protect our community's health and make the return as safe as possible. In an interview, Ms. Cooper, Assistant Head of Academic Life, and a member of the compliance team, stated that the school has already purchased five mobile UV-C machines (disinfectants that can deactivate viruses), and that the number of cleaning staff has been increased. She also said that the school will be installing openable windows and fans in classrooms in order to increase the air exchanges per hour. Another safety measure that will be taken is limiting the number of days students will be doing in-person school. In a typical A-E or F-J week, students will likely be on campus for two block days or three non-block days and at home for the rest of the week. Mr. Fritz, physics teacher and Assistant Curricular Coordinator, also stated that safe, in-person learning at Prep will consist of a lot of the things we are doing now in our everyday lives, such as maintaining physical distance and wearing masks. Some social aspects of Prep may not look the same, such as lunch, which will be socially distanced with tables that have a specified number of people per lunch table.
Perhaps the biggest change will be the number of students allowed on campus at one time.  When asked about the amount of students and faculty that will be permitted on campus to maintain social distancing, Ms. Cooper said, "We wish we could have each student back on campus all at once, but it likely won't be possible with the physical distancing requirements." She then went on to say that LA County guidelines are currently allowing 25% of students to return to campus, gathering in small cohorts outdoors, in order to meet students' social and emotional needs. Prep has interpreted this to mean that in December, one class at a time (all sophomores, for example) will be able to return to campus and meet outside to socialize. The school continues to hope that a greater number of students may be able to return to campus for academics sometime in January.
Although the future remains unclear, the Prep faculty have been working tirelessly and are optimistic about efforts to get students back in school. Mr. Fritz said: "Something that has been really heartening to see this fall is how hard teachers at Prep are working–planning over the summer and spending extra hours grading. There is a greater connection between Prep faculty and educators (in LA County) that has been forming." These educators have been discussing not only safety but also ways to ensure students partake in the community and have a sense of belonging in school. Models have been created to bridge the online-learning and in-person learning groups and create relationships between the two. 
The faculty have also taken into consideration the confusion that may come from hybrid learning and have been thinking of ways to ensure clear communication and a functioning hybrid model. "As a teacher," Mr. Fritz said, "in this [hybrid] situation we would have to analyze what went well, what didn't go well, and build off that. There's lots of support coming from the administration and colleagues on this, but some of the best feedback we get is from students. Whether it be a class survey or hearing from students directly, there is nothing better." 
Ms. Cooper went on to add that other educators have said that in their experience, hybrid learning can be tricky but having students back on campus is a magical experience. She discussed the excitement of having students back on campus and concluded with, "This is who we are as a school. Particularly at Prep, we are a community." 
About the Contributor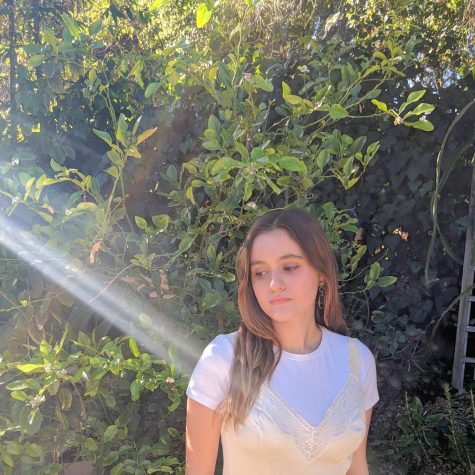 Devon Davila, Opinion Editor
Grade: 12

Years on Staff: 2

Why are you writing for the Flintridge Press? 

I am passionate about the events occurring in the world and how they...