"Bringing Your 'A' Game": An Interview with Mr. Roffina
Mr. Roffina is a beloved world history teacher at Flintridge Prep. During his twenty-seven-year tenure, he's stepped into numerous roles as the Director of Outdoor Education, a cross-country coach, and a lifeguard instructor, as well as a minister, his first vocation. In or outside the classroom, his warmth and sense of humor strike the hearts of those around him.
In this conversation, Mr. Roffina touches on his early life, time at Prep, and plans after retirement.
Audrey (A): What were you like as a kid? 
As a high school kid, I was kind of a goofball. I wasn't a very good student. I loved sports. I loved drama. I loved all sorts of stuff related to the fun part of school. 
I didn't really become a serious student until I got into college, but once the light bulb went on, I was good. I got straight A's at UC Santa Barbara in history, which even surprised me! But I'm good at history. 
Isaac (I): What was it like growing up in the '60s and '70s, and how do you think these times impacted you?
The '60s and '70s were a great time of commotion. I started high school towards the end of the Vietnam War and in fact, during my first year of college, I was in the draft. I wasn't drafted, but I was actually in the draft.
Socially and culturally, it was a time of enormous change, and it was a challenge for everyone. A challenge for parents and a challenge for kids. There's never been another time like that. 
A: Did you always know that you wanted to be a teacher? Or were you drawn foremost to the ministry? 
Well, I was drawn to the ministry because I really wanted to work with kids. I had thought about teaching, but I was first and foremost a minister. However, I consider what I've done here as maybe the best ministry I've ever had and I've totally enjoyed twenty-seven years of working with students. That's been a crown jewel for me.
I: Did you have any mentors that helped you decide that you wanted to be a minister and a teacher?
I had mentors that helped me decide to go to Princeton Seminary. And I had a few mentors when I started my ministry. 
I've had lots of mentors here at Flintridge Prep. There's no one still here because all of them have retired, but I had a lot of good friends that showed me the ropes and I feel like that's what I've been doing with Abel Fuentes. Bob Loughrie, Glen Beattie, Vatche Hagopian, Alex Rivera…Gosh, there were a lot of people who were really kind to me and let me know how things were supposed to work at Prep.
A person who was teaching here said, "Why don't you ask to be a sub?" And this isn't the right way you become a sub here, but I just called Peter Bachmann and said, "I'd like to talk to you about becoming a sub." And he said, "Well, I'd like to meet you." 
So I came in. He offered me a sub position on the spot. And I'm thinking, "Wow, how did this happen?" Well, of course, the person who recommended me had given him an earful, and a couple of people who knew me that were here vouched for me.
So I was in fast, and I was a sub for about a year and a half. Then they offered me my first title, which was Director of Human Development and I served in that position. I have always done outdoor education. I've done American Red Cross life-saving and first aid for ten years now. I'm an instructor, but the key to this whole thing is really my relationship with students.
A: What classes have you taught during your time at Prep? 
I've only taught ninth-grade world history. I happen to love ninth graders because I think it's a really transitional time. Not as much for the students that have been here since seventh grade, but it's a big new world for new people.
I: Do you have a favorite topic in world history?
You're experiencing my favorite topic right now in class. I've really focused on religion and got into that because even though I am a Christian minister, I really believe that all religions deserve a fair shot and a fair hearing. I believe that all religions have something important to say about who we are, what our purpose is, and how we should act. That would be my specialty, but I've enjoyed the Middle Ages. I like ancient Australopithecus hominids. I like it all. I'm passionate about ancient world history. I don't know much about anything after 1450.
A: I'd like to bring up a hallmark of your class. What was the inspiration behind Fabulous Fridays? 
Dan Hare, who used to teach here, said to me one time, "Well, we just finished Thankful Tuesday." And I said, "What's that?" And he said, "Well, we just go around and say what we're thankful for."
So I thought, "I think I'm gonna do Fabulous Friday." I've been doing Fabulous Friday for 15 years, and I think it's a nice way to end the week. I have one section that never meets on Fridays, so they get Terrific Thursdays. 
It doesn't seem like a big deal to have a cookie and watch a wacky video, but it's a nice way to end the week. I'm sure you remember some of the videos I showed. 
I do remember the Little Debbie cookies.
Yeah. And we've gone through about fifteen Farmer Dereks. Did I have Farmer Derek with you? 
All the time!
It's just a nice way for us to be together. I have former students from ten years ago who will ask me what's the latest on Fabulous Friday. It's really fun.
I: Do you find that your experience as a reverend guides how you approach teaching, and vice versa?
I think having a pretty long experience with parishioners and churches and preaching has guided me to some degree in terms of the way that I communicate. In terms of the way I try to drive a point home, I've become a better and better teacher, because the more you do it, generally the better you get.
And again, I want to come back to how I believe that every time I walk through this door that it's game on and that the students deserve the very best from me, in terms of my attitude. Bringing your "A" game to your classes is very important to me.
A: Do you have a favorite memory that you've made at Prep?
One of my favorite memories is and will always be winning the first state championship for the girls' cross-country team. I coached for nineteen years and participated in lots of state championships. I was honored to coach for three consecutive state championships and winning five CIF championships is also sort of a hallmark.
I loved taking young people who really knew nothing about the sport and turning them into really first-class runners. I have a lot of good memories of the cross-country team and I have always coached to get the best out of the best and to encourage the person who's in the back to keep going. There aren't many girls' cross-country programs that were as big as ours, considering the size of the school. That really encouraged competition, but also a sense of pride in what you were doing. That's a big deal for me. 
I: Outside the classroom, you've been involved in many things, like cross-country, outdoor education, and lifeguarding. What drew you to these activities? 
As I've said, my greatest joy is working with students.  Many of the activities I've been involved with were opportunities that fell into my lap. 
I've been in outdoor ed for almost fifty years. My latest activity is lifeguard and CPR training, which just sort of happened. I hired someone to be an instructor for lifeguarding and he got seriously ill about twelve years ago. And he sort of was in the process of being ill for a long time, and he had to drop out seven or eight years ago.
I went to the business office and I said, "I don't know what I'm going to do." And Kim Kinder said, "Well, I have a good idea. Why don't you become an instructor?" So I kind of got roped into that one, and I'm happy I did because I really enjoy it. It's a skill set that very few students have. But once you get the hang of it, you know you can not only make money, but you could feel really good about yourself.
I'm leaving the classroom but I will continue to be here in various other ways. Probably going to stick around as a sub, definitely as a Red Cross instructor, and likely with Outdoor Ed programs.
A: Could you touch more on your plans after retirement?
Whether or not this all pans out, I plan to have my dog Freddie and I certified so we can be visitors at a local hospital. I've met with the principal of an elementary school near my house and plan to volunteer there. I think I'm going to do a lot more camping with some of my good friends. I'm going to catch up on all the reading I've missed in twenty years. I only really read novels in the summer and now, I'm going to have a chance to sit and just catch up. I've got a stack of books that I haven't read. I bought them, but I haven't read them. My wife and I also look forward to traveling.
I mean, things have a way of working themselves out. Just when you think nothing's happening, that's when the school may have a special job for me, or that's when a church might need a minister for three months. There's a lot I'm capable of and I want to make some of those choices now while I'm still really healthy. Right now I feel the best I've ever felt, but I'm going out at a good time. 
It wasn't a simple decision to want to leave the classroom, but I feel like it's a good decision for me. I'm leaving feeling really good about what I've done. I have great students. We've come out of COVID and returned to our humanity to some degree. The hardest thing I've ever had to deal with was Zoom and teaching at a distance, and the seniors were the ones who I went out with. 
That's why I'm glad I'm going on the senior trip because I feel like our lives have really changed. I feel like the current class I had is alive. They know how to work hard again. All the habits they lost because of Zoom have resumed and it's good to go out feeling really good about stuff. That's the long answer to what fun I've had.
About the Contributors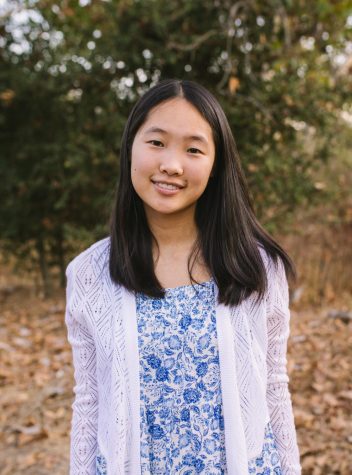 Audrey Jung, Assistant Editor
Grade: 12

Years on Staff: 4

Why are you writing for the Flintridge Press?

To address issues relevant to our time, to express ideas through writing,...
Isaac Jung, A&E Editor
Grade: 10

Years on Staff: 3

Why are you writing for the Flintridge Press?

I've really enjoyed researching and writing for the Flintridge Press...