Sandra Cisneros, Critically-Acclaimed Author Of The House On Mango Street, Visits Prep Virtually
On Wednesday, September 9, the Prep community was honored by the virtual-Zoom-'visit' of award-winning Chicana novelist and poet Sandra Cisneros. Cisneros is the author of The House On Mango Street, which was part of PrepReads, the mandatory reading curriculum for the entire school this past summer. The House On Mango Street is a short story that explores a variety of themes: identity and belonging, Mexican/indigenous culture, community, coming-of-age, and socioeconomic status. Now, 36 years post-publication, the novel has become a staple of many English curriculums across the country. It is lauded for its honest exploration of the struggles of growing up, especially for those who are socioeconomically disadvantaged or feel like an "outsider." Cisneros and her co-producer Derek Burnell are currently revising the story with the intention of turning it into an opera. She has been a consultant on sets, costumes, lighting, and score for the opera, as well as on the plot and characters for the tv-series inspired by the novel. Cisneros said that she deeply enjoys the process of converting her stories to new mediums.
Cisneros also reflected on elements of her childhood and upbringing which influence her writing. She discussed how she felt a lot of shame growing up as a shy girl in the 60s, and how insecurities regarding her intelligence, among other things, forced her to confront many demons. She refers to her art as a form of catharsis or therapy, and strongly advises her audience to tackle upfront what she dubbed "heart-wounds." Furthermore, Cisneros suggested that Prep students try to find an artistic outlet to cope with these issues. Cisneros analogized art to compost: over time, with the right conditions, marinating negativity would transform into fresh perspective and positivity. As a writer, she is strongly influenced by fairytales she read as a child, especially in The House On Mango Street, and cited Hans Christian Anderson as the first author that made her cry. She promotes indigenous spirituality in a lot of her work, and describes some of the characters in her novel as 'shamanic.'
Cisneros also provided her valuable insight on what she believes is the best mindset to adopt in regards to the global challenges that are currently unfolding. According to her, the lockdown in response to the COVID-19 pandemic is not actually a "lockdown"–instead, it is a "time of sanctuary." As a writer, she views solitude as a gift, and claims she is happier at home in her self-declared "convent of one." Her intention with her work is to create an intersection between immigration and poetry, and she tries to further global awareness with her writing, especially on issues of migrant work and gentrification. In regards to protests over the Black Lives Matter movement, Cisneros is thrilled–she believes it is the "most wondrous time to be alive," because protesting and taking advantage of human freedom and voice is extremely valuable to her. She concluded her webinar with a writing prompt: journal ten things nobody knows about you, and confront whatever 'demons' you face personally. The Prep community was extremely grateful for and honored by Sandra Cisneros's appearance, and hopes to hear from her again in the near future.
About the Writer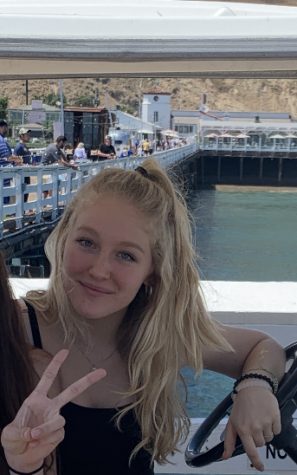 Natalia Schmitter-Emerson, News Editor
Grade: 11

Years on Staff: 2

Why are you writing for the Flintridge Press? 

Writing is my biggest creative outlet--I also believe in inspiring...