Trump Tests Positive For COVID-19: How It Effects The Upcoming Election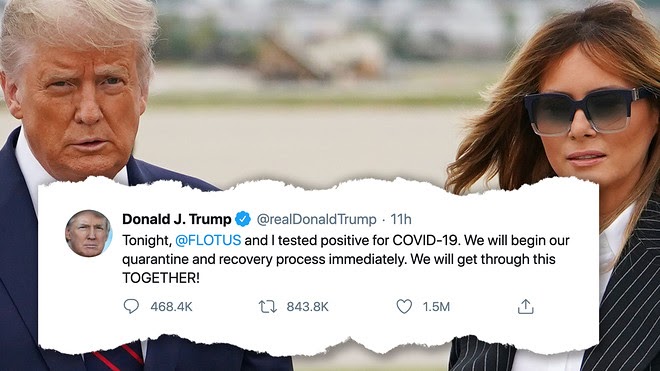 President Donald Trump announced via Twitter on October 2nd that both he and First Lady Melania Trump tested positive for COVID-19. The news came after it was discovered that Hope Hicks, one of Trump's closest advisors, also tested positive for the virus.
In the days following his positive test, President Trump was transported to the Walter Reed National Military Medical Center, the hospital reserved exclusively for presidents, war heroes, and Supreme Court justices. At age 74, President Trump would be considered to be in the "high risk" group of Americans with regards to mortality rate with the virus. Trump, however, remained in Walter Reed for just three days before returning to the Oval Office. A big factor in shortening his stay was the elite treatment and staff that was administered to Trump as soon as he arrived. President Trump's physician oversaw his treatment during his time at Walter Reed. During his stay, Trump received "multiple coronavirus tests, oxygen, steroids and an experimental antibody treatment" according to a report from The New York Times. Based on that same report, the total cost of that treatment would have amounted to upwards of $100,000 for the average American with the current healthcare system.
Trump's positive test put a delay on many of the rallies that he had lined up throughout the month leading up to the election. It also caused the cancellation of the second debate between Trump and Democratic nominee Joe Biden, which was planned for October 15th. This came after Trump and his camp rejected the idea of a virtual debate, an idea proposed following the cancellation of the second in-person debate. The result was two separate town halls for Trump and Biden, both of which aired on October 16th.