A Crash Course on La Cañada Black Lives Matter: Raising Awareness, Reforming La Cañada's Policing, and More
LCBLM has been protesting for over 35 weeks. La Cañada Government hasn't made changes.
It's in the low fifties on January 24th in La Cañada, CA, but even in the cold, the La Cañada Black Lives Matter protests are out—for the 35th week in a row. Kaz Lust, one of the group's leaders, tells me that it all started shortly after the murder of George Floyd, when two of the four co-founders attended a Downtown LA protest early on. They were shot at with rubber bullets, and decided that they didn't want to compromise their safety to make change.
So in the summer of 2020, they formed La Cañada Black Lives Matter, or LCBLM. The founders, four college graduates native to the town, still wanted to protest after their Downtown scare, so they changed their sights to their hometown and set out to make a local impact. "We're trying to bring awareness and representation to La Cañada, which is obviously very affluent and white." Kaz, who is a person of color, tells me. "We realized no one here would have to face what was happening sociopolitically."
Kaz is right. According to the U.S. Census, La Cañada is roughly 60% white, 30% Asian, and less than 1% Black or African American, not to mention that the average income is $188,067.
LCBLM later asked that it be clarified that "…our community was insulated from the voices of the BLM movement. That said, we still definitely have Black and POC community members who face systemic racism and discrimination, and we want to emphasize that we are here to fight for and alongside them."
Kamden Gray, another protester, told me, "We're working in La Cañada to show Black people and people of color that there's love for them and people here are fighting for them."  He held a sign that said "Black Lives Matter," saying "having [this sign] is something residents here haven't really had before."
The group's activism didn't stop at protests. A driving force in their work is police reform through abolition , specifically La Cañada's contract with the Los Angeles Sheriff's Department (LASD). Kaz tells me that La Cañada is one of the cities contracted by LASD, since there's no individual police station. "We put together this paper and presented it to the Safety Commission, first by email, and they put together a task force (two people from the safety commission) they did research and put together their own document where they interviewed us, the sheriff's department, and a pro-police organization that formed in retaliation to us being here." The initial paper was thorough and clear. It listed two demands: defunding the contracted police station and terminating the city's contract. It then proceeded to outline why this was needed and how to do it, complete with statistics and accounts of LASD's history of misconduct.  The pro-police organizations they're referring to are Save Our Sheriffs (SOS) and Sheriffs Appreciated, Friendly, and Engaged (LCF-SAFE).
LCBLM then released an 18-page follow-up paper citing LASD's reports of racism and sexism, reemphasizing the institution's misconduct, with the goal of "making La Cañada an even safer community." According to the LASD quarterly report, "there were over 20 instances in which an LASD employee was not discharged after being reported for behavior or inappropriate comments regarding race, sex, or gender in 2019 alone." This paper was partnered by a petition that demands "terminating the contract with LASD and investing in equitable alternatives", which as of publication date has 480 signatures. They shared it with the city's public safety commission.
The public safety report Kaz referred to began by asserting that La Cañada was not a racist city. The main argument was that, in a city where the majority of crime was robbery, traditional police were necessary. LCBLM's demands were briefly listed, but their reasoning was not divulged. The group was presented as disorganized and aimless, with the report reading "The LC BLM did not articulate an overall goal or outcome for consideration"…after listing their goals.
 The next section was a meeting recap with the pro police organizations. One of the groups' speaker said that LCBLM was "not reflective of the city's intents" and "personally harassed the sheriff on social media." SOS and LCF-SAFE also pointed out that the majority of LCBLM are "recent high school graduates, current college students, and/or non-residents of the city", which is simply false. The group's four college graduate organizers were all either raised in La Cañada and/or live in the city currently.
A discussion with Crescenta Valley Captain Todd Deeds was also summarized. He mentioned the extensive training LASD officers go through (the academy takes 197 hours to complete, equivalent to 1.2 weeks straight of training), and the commitment to diversity the institution has (it's 9% Black and 18% female; 8% of academy training is dedicated to cultural diversity training).
The report spent less than 300 words on LCBLM, 406 words on SOS and LCF-SAFE, and a whopping 834 words on their discussion with Captain Deeds.
The city's response was passive aggressive. What the report missed was the true intentions of LCBLM: to address racial issues of La Cañada, support people of color in the community, and create a policing system that didn't support an institution with discriminatory histories.
During the formation of the public safety commission's report, one of the LCF-SAFE leaders was Jeremiah Arnold, a known opponent of the La Cañada High School Diversity and Equity Initiative who later ran for school board. LCF-SAFE allegedly blocked the group on social media, refusing to speak with them. LCBLM stated that "it has been made clear to us that 'LCF SAFE' is not interested in facilitating productive conversations about public safety and seems to instead be more interested in defaming and silencing our voice and movement."
I talked to Erin Lust, a protester with a sign that read "ABOLISH LASD." "I think it's really important for people to know that a lot of police departments like LASD are incredibly harmful to Black communities and communities in general. Especially in places like La Cañada, we don't really need that kind of policing. It's important for people to realize we're not saying we don't need police, we're saying that abolishing instead of reforming is what's important. If we create a new system, we won't have any of the issues of the old one. Trying to reform it has only created more issues." She continued to clarify that policing was still necessary, but her sign was more jarring for most people.
Mid-interview, Erin and I were stopped by a man with a megaphone who shouted "All lives matter" repetitively. The protesters were unphased, yelling right over him and laughing. This was nothing new. Backlash ranged from incidents like this to thumbs down, middle fingers, and comments like "F*ck Breonna Taylor." Once, a man exited a nearby restaurant yelling "All Black babies are bastards."
"There's a lot of frustration I feel when people say all lives matter as a response to our protest," Ella, another protester, said. "Of course they're saying all lives because they're made uncomfortable by our assertion that Black lives matter." She continued with passion. "It's not that we're putting Black lives above everyone else, it's about leveling, it's about equity, equality. Saying all lives is decentering Black lives."
The group has also received positive responses. Throughout the protest I attended, most cars that passed by gave a thumbs up or a few honks. In one of their earlier protests during the summer, almost 600 people attended. The people of this city care, contrary to SOS and LCF-SAFE's beliefs.
The protesters shared the belief that the existence of all law enforcement is not the issue; the law enforcement institution that the city supports is. LCBLM sees the contract as the upholding of a corrupt institution, paralleling the sentiments of  "All Cops are Bastards." This notorious phrase, also known as ACAB, is to communicate that the policing institution as a whole is corrupt, and that those who work for it are choosing to work for a corrupt institution. This is not to be confused with desires for a non policed, lawless state.
The alternatives to LASD outlined in some of LCBLM's petitions include specified task forces to deal with non-violent crime and the formation of a La Cañada specific public safety system. The desire for a local alternative is nothing new—local residents have been campaigning for one for years. According to the LA Times, citizens have expressed frustration with the shared Crescenta Valley Station as early as 2017, with one woman stating "We need our own local La Cañada police department. If we had that, I believe we would be safer."
I moved over to another protestor, El Mark, whose sign read "LA CANADA WAS BUILT ON WHITE SUPREMACY." "It's for people to have a spark of a question about what the history of La Cañada is," they said. "There's a lot of history that is anti-black."
Although no online records show that La Cañada specifically had concrete racist laws or practices, neighboring towns Burbank, Glendale, Pasadena, and San Marino were sundown towns until approximately the mid 20th century.  A sundown town is a place that outlawed Black and sometimes Hispanic people after dark. It's not impossible that La Cañada itself was a sundown town, but it is not yet registered in the academic archive I researched. You can look through that archive here.
All the protesters shared a sense of desire for improving the community and moving forward. I asked El about why they came out each week. "I got to know the young people in La Cañada, and I felt that it could be better." They continued, "All the kids here have so much potential and I feel like the environment is such a bubble. The kids here are so powerful…I felt things needed to start changing."
This is not an easy feat in a conservative republican stalwart. The city publication, The Outlook, has covered the city response to the district's new Diversity and Equity Initiative and these protests. The September Letters to the Editor featured things like, "It appears that those advocating the diversity plan in our schools are more interested in teaching kids what to think rather than how to think," and an implication that the DEI's conclusions were comparative to totalitarian communism. A quick Google search will tell you that both comments came from white men, the first a retired Los Angeles Sheriff. Not an easy crowd.
LCBLM's approach to their issues has been nothing close to amateur. The group went through the city council and exercised their right to assembly and speech, even emailing the mayor and city council members directly and respectfully. In an email to Mayor Micheal Davitt, LCBLM alerted him that they had never received a formal response to their demands. They asked for another meeting to discuss what they believe is "the city's racist legacy". While that terminology can be incendiary, the LCBLM continued to emphasize collaboration over argument. Mayor Davitt replied with a brief message, communicating that he thought the conclusions by the aforementioned public safety commission's report were sufficient. He reiterated the group's demands and told them they were impossible to complete, only agreeing to meet if those demands were modified.
This ongoing conflict is just skimming the surface of the ongoing dissonance between La Cañada's local government and their population. LCBLM is perceived as the "loudest" group of troublemakers, lacking concrete goals. La Cañada is a quiet bubble, and LCBLM intends to pop it for the benefit of their community. As of publication, Mayor Davitt has not replied to my requests for a comment.
"When the cooler heads prevail and you can really see someone's perspective, you can really feel what the real meaning is behind protesting." said Matthew, a protestor. Their Instagram can be found at @lacanadablm. Their linktree with the aforementioned papers and petitions can be found here. Their website can be found at https://www.lacanadablm.com.
Sources
https://outlooknewspapers.com/signs-depicting-hate-speech-spark-debate/#more-27478
https://outlooknewspapers.com/lcusd-diversity-ideas-prompt-dissent-calls-for-caution/#more-26734
https://outlooknewspapers.com/letters-to-the-editor/
https://www.census.gov/quickfacts/lacanadaflintridgecitycalifornia
https://sundown.tougaloo.edu/sundowntownsshow.php?state=CA
https://www.neighborhoodscout.com/ca/la-canada-flintridge/crime
http://www.city-data.com/income/income-La-Canada-Flintridge-California.html
https://www.latimes.com/socal/la-canada-valley-sun/news/tn-vsl-me-council-20170413-story.html
https://www.instagram.com/lacanadablm/?hl=en
About the Contributor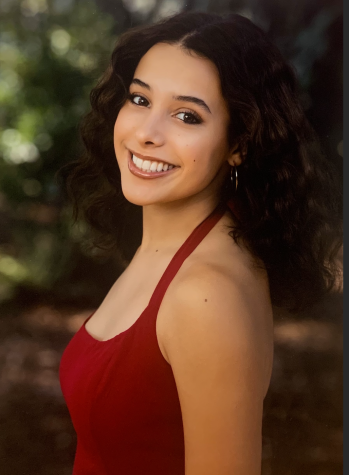 Dri deFaria, Editor-in-Chief
Grade: 12

Years on Staff: 3

Why are you writing for the Flintridge Press?

The Flintridge Press gives me an opportunity to showcase my voice as...