How a Bring Your Own Device Policy Would Impact Prep
Hang on for a minute...we're trying to find some more stories you might like.
This month Prep's faculty has been discussing the possibility of enacting a Bring Your Own Device (BYOD) program starting in Fall 2019. This program would require students to bring their own laptops to Prep everyday. As students and faculty debate over the academic and social impacts of BYOD, it's important to look at what brings us here in the first place.
As other private schools have adopted the program in recent years, the pressure for Prep to follow suit has grown.  Prep has made changes to its technology before-OnCampus is a fairly recent example-but BYOD would change the academic and social environment at Prep, with both short and long term impacts.
Proponents of BYOD argue that the program would increase technology use in the classroom. For example, during English classes, students could peer-edit each other's essays using Google Docs or collaborate on presentations during class time. BYOD would create less hassle for teachers trying to schedule computer lab times in the library. In the 21st century, technology skills are essential, and using laptops on a daily basis would help students practice these skills. Proponents for BYOD would argue that with the increasing presence of technology in our lives, BYOD is the future for Prep. After all, Mr. Bachman pointed out in a class discussion that nearly 75% of students own personal computers.
However, BYOD may cause of myriad of academic, technical, and social issues. While the transition to a more online-based learning is a welcoming feature for some, for others doing schoolwork on the computer is confining. For instance, many students have expressed a preference for handwriting their notes and reading on a physical textbook. In the classroom, the presence of laptops can be a temptation for distraction, whether it's watching a show on Netflix or working on a different class assignment. Additionally, a laptop in every backpack can pose a security threat for Prep students during games and other school events. The flexibility in laptop use among different teachers and classes can create scenarios where students are carrying an extra 4-5 pounds on their backs for 5 hours just to work on an assignment for 30 minutes. New rules will have to be made on when and where laptops are and aren't allowed. Healthwise, prolonged computer use can cause eye strain and muscle fatigue. Although Prep would provide financial aid towards purchasing laptops, the laptops will be an extra expense for many families.
Although there are factors to BYOD that no one at Prep can control, such as the changes to our technology, the impact of BYOD will depend greatly on how willing students and teachers are to implement laptops in and out of the classroom. One teacher may assign homework on Google Drive and have an online textbook, while another may ban laptops in class. The debate around BYOD is a reflection of the larger debate around how we should treat technology in our lives: a tool, a distraction, or both? As we move further into the digital age, Prep will have to balance the benefits and drawbacks that come with this change.
An interesting, immediate effect of BYOD would be a redesigned library. With every student owning a laptop, the computer labs, as well as the computers on the second floor, would be removed. Personally, I enjoyed using the computers in the library, but I'm also curious as to what Prep will do to the new space. Prep could use the new space as study rooms, or perhaps as spaces for club meetings.
BYOD has also been implemented in many companies, where results have been mixed. According to Tech.co, while BYOD allows greater workplace flexibility and productiveness among some students, it has also caused security issues.
About the Writer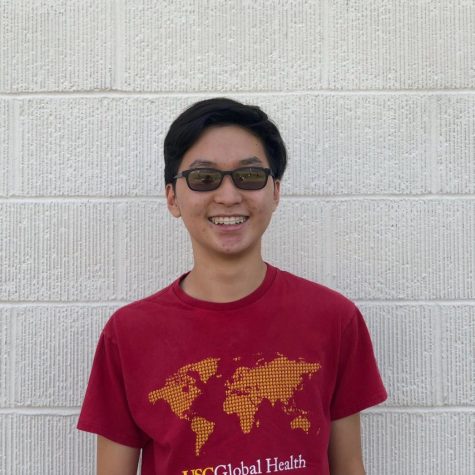 David Kim, Opinion Editor
Grade:  12

Years on Staff:  2

What do you like to do in your free time?  Read, play tennis.

Why are you writing for The Flintridge Press? ...