Top Nine Reasons to Foster or Adopt a Shelter Dog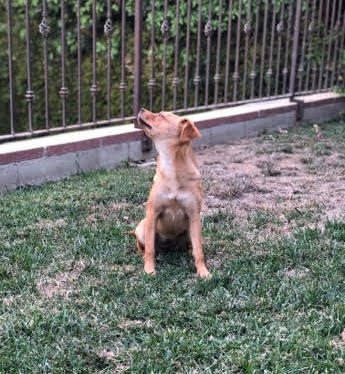 Hang on for a minute...we're trying to find some more stories you might like.
Most of us couldn't imagine life without our pets. The amount of love we feel for our pets is tremendous. There is nothing we wouldn't do for our furry friends! For those who don't have pets, however, caring for another being can seem like a huge burden that keeps us from taking the plunge. Shelter dogs carry the unfortunate reputation of coming with lots of problems. For those of you still on the fence, here are my nine reasons to foster or adopt a dog that compelled me to foster (and then adopt) a shelter dog for my CIP:
#1. These animals need us. In the U.S. alone, 670,000 dogs are euthanized every year. Euthanization is often called "mercy killing."  It's done when there aren't sufficient resources to keep an animal alive and when nobody is willing to take one of these helpless dogs into their home for even a week or two. Of the 3.3 million dogs that enter shelters each year, it is truly awful that nearly a third of them are killed.
#2. Our bodies need these animals. We all need exercise, and sometimes P.E. class just doesn't cut it. There are many ways that having a dog can keep you in shape. Brisk walks obviously keep the heart pumping, but playtime does as well! Maybe you burn a calorie or two every time you throw that ball for your four-legged friend to fetch. It's a win-win.
#3. So do our minds. In addition to the physical benefits of having a dog, studies show that those who take care of dogs experience boosts in their mental health as well. According to Psychology Today, dogs have been shown to both dramatically decrease stress levels of their owners, and help maintain healthy blood pressure. Pets also help older people recover from heart attacks, and prevent lifelong depression in teens.
#4. Fight cruelty. You may not have heard of a puppy mill, but it is a place where dogs are bred to create new and "improved" puppies. Think GMO pups. These dogs are treated horribly, handled inhumanely, and bred against their will, just for breeders to make a profit. By fostering or adopting a dog from a shelter or rescue organization, you can help stop this vicious cycle of cruelty.
#5. Support and give hope to volunteers. Volunteers who work at shelters are just that, volunteers. They wouldn't be helping animals if it wasn't their passion, or at least something they really cared about. So, when you adopt a dog from a shelter, you're giving these volunteers hope; hope that their work is paying off and that these dogs will have a better life because of them, rather than being put to sleep despite all of their hard work and energy. Just think about that for a second. When was the last time you were actually able to give someone hope?
#6. "Man's Best Friend." All throughout history, dating back hundreds of thousands of years, dogs, cats, mice, lions, and the hundreds of other animals that roamed the land have been described as fantastical friends. Before iPhones, televisions, and all of the other distractions we have today, animals of all kinds were a main source of entertainment. However, dogs specifically have earned the name "Man's Best Friend." Whether you think it's due to their behavior, unique personalities, or loyalty, they are definitely deserving of the name.
#7. Economics. According to Forbes, a purebred golden retriever from a decent breeder can cost upwards of $3,000, excluding vaccinations, toys, food, treats, vet visits, and basic training. On the flip side, adopting or fostering a shelter dog cost can cost as little as $30, and in many cases, absolutely nothing. Many shelters are also willing to pay for dog food, bedding, spaying/neutering and treats. So you can save that $2970 for… college?
#8. We need to interact with other species. These days, since we are all so engrossed with whatever has popped up on our phone at that particular moment, we are slowly becoming completely unable to interact and relate to other people, let alone animals. It is extremely important that we, as humans, learn to relate with other species so that we can continue to learn compassion and help make this world a better one for the next generation. Having a little pupper trotting around your home each day is a fantastic way to practice this. Otherwise, if humanity as a whole continues to distance itself from inter-species connection, what hope is there?
#9. Building a sense of family and community. Lastly, by adopting or fostering a dog, you are able to reach a community that you wouldn't otherwise access. The animal community! When you see a person walking with a dog, you understand the experience, and on some level, you and that person are connected through your knowledge and care for your animals.
Help to spread awareness, support this cause, and remember to give hope in any area of your life. You can help thousands of homeless dogs by simply telling your friends about the horrible situation these animals or in. I also strongly encourage you to consider fostering or adopting a dog from your local shelter, because it really does make a difference.