What is it Like to Teach Online?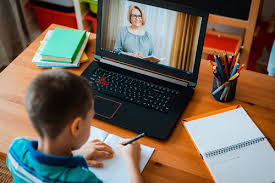 It's no secret that we aren't living the "high school experience" that we imagined. The days are stretching into oblivion like a strand of lukewarm sugar pulled from a microwaved candy cane. For many, it has become difficult to find the motivation to put energy into schoolwork. Our teachers are one of the only things keeping us grounded. 
Being a teacher under normal circumstances is hard enough, but ever since the COVID-19 lockdown, they have been forced to adapt and change their teaching style to fit the limitations (and sometimes opportunities) of online learning. And not only do they have to stare at a screen all day– they have to actively keep entire classes occupied for an hour or more, often without being able to see or hear them. Despite this morbid reality, teachers have found a variety of ways to bring a spark of life back to their classrooms. Mr. Fuentes uses "Harkness Seminars, debates, and simulations in order to bring history to life." Harkness Seminars prioritize open communication and discussion, which allows students to help each other learn. Ms. Burton has been making good use of engaging virtual learning options like "Padlets, polls, filling in Google docs," and more. She also brings her signature good cheer to class, and usually starts the day by "checking in and joking around" with her students. 
After months of online school, teachers have somewhat adjusted to the new system, but it still can be difficult. This is definitely true for Ms. Cooper: "Thinking back to last spring, every day online felt like a juggling act. Now it still does, especially when there are lots of tabs to keep track of, but the routines have fallen into place. I really miss seeing the kids in person, though." Ms. Burton also expressed the difficulty of online teaching, explaining that she has "a newfound empathy for social media influencers — that's a lot of energy to bring to a camera in an empty room!"
Teachers have expressed gratitude for their students' avid participation–Ms. Cooper mentioned that "students in [her] classes have been willing to participate and be curious, especially during weekly current events discussions, so much that it sometimes feels like we're all in the same room together." Keep it up, Ms. Cooper's students! 
There are also some things that students can do to make life just a little easier for their teachers. As Ms. Burton so bluntly put it, "Stop online gaming!" It may be a struggle, but saving it for later would be much appreciated as teachers put a lot of work into preparing and teaching their lessons each day. 
Even though staying completely focused on school this year can be difficult, it's important that we all, as members of the Prep community, seize moments of inspiration that we can find and put that energy into our classes. Amongst all the chaos, stress, and procrastination that the year has brought, school can give us a few normal moments of connection that are reminiscent of a pre-pandemic world.