Prep Football Off To Hot Start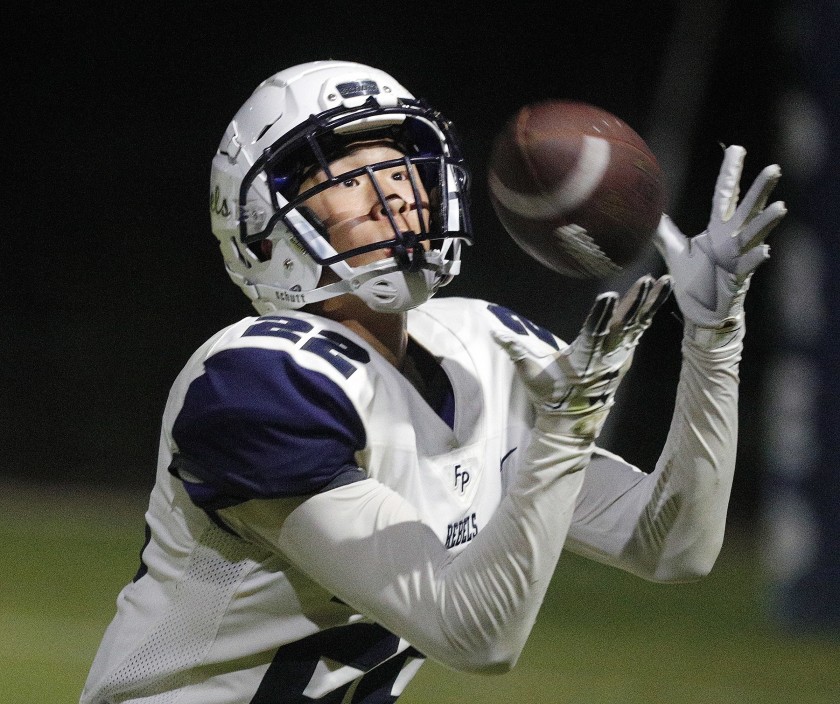 The Flintridge Prep football season is underway, and the Rebels are poised for a strong run. The Rebels started the season with a great first win over Hesperia Christian with a score of 51-8. By the end of the first quarter, the Rebels jumped out to a 23-0 lead. Tommy Porter '21 ran for a 13 yard touchdown and Ben Grable '20 scored on a 24 yard rushing touchdown. The defense also dominated the Hesperia offense and even forced a safety. The Rebels, offensively, were incredibly efficient, outgaining Hesperia Christian by 193 yards despite attempting 20 fewer plays. Despite the offensive firepower, the defense still came ready to play. They held Hesperia to 80 total yards while forcing two interceptions as well. Porter was optimistic in regards to what showed promise in the first game and what he is looking forward to for the rest of the season from the team,"It was impressive the way the whole team meshed together from the very first snap and just played so well together…It also showed us that no matter what happens we will be prepared for anything."  The Rebels continued this dominant trend into their second week of play with another emphatic win over Sage Hill. Once again Prep started strong by creating a 21-0 lead in the first quarter, who was led by Ben Grable's '20 two touchdowns. The Rebels defense turned in a great performance as well, forcing 2 interceptions and 1 fumble. Sage Hill was only 1 of 11 attempts on third downs, doing a fantastic job of getting the ball back into the hands of the offense. The offense has been led spectacularly so far by quarterback Max Gitlin '20. Through the first two games, Gitlin has amassed 235 yards through the air as well as 7 passing touchdowns while completing 75% of his passes. Wide receiver Zach Kim '21 had high praise of his quarterback when speaking on his performance in these first two games. "Max has been incredible for us in numerous ways. He's waited a long time for this and now that his moment is here, he's showing up big time. His throws have been on point and most of all he's stayed composed. His leadership is amazing and it's evident that its become contagious around the team." The Rebels also managed a strong result in their third game of the season, beating Thacher by a score of 49-26. Quarterback Max Gitlin '20 continued his impressive start to the season, throwing for 359 yards and 4 touchdowns while completing 62% of his passes. Wide receiver Zach Kim '21 had 199 yards receiving for two touchdowns and running back Charlie McCormick '20 had 3 total touchdowns over the course of the game. It should also be noted that Rebels kicker Silas Chavez '21 made the longest field goal in school history when he knocked a 52 yarder through the uprights with 10:56 remaining in the game.  The Rebels will look to continue their early season winning streak with upcoming games against Cate and Avalon.
 All stats from the Thacher vs Flintridge Prep game are courtesy of the Los Angeles Times.