Behind the Scenes of Voting for the Grammys: With Mr. Hill
For those in music, a Grammy Award is perhaps the most prestigious honor one can receive. Winning can fast track the career of a rising musician, or add to a plethora of awards accumulated by a seasoned artist. You may be familiar with the star-studded annual televised broadcast of the Grammy Awards, which, despite the pandemic, is scheduled this year for March 14. Artists representing the entire spectrum of genres, mediums, and industries gather together to celebrate music and the people who make it. You've likely seen photos of the likes of Dua Lipa, Billie Eilish, and Kacey Musgraves, to name a few, who have graced the red carpet in recent years and also taken home some of the night's biggest award categories. However, this insanely high-profile event starts behind the scenes, in the hands of those who vote for the awards. It's a seemingly covert process to those outside the industry. Lucky for us, we were able to talk to someone who experienced it firsthand; our very own Mr. Hill. 
Mr. Hill was able to vote for the Grammys by being a part of NARAS (National Academy of Recording Arts and Sciences), also known as the Recording Academy, the non-profit that produces the Grammy Awards. One of the founders of this group was Les Brown, a well-known bandleader, with whom Mr. Hill worked with for over 25 years. "[Brown's] 'Band of Renown' was famous for accompanying several celebrities live and on television," Mr. Hill adds. Brown had connections with some big names in the industry; think Bob Hope, Frank Sinatra, and Bing Crosby, all of whom he recruited to get the first Grammy Awards televised in 1959. "I knew Les Brown as a mentor, teacher and friend," says Mr. Hill. "Conducting his 'Band of Renown' was always a big thrill for me." Mr. Hill gained membership to the Recording Academy in 1995 after recording an album with the classical singing group The Los Angeles Chamber Singers. Membership is an esteemed position– industry connections are necessary for admission. According to the Recording Academy's website, "two strong recommendations from music industry peers" are currently required to even be considered by the Academy. 
So how does voting work? Along with the major categories like Album and Song of the Year, members often vote in categories they're familiar with. For Mr. Hill, those categories included Broadway Musicals, Classical, Vocalists, and Rock. The most interesting category in his eyes, however, was one where familiarity was not the goal: the New Performer award. "I'm always championing new talent," he says, "I think today's musician must remain current and support our new and emerging young artists." He is right to pay attention to these up-and-coming artists– in 2019, the recipient of this award was Billie Eilish. The previous year was Dua Lipa. This year, both are nominated for Record of the Year, Song of the Year, and Best Pop Solo Performance, and continue to dominate charts worldwide. 
To make his voting choices, Mr. Hill would rely on not only his own musical experience and personal taste, but also his Prep students in the process. Together they would "[discuss] and [evaluate] the nominees in current popular music," and his students' opinions in these categories would help him decide his vote. Who knew the Grammys were actually in the hands of some La Cañada teenagers? 
Whether you watch for the red carpet looks or to place your bets on your favorite artists, the night of the Grammy Awards is really about celebrating the music being performed and honored. "Voting [for the Grammys] allowed me to […] gain a broader appreciation for today's music," says Mr. Hill. You can tune into the Grammys on CBS on Sunday, March 14.
About the Contributor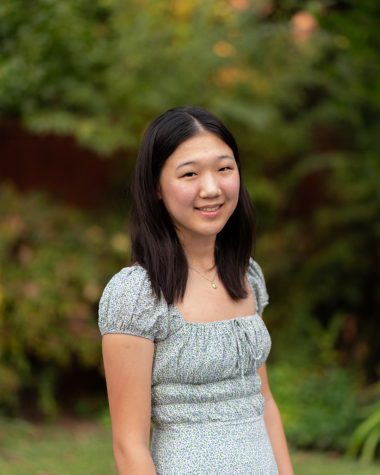 Regan Sakai, A&E Editor
Grade: 12

Years on Staff: 2

Why are you writing for the Flintridge Press? 



I enjoy writing about the things I'm passionate about. Keeping...