Midnights Breaks Records and Expectations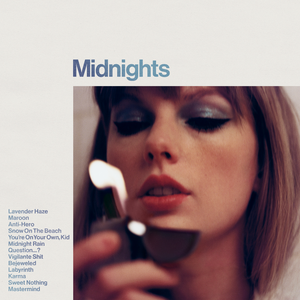 On October 21, 2022, Taylor Swift dropped her 10th studio album, Midnights. Most fans were entirely unsure what this album would entail. Would it be similar to 1989? Would it have the same fierceness and passion as Reputation? Maybe it would be the sister album of Folklore and Evermore? However, Swift surprised us all with another indescribable album, completely different than anything she has done in the past. The combination of unparalleled lyricism while leaning into elements of Lover, Reputation, and 1989 makes the album new and fresh. With 13 tracks and an additional 7 tracks on her deluxe album (3 am Edition), this album captures Swift's "13 sleepless nights." The album has been out for less than a month, and this musical phenomenon has not just wowed "Swifties," but once again the entire music industry. Midnights has already broken three Spotify records for most streamed album in 24 hours (184 million streams), most streamed act on Spotify in 24 hours, and most one-day streams of an album. Swift even held  the top 10 songs on the Billboard top 100 chart, breaking chart history. More recently, Swift made history at the 2022 American Music Awards, becoming the first person to ever win 40 AMA's. Swift also collected awards for Artist of the Year, Favorite Female Pop Artist, and Favorite Female Country Artist. Swift's album Red even won Favorite Pop Album and Favorite Country Album. Swift swept the award show and took home Favorite Music Video for All Too Well: The Short Film.   
The themes of this album vary from partying all night, lying awake and confronting your inner thoughts, and crying endlessly to screaming, fighting, and drinking recklessly. This album encapsulates it all while seamlessly telling us about Swift's past relationships. Swift has always been known for her sensational and perfectly curated lyrics and Midnights is just another example of that talent. Swift's smooth, elegant, and expressive yet captivating lyrics shape the whole album.
Despite my love for Swift's music, I would be remiss if I did not mention the moments of lyrical cringe such as in "Anti-Hero" (track 7) when Swift says "sexy baby" and "It's me/Hi!/I'm the problem, it's me." But as much as these lines do make all of society want to cover their ears, this hit single from the album emulates Swift's lively pop music side, with moments of classic humorous self-deprecation, the type that led to her original popularity. This song fits in with the vibe of Lover and, more specifically, the much-hated song "You Need to Calm Down." However, as much as this song is criticized, it provides variation throughout the album.
The first track on the album, "Lavender Haze" sets the tone for the other 12 songs. This retro and upbeat opener is similar to Lover tracks "I Think He Knows" and "Cruel Summer." This song emphasizes gender expectations for women in society and Swift's complicated relationships. The song has been unfairly criticized since its release; however, most of Swift's song criticisms don't last too long as fans are constantly changing their minds. Similar disputes took place when Reputation was first released. Everyone despised the album, as it was an entirely new genre of music for Swift. People were not only astonished, but confused. Yet, funnily enough, it became most "Swifties'"  favorite album less than a year later. "Maroon" is another song that surprised many and complements the album perfectly. The song begins with a slow beat melancholy tone and then quickly progresses to an upbeat Reputation-like raw love song. Like every other track 5 on Taylor Swift's past albums, "You're on Your Own Kid" did not disappoint and is another notable song, by far one of the best in the album. Swift looks back on her childhood years while giving advice to her younger self. The bridge is some of Swift's best writing:
"I gave my blood, sweat, and tears for this/I hosted parties and starved my body/Like I'd be saved by a perfect kiss. The jokes weren't funny, so I took the money/ My friends from home don't know what to say. I looked around in a blood-soaked gown/ And I saw something they can't take away."
Ultimately, this emotionally heartbreaking song hints at past toxic relationships and old memories that fill you with a sense of nostalgia and has quickly become one of Swift's best songs due to the elements like the depth and intensity in the lyrics and the powerful instrumentals. This song is a perfect combination of sophistication and pop."Viganate Shit" and "Karma" are exactly what Reputation stans crave. Swift did not hold back, blatantly making digs at Scooter Braun. The two diss track songs are similar to Swift's other revenge songs like "Look What You Made Me Do" and "This is Why We Can't Have Nice Things." Both songs are unspokenly bold, but are definitely not the best songs on the album. "Mastermind," "Question…?" "Midnight Rain " and "Bejeweled " are all pop masterpieces on the album. "Mastermind" in particular is one of the standout tracks on Midnights. It's about Swift coming clean and revealing her "calculating plan" of how she met Joe Alwyn, her current boyfriend. With notable lyrics such as "What if I told you none of it was accidental/And the first night that you saw me, nothing was gonna stop me," this song is catchy and evokes a whole new side of Swift. Track 12, "Sweet Nothing" and track 13, "Labyrinth" are both mellow and slower beat songs on the album. Yet, both are about the complexities behind relationships. The songs are beautifully crafted, highlighting what it feels like to fall in love while using powerful imagery to convey a meaningful message. 
Almost everyone was shocked to see a collaboration with Lana Del Ray on the album. Previously, on Swift's Red rerecording she did a collaboration with Phoebe Bridgers, resulting in a profoundly touching song that complemented both artists' voices well. Swift has even had Bon Iver make appearances on Folklore and Evermore. However, this new track with Lana was disappointing. "Snow on the Beach " had a beautiful harmony, well-developed lyrics, and alludes to an early morning snowfall. But, it's hard to ignore the fact that you can't hear Lana at all, making it challenging to even call this song a duet when we can hear more of the instrumentals than her.
Overall, Swift has done it once again by unlocking a whole new genre of music and surprising her whole fandom. The delivery of these songs is unmatched and the songwriting is new, powerfully intimate, and brilliant. It is honestly quite mesmerizing to watch the evolution of Swift and how she has grown to be one of the world's best artists of all time. Midnights is filled with lyrical depth and openness, becoming one of her most loved albums of all time. This is most certainly demonstrated by the 2.4 million tickets sold in less than 72 hours for her upcoming  Era's Tour. This goes to show that Taylor Swift's music spans across genres and resonates with more than 1 type of listener. Whether you love screaming your heart out to her country and pop hits or sitting by the fire listening to Folklore, ultimately people are bound to find an album they like from Swift's assortment of genres.
Fans who just started to become "Swifties" after the release of Folklore and Evermore may disagree that Midnights is among the best, as it is vastly different from her indie-folk era. But those who have been following her since the beginning realize the magnitude of this album. That being said, I think it's important to remember Swift's career stemmed from her bubbly pop music, and this album grasps that and so much more. Although the album might not be what most were expecting if we know anything about Taylor Swift, she loves to surprise her fans. That's exactly what she did by creating another album that is bound to win awards and sell out stadiums.
About the Contributor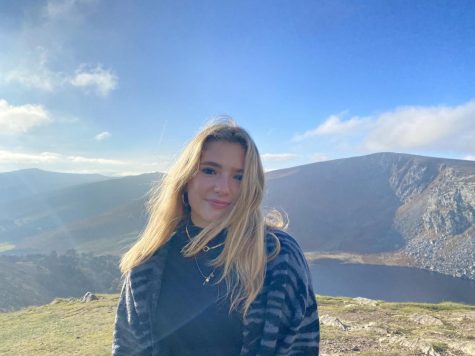 Nicolle Riley, Staff Writer
Grade: 11

Years on Staff: 2

Why are you writing for the Flintridge Press?

I am writing for the Flintridge Press because it gives me an opportunity...