Bohemian Rhapsody Continues to Rock the World
Bohemian Rhapsody was going up against a lot at the 2019 Golden Globes: Black Panther was the highest grossing film in America this past year. Lady Gaga played the lead role in A Star is Born and delivered a great performance. If Beale Street Could Talk received a rare 4/4 from RogerEbert.com and a 95% from Rotten Tomatoes. Rami Malek, who played the charismatic Queen frontman, Freddie Mercury, in Bohemian Rhapsody, was facing Bradley Cooper, Willem Dafoe, and others for Best Actor. All of the nation's viewers were stunned when Bohemian Rhapsody and Rami Malek walked away from the Golden Globes with the two most sought after awards (Best Picture – Drama and Best Actor) in hand.
By now, everyone has heard about Bohemian Rhapsody. The film has grossed 800 million dollars worldwide since early November, and it even came back to theaters as an audience-friendly singalong version. It is currently ranked as the highest grossing biopic of all time. A new Queen tour is set for 2019 with American Idol runner-up Adam Lambert. Queen has gained millions of monthly listeners on Spotify since the release of Bohemian Rhapsody. It seems as though the film has breathed new life into the band's career, and it has even sparked anticipation for other musical biopics such as Rocketman, the story of Elton John's life coming in May 2019.
Bohemian Rhapsody tells the story of the iconic Queen frontman Freddie Mercury during the rock rampant 1970s and 80s as he embarks on a journey to find his inner self. Director Bryan Singer (and the uncredited Dexter Fletcher) vividly recreates the real-life experiences of Mercury as he searches for love and makes unforgettable music with the rest of Queen.
The film begins in 1970 with a young, innocent Farrokh "Freddie" Bulsara working as a baggage handler and living with his parents and sister in a rock n' roll crazed London. His passion for music draws him to a local band, Smile, who play regularly at a nearby pub. After the lead singer quits, giving Freddie his chance to begin his musical career, dreams become reality and the newly named Queen is formed. Freddie also changes his last name from Bulsara to Mercury to fit the style of the flashy music industry. Eventually, the band signs with a manager and they demonstrate to the world who Queen really is.
The first half of the film lacks a form of antagonism and feels rushed at times; there seems to be very little insight into where Freddie learned to sing, or some of the ways he was bullied in real life: branded for his teeth and his uncommon style of dressing. The second half, however, brings the movie up and redeems itself with much needed character development that focuses on Mercury's sexuality, the loss of his innocence, and the evolution of the band after an emotional breakup.
Malek does an excellent job tapping into Freddie Mercury's personality, energy, and connection with the crowd, which considering he plays the Queen frontman, is a tremendous feat. Malek's performance is one of the highlights of Bohemian Rhapsody, and the Golden Globe he received is a testament to his work. Another highlight is the scene of the recording session where Queen creates their big hit — giving the film its title. Rami Malek, Joseph Mazzello (John Deacon), Gwilym Lee (Brian May), and Ben Hardy (Roger Taylor) capture the excited buzz that must have flooded through the studio while they recorded their legendary three part genre bender. Any music fan will be able to appreciate the scenes where Queen spends time in the studio, throwing in a bit of humor and some insight behind the real recordings. Most of Freddie's vocals in Bohemian Rhapsody are actually not sung by the original Freddie, but performed by Marc Martel, a popular Mercury sound alike who plays with his band, Marc Martel's Queen Extravaganza.
Alongside all of the music sequences, there is a lot to be said about the prevalence of the HIV/AIDS epidemic that was sweeping across the world at the time. In 1985 alone, 5,636 people died due to AIDS related causes (the same year that Queen performed at Live Aid). When Freddie learns that he has HIV a bit after the halfway mark of the film, it completely changes his outlook on life. Instead of wasting his life away partying, he comes back together with the band to try to use his talents and make the most of the remainder of his life. His performance at Live Aid is even more impressive when one takes into consideration how emotionally distraught Mercury must have been at the time.
There is an abundance of online information about Queen that is not in the movie if you are inspired to learn more. The original Live Aid performance is available on YouTube, and all of Queen's albums can be found on various streaming sites (or vinyl for all the old-schoolers). Almost all of Bohemian Rhapsody is factual, down to the smallest details such as the four extra incisors that Mercury had, the Pepsi cups that rested atop Mercury's piano while they played at Live Aid, and the guitars that Brian May and John Deacon played.
Even though Bohemian Rhapsody has a few weak points, it is one of the best rock biopics, and it is a fantastic movie for anyone interested in a fun cinema experience.
About the Contributor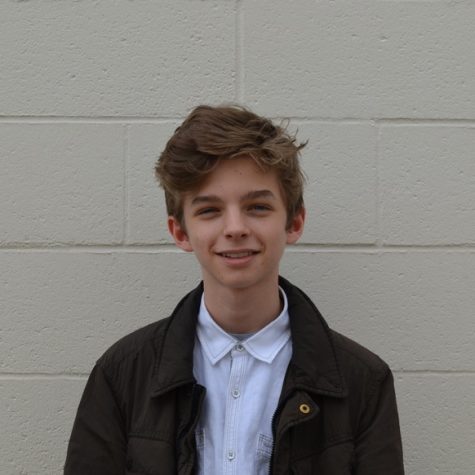 Stiles White, Staff Writer
Grade:  9

Years on Staff:  1

What do you like to do in your free time?  I enjoy writing (mainly short stories), reading, playing guitar, and...