Is Taylor Swift Incorporating A 10th Grade American Literature Classic into her Music?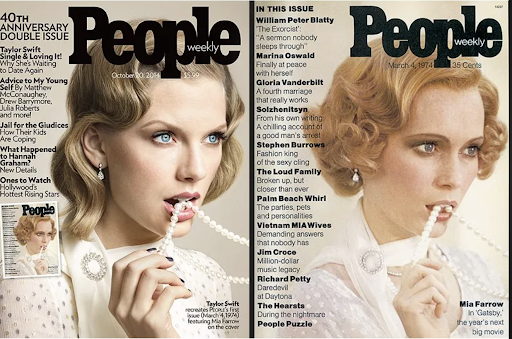 Taylor Swift has been in the music industry for about 17 years now, and let's just say she is what you call a musical and lyrical mastermind. From her debut album in 2006, called Taylor Swift, to Evermore, and now her re-recordings of Fearless (Taylor's Version) and Red (Taylor's Version), she has single handedly redefined the music industry. From age 17 Swift has shocked the music industry with her unparalleled writing and creative mind. 
Swift carefully constructs her lyrics and seamlessly leaves "easter eggs" in almost everything she posts, sings and writes. Whether she's subtly referencing ex-boyfriends, Kanye West, and even Scooter Braun, she's leaving her fans an inciting project of deciphering every last line of her songs, Instagram posts, and tweets. Swift never fails to deliver with her nearly impossible "easter eggs." They started out as a joke but it has now become a "Swiftie"-wide ritual decoding her hidden messages and references. Swift's fandom has come to realize that she references more than just Blake Lively and Ryan Reynolds. But, this 11 Grammy-winning artist has a gift for her lyricism, managing to continuously reference a 10th-grade American literature classic into a poignant breakup song, and perhaps even make it the central theme of her newest albums Folklore and Evermore.
F. Scott Fitzgerald's classic American novel, The Great Gatsby has had a massive musical influence on Taylor Swift.  Swift has already made multiple somewhat obvious literary references to "Romeo and Juliet," "The Scarlet Letter" and "Jane Eyre." However, her Fitzgerald references seem to be the most prominent. I mean, who knew she could connect a song targeting Kanye West with Nick Carraway?
  In her 2017 album, Reputation, Swift manages to casually squeeze in references to The Great Gatsby with some being more obvious than others. The 14th track on Reputation, 'This Is Why We Can't Have Nice Things', is a diss track about her infamous feud with Kanye West.  She says in verse one, "It was so nice throwing big parties, jump into the pool from the balcony, everyone swimming in a champagne sea."  During Swift's 1989 era she was known for throwing extravagant 4th of July and New Year's parties at her Rhode Island mansion, almost as if she was in the roaring '20s. This correlates to the  lavish parties Jay Gatsby throws and she quite literally says "feeling so Gatsby for that whole year." 
On track 4 of Reputation Swift says, "I once was poison ivy, but now I'm your daisy," which could potentially reference Daisy Buchanan being Gatsby's love interest. But don't worry, Gatsby and Swift's similarities go farther than champagne overloads, black-tie parties, and expensive outfits. In Taylor's 2017 'Delicate' music video her bright turquoise dress is remarkably similar to the  1920's dresses that flappers wore. In addition to what Swift was wearing, the song repeatedly mentions bars on the "East" and "West" side which correlates to East and West Egg in Gatsby. 
'Getaway Car,' rightfully one of Swift's most popular pop songs from Reputation, is filled with The Great Gatsby symbolism. The song tells the story of a chaotic love triangle in which a couple had just had a few Old Fashions together and was fleeing  in their getaway car.  Obviously the night resulted in a bad outcome while driving, resulting in the couple regretting their actions.  Now although there are multiple interpretations of this song, this storyline happens to fit nearly perfectly into The Great Gatsby's plot line: Daisy drunk driving in a car with Gatsby and hitting Myrtle. Swift could be precisely weaving the story of The Great Gatsby into her Reputation album or not, but call it what you want. 
These allusions to The Great Gatsby don't fully evolve until Swift's ninth studio album, Evermore.  In the song 'Happiness,' she narrates a beautiful love story, singing, "I hope she'll be a beautiful fool," directly quoting a famous line from Daisy Buchanan. In hopes that her daughter will, "be a fool—that's the best thing a girl can be in this world, a beautiful little fool." Later in the song, she mentions the recurring motif throughout Fitzgerald's novel, the green light, which is at the end of Daisy's dock and symbolizes Gatsby's desire for Daisy: "all you want from me now is the green light of forgiveness." Following that in the song, Swift says, "in our history, across our great divide." This could even suggest the divide between West Egg and East Egg, or new money and old money in the novel. 
In one of Swift's most recent albums, Evermore, the song 'No body No Crime' could possibly be Taylor retelling The Great Gatsby, and here is why. As we know in The Great Gatsby, Daisy runs over Tom Buchanan's mistress Myrtle, but he ends up taking the blame for the incident. In the song, we know that Este's husband presumably ran over her and Swift says, "and I noticed when I passed his house that his truck has got some brand new tires." The essence of this song is that people can get away with cruel actions in life and still suffer zero consequences. Emphasizing Tom and Daisy's ruthless and inconsiderate acts, yet still succeeding all because of the lavish life and wealth they hold. 
Let's just say Swift is more than obsessed with The Great Gatsby and has probably read it more times than your average English teacher. Not to mention, Swift's 2014 People magazine cover, when she emulates Mia Farrow's iconic Daisy look. Swift strategically curates her Gatsby-ish references and connects them to her modern-day love affairs almost too regularly. I mean, some of her fans even have theories that Folklore and Evermore are Taylor retelling her interpretation of The Great Gatsby, and frankly, it makes perfect sense. We will probably never know Swift's true intention for the albums and maybe this is all coincidence, however, I will say, I highly urge you to listen to her newest albums with this new perspective. The story of The Great Gatsby is woven through her lyrics in Folklore and Evermore seamlessly, leaving you to think about Gatsby, Daisy, and Nick's individual and collective champagne problems.  
About the Contributor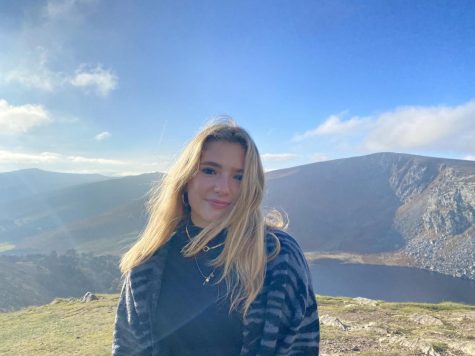 Nicolle Riley, Assistant Editor
Grade: 12

Years on Staff: 4

Why are you writing for the Flintridge Press?

I am writing for the Flintridge Press because it gives me an opportunity...