Masked in Eye Candy, Edgar Wright's Last Night in Soho Can't Take a Stance 
TW: Mentions of sexual violence, trafficking, rape, and horror
Warning: spoilers
I stepped into AMC Santa Anita on a Saturday night knowing nothing about Edgar Wright's (Baby Driver, Shaun of the Dead, Hot Fuzz, Scott Pilgrim vs. the World) Last Night in Soho (2021). I knew so little that I spent the opening five minutes waiting for the main character, the naive, English-countryside bred Elouise (Thomasin McKenzie), to move to Soho, New York City. I was wildly incorrect: Elouise, or Ellie, was instead moving to Soho, London for fashion school. 
To quote nearly everyone who meets the doe-eyed Ellie, she realizes quickly that "London is a lot." Inundated with the trials and tribulations of stereotypical mean girls, perverted taxi drivers, and mysterious men, Ellie decides to move out of fashion school housing and into a small room dripping in 60's-mod funk. The owner, a shrinking old woman by the name of Miss Collins (Diana Rigg), emphasizes one rule the most: no male visitors. 
London establishes itself as more than Ellie can handle quickly, but the disappointing realities disappear when, upon falling asleep at night, Ellie begins to be transported into the past. Her dreams immerse her in a 60's London fantasy, closely following the story of an aspiring singer named Sandie (Anya Taylor-Joy). When Ellie falls asleep, she lives the life she wished for upon moving — filled with glamour, fashion, and playful drama. Audiences are made to understand that Ellie is living vicariously through Sandie's ghost. For example, the morning after Sandie receives a hickey from her elusively charming manager, Jack (Matt Smith), Ellie wakes up with the same one. 
But Ellie's dream escape becomes a nightmare as the realities of show business expose themselves to Sandie. Consistently told by Jack that she has to start at the bottom and "play dirty," Sandie becomes an objectified background dancer for other singers, and soon adds prositution to the dues Jack tells her she has to pay for success. Ellie's life parallels this decline, becoming haunted by Sandie's ubiquitous male clients and once-beguiling pimp. Wright begins to establish the "monster" of the horror film as men, arousing gender commentary. Ellie and Sandie's story soon tumbles into gratuitous imagery of sexual violence and macabre scenes of destruction as the film's script derails into a stream-of-consciousness style tunnel of horror. Viewers begin to expect a point to be made, whether it be about the dangers of sex work, the grave truth of stardom, or gender as a whole. 
Edgar Wright continues to establish his legacy of visually delectable films with Soho's cohesive, precise production design. Every scene is not only color coordinated, but highly researched. Many scenes take place at a once iconic London nightclub called Café de Paris. The production team's recreation of it caused actress Diana Rigg (a former frequent) to remark "…it looks just like it, do tell your production designer he did such a great job." Psychedelic cinematography supports the interwoven nature of Ellie and Sandie's experiences, using mirrors and reflections to confuse the viewer. 
Wright is not the first to create a juxtaposition between disturbing subject matter and pleasing visuals. To deal with themes like human trafficking, rape, and sexual violence is to attempt to make the unwatchable watchable. Like films similar in content, Promising Young Woman (2020) and Zola (2021), delicious production design and acute stylization serve to keep the viewer invested in the mise-en-scène instead of morally perturbed. High quality image creation further separates the viewer from reality, designing a world so far from our own. If the goal of these stories is to be a satirical reflection of our modern condition, stylization is necessary to muster cognitive dissonance and drive that lesson home. The only difference with Last Night in Soho is that it never drives any lesson home. 
My criticism begins with the structure of the script. Wright abandons plot points, climax, and resolution in favor of a Tarantino-esque structure, a story that concludes with a violent antithesis of a happy ending. However, Tarantino's films do not drag the viewer through multitudes of scenes with no clear connection. Soho felt like a four hour epic. By perhaps minute 80 out of 116, the story setup I recalled felt like an entirely different film. 
At around that same three-quarter mark of Soho, I leaned over to my viewing partner and said "This movie makes me hate being a woman." He replied, "This movie makes me hate being a man." 
Wright sunk his teeth into gender commentary with no intention to take a bite. The movie concluded on an ambiguously political note. Using Promising Young Woman and Zola as precedents once again, both movies left a final message – in Promising Young Woman that no one escapes victorious in rape cases, and in Zola that sex work, stripping, and violence are systemically interwoven. As Lee Jutton of Film Inquiry put it, "Wright seems to be the one who is scared here — afraid of crossing a line that would get him 'canceled,' perhaps — but because of that sense of restraint masquerading as sensitivity, Last Night in Soho doesn't leave the same mark on the viewer that the best of its predecessors are capable of." 
To tell stories of rape, sexual violence, and human trafficking is to take a side, and amidst a global reckoning of consent and the #MeToo movement, that side must be in criticism of it. While Soho does not permit these things, it presents them romantically. In Sandie's death scene, she is still clad in lingerie, looking like a gratuitously bloody damsel in distress. There is nothing about the murder, committed by Jack, that is displeasing to the eye. I took a step back in this scene, asking myself why I did not want to avert my eyes as she was killed. The concluded opinions Last Night in Soho left me with are as follows: firstly, that women are powerless victims in the face of misogynistic systems, secondly, that men are perpetrators of these systems, but should not be punished, and thirdly, that women become the real enemy when they bitterly resent men. 
Soho had the potential to be a feminist film that exposes the tragedies of being a woman in big cities, but even that setup is tired and condescending. On the 60's film trope of the young girl punished for following her big city dreams, Wright noted that "I thought [the story structure] was interesting because the majority of [these stories] are written by men and directed by men, and you start to get this sense that those films were the old guard slapping the wrist of the younger generation…So part of the conception of [Soho] was…how to subvert that by sharing the story of a modern girl coming to London and having the experience of a '60s starlet coming to London." Wright, a man, tackled the story of a woman often told by men, intending to "subvert" the patronizing tone of them, yet did exactly what men before him had done. Ellie is a one-dimensional character, presented as a whimsy little girl with a dream she can't handle the reality of. Her setup reads like a Disney princess movie. The backstory given, that her mother died and her father is absent, is irrelevant past its telling at the beginning of the movie. When Ellie's dreams turn to delusions and her mental state becomes compromised, we sense notes of schizophrenia or bipolar disorder, but it reads on screen reminiscent of female hysteria. Ellie's undevelopment aligns with earlier criticism of Wright's prior film, Baby Driver,  that the female characters were one-sided. 
It seems Wright met that criticism by bringing on a female co-writer, Krysty Wilson-Cairns (credited writer of 1917, Penny Dreadful). However, Wright and Wilson-Cairns claim that gender was obsolete in both the selection of a co-writer and the construction of the story. Wilson-Cairns told the Los Angeles Times that "…I didn't come in to just be the female writer in the room. I think [Wright and my] shared life experience, the fact that we both loved Soho…that was more important than the fact that I was a woman, really." While I'd like to believe this, Soho is a story that directly addresses gender and gender-based issues. Wilson-Cairns continued to say, almost on the contrary, that "I got to bring a lot of my life perspective to it as well. The idea of being in taxi cabs and creepy drivers flirting with you but not quite flirting with you…[Wright] had such a keen insight and a desire to listen to all the women in his life to then create something that felt authentic." Despite this alleged intent, Soho appears authentically shallow and belittling. I am left wondering whether to accredit the intention or criticize the outcome. 
Edgar Wright's Last Night in Soho paired breathtaking design and technical cinematography with failed gender commentary, leaving viewers with a circuitous plot and an ambiguous message. Another quirky, left-of-center work, it was an attempted cousin of earlier films Baby Driver and Scott Pilgrim vs. the World. However, Wright's grab at entertainment's hot topics exposes a director and writer unable to sacrifice his own male guilt for impactful storytelling. Soho asks us all to consider the rights to trauma: who is telling whose story, and why?
Sources
https://www.imdb.com/name/nm4880670/
https://www.imdb.com/name/nm0942367/?ref_=nv_sr_srsg_0
https://battleroyalewithcheese.com/2021/11/last-night-in-soho-the-brwc-review/
https://www.filminquiry.com/last-night-in-soho-2021-review/
https://www.indiewire.com/2021/10/last-night-in-soho-edgar-wright-interview-1234675085/
https://www.npr.org/2021/11/01/1051086214/edgar-wright-last-night-in-soho
https://www.latimes.com/entertainment-arts/movies/story/2021-11-03/last-night-in-soho-explained-edgar-wright
About the Contributor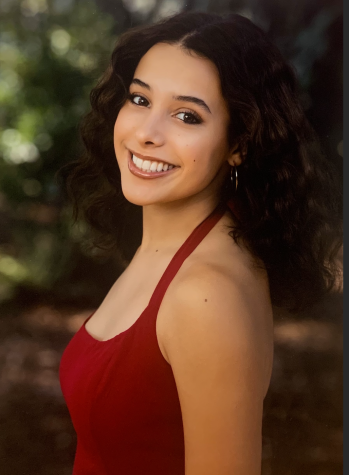 Dri deFaria, Editor-in-Chief
Grade: 12

Years on Staff: 3

Why are you writing for the Flintridge Press?

The Flintridge Press gives me an opportunity to showcase my voice as...