NESA Panel on Crisis in Nagorno-Karabakh
During the last year, the world has seen much conflict and turmoil, from threats to public health with the COVID-19 pandemic to political disarray across the globe with disputed elections and revolts. However, something the world has paid little attention to is the struggle between the country of Armenia and the republic of Azerbaijan over Nagorno-Karabakh, a small, mostly unrecognized republic in the South Caucasus.
On September 27th, 2020, Azerbaijan, with the aid of Turkey, struck Armenian-controlled military targets in Nagorno-Karabakh. This attack was preceded by decades of skirmishes, caused by the constant tug-of-war for possession of Nagorno-Karabakh, known to Armenians and much of its own population as Artsakh. Before the Russian Revolution, Armenia and Artsakh were friendly with one another, for a large majority of Artsakh's population was Armenian and many valuable Armenian monuments and churches were built within its territory. While Stalin was forming the Soviet Union, however, he made the decision to give Artsakh to Azerbaijan, disregarding the ethnic population and its strong ties to Armenia. Later, as the Soviet Union was collapsing, the Armenian majority of Artsakh rejected this decision, peacefully demanding to reunite the region with Armenia. In response, Azerbaijan launched an ethnic cleansing which led to a long series of wars between Armenia and Azerbaijan, ending in ceasefires that were almost always neglected by Azerbaijan when they attacked Artsakh again in hopes of conquering it once and for all.
Many Armenians, especially members of the diaspora with little to no access to their homeland, watched in horror as their friends and family fought and died to protect their country. Young men and women in Armenia as young as eighteen years of age courageously volunteered to risk their lives and serve on the front lines, on the offensive as soldiers and in the shadows as nurses and healthcare workers. One thing diasporans could do, however, was speak out and raise awareness among non-Armenians, urging them to realize what was happening to their brethren overseas. Through social media sites, petitions, panels, and the likes, Armenians outside of Armenia raised awareness for the humanitarian crisis. Flintridge Prep's Near Eastern Student Association, in tandem with the Armenian clubs of Saint Francis High School, La Cañada High School, and Flintridge Sacred Heart Academy, held a panel discussion composed of professionals from the USC Institute of Armenian Studies to get a better understanding of the war and its implications.
The panel, originally scheduled for November 9th, 2020, was abruptly postponed because of the ending of the war mere hours before the event was going to take place. The end of the war was considered to be a defeat for Armenia, as a trilateral agreement between Armenia, Azerbaijan, and Russia was signed that resulted in a painfully significant loss of Armenian land, which was handed over to Azerbaijan. However, the panel was rescheduled for February 2nd to discuss the war and its aftermath, its aim being to provide a new perspective for those who were not quite as caught up on the events of the conflict and to talk about what it would mean for the Armenian community moving forward.
The evening began with an overview of the conflict, fleshing out exactly what caused it and why Armenia was fighting so hard to regain Artsakh's territory. Thoughts such as what would happen to the many displaced Armenian people were brought up, as many flooded to the capital, Yerevan, for safety, but no longer had anywhere to return to once their homes were a part of Azerbaijani territory. Additionally, the panel shone a light on the questionable security of the nation after the war and what that could mean for those living in what remains of Artsakh. Its population is in a very vulnerable position, and unless Azerbaijan stays true to the ceasefire agreement, it is not necessarily in the clear. There was also a lack of any international attention, whether it be by any major world powers or international humanitarian organizations. Despite the multitude of cries for help from Armenians and those in Artsakh, there was no involvement from any outside forces that made any effort to stop Azerbaijani and Turkish aggression.
To stay informed of Armenia's post-war developments as well as other Middle Eastern current events and cultural affairs, NESA meets every Thursday at 2:35 to discuss such topics. The fact that NESA was able to hold a meaningful discussion about an ever-evolving chain of events happening in real time was remarkably impressive. Kudos to its presidents, Sareen Armenian '22 and Alec Gharibian '22, for putting together such an informative and important panel.
About the Contributor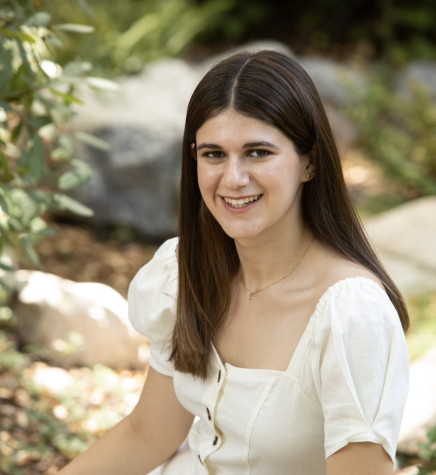 Sofie Corbett, Editor-in-Chief
Grade: 12

Years on Staff: 5

Why are you writing for The Flintridge Press?

I'm writing for the Flintridge Press because I love learning about...