United States Department of Justice Sues Google For Antitrust Violations
The United States Department of Justice (DOJ) recently sued Google for antitrust violations. The case marks the first major lawsuit against a prominent tech company since the US charged Microsoft with anti-competitive practices in 1998. The case could have massive implications not only for Google but for tech companies across the country.
Antitrust laws are designed to provide consumers good services at fair costs by promoting a competitive business environment, which they do by regulating businesses to prevent monopolistic practices. The DOJ claims Google violated antitrust laws through special agreements and problematic business practices.
In a case document released on October 20, the DOJ contends that Google spent billions of dollars to become the default internet search engine on a wide range of devices, including those produced by Apple and Samsung, wireless carriers including AT&T, T-Mobile and Verizon, and browser developers like Mozilla and UCWeb. Google also negotiated with device manufacturers to feature Google apps in prime spots where users were most likely to start their internet searches. These transactions, among others, secured Google's foothold in online searches and the online advertising market, to the extent that 90% of all general searches and 95% of all mobile searches in the United States come through the Google search engine.
Because other companies don't have the means to compete with Google, this reduces consumer choice and innovation. The DOJ cites the internet search engine DuckDuckGo as an example. DuckDuckGo emphasizes protecting consumer privacy and avoids personalizing search results. However, DuckDuckGo does not have the money to negotiate distribution agreements with device manufacturers as Google does. Even if they did, Google's negotiations with several companies prohibit manufacturers from negotiating with Google's competitors. The steps Google has taken allow the company to remain unchallenged. The DOJ suit claims "Americans are forced to accept Google's policies, privacy practices, and use of personal data; and new companies with innovative business models cannot emerge from Google's long shadow." Putting a stop to Google's anti-competitive practices will give other companies a foothold in the market.
In response, Google argues that consumers choose to use the Google search engine because they want to, not because of a lack of alternatives. The company cites Bing and Yahoo! which also pay manufacturing companies to feature their search engines on devices. However, Google notes, when Yahoo! paid to be the default search engine on Firefox, most consumers switched Google to their default search engine instead. Switching between search engines, Google writes, takes only a few steps. Google claims if the DOJ were to win the lawsuit, the measures enforced would promote lower quality search engines and make it harder for consumers to access the search engines they want to use.
While the lawsuit received bipartisan support, some questioned the timing of its filing, which was two weeks before the election. Amy Klobuchar, a Democrat on the Senate Judiciary antitrust committee, was one of a few officials who expressed support for legal action against Google but questioned the DOJ's motives for filing the lawsuit at this time. In response, Deputy Attorney General Jeff Rosen claimed the suit was filed when the necessary facts were compiled, though the DOJ would have preferred an earlier time had all the necessary information been collected. Given conservative claims that tech companies like Google and the media are politically biased towards liberals, it is possible political considerations fueled the lawsuit's timing. However, what is most important is the legality of these claims. 
Experts project this legal battle with Google will take years to resolve. For consumers, not much will change, at least for the next few years. A breakup of Google is also unlikely. A ruling in favor of the DOJ could, however, open doors to smaller companies, increasing consumer choice and bringing more innovative ideas to the table. Moreover, it would send a message to other companies to reduce anti-competitive practices. Perhaps Bill Baer, a former leader of the antitrust division of the DOJ, summed it up best: "We have no problem with an innovator becoming successful and having a significant market share. But we do have a problem where you grease the ladder of success so no one else can climb up it." (Zakrzewski, Lerman) 
Sources:
Cat Zakrzewski, Rachel Lerman. "Google Antitrust Case Centers on Consumer Choice and How Rivals Get Boxed Out." The Washington Post, WP Company, 21 Oct. 2020, www.washingtonpost.com/technology/2020/10/20/google-antitrust-suit-faq/. 
"Department of Justice Files Antitrust Lawsuit against Google." The Washington Post, WP Company, www.washingtonpost.com/context/department-of-justice-files-antitrust-lawsuit-against-google/718f15d4-6991-47fd-aee3-a0c8ae0c14ac/?itid=lk_interstitial_manual_10. 
Romm, Tony. Justice Department Sues Google, Alleging Multiple Violations of Federal Antitrust Law. 20 Oct. 2020, www.washingtonpost.com/technology/2020/10/20/google-antitrust-doj-lawsuit/. 
Walker, Kent. "A Deeply Flawed Lawsuit That Would Do Nothing to Help Consumers." Google, Google, 20 Oct. 2020, blog.google/outreach-initiatives/public-policy/response-doj.
About the Contributor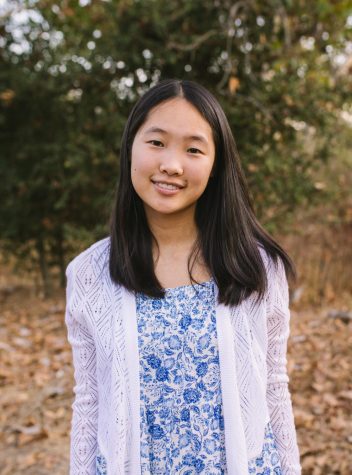 Audrey Jung, Assistant Editor
Grade: 12

Years on Staff: 4

Why are you writing for the Flintridge Press?

To address issues relevant to our time, to express ideas through writing,...