Food For Thought: Thanksgiving 2021
Thanksgiving 2021 will be the culmination of all that was not during the prior pandemic Thanksgivings. Families will be gathering together on the 25th to celebrate each other's company and carbohydrates. 
What makes holiday meals so special is the element of individual tradition and intention behind each dish. Peeling back the foil on many tables, you will find stuffing. A seemingly standard dish, right? For me, dressing ("stuffing" cooked in a separate dish and not stuffed in the turkey) is made with a cornbread base with sausage, celery, onions, cranberries, and lots of thyme & sage. When it comes to what is being served and its execution, there is much controversy on what needs to be present on the table. A few members of the Flintridge Prep faculty and student body were asked some questions regarding their Thanksgiving this year and here is what they had to say: 
Mr. Roy – Preferred type of potatoes on Thanksgiving? 
"I do like a mashed potato, however, it's a classic we are not getting any of the textures. I think the ideal potato is one that incorporates textural elements both from mashed potatoes, smashed potatoes, and fried potatoes. I need elements that are creamy but are crispy. They need to be fatty and salty. Coming up with the perfect potato dish for Thanksgiving is a really difficult one, however, the correct answer is NOT your basic mashed potato. I feel passionate about the way people prepare their potatoes for Thanksgiving." 
Mr. Hallett – Thanksgiving hot take?
"All Thanksgiving food tastes better on a sandwich the next day. Turkey, stuffing, cranberry sauce, and maybe throw some provolone in there. Definitely a hot sandwich too." 
"The meal itself especially when served buffet style is super overwhelming where you tend to overload on one thing and underload on another. By the time you have eaten your first plate, you are not sure if you are hungry anymore so you inevitably end up eating too many mashed potatoes, but not enough stuffing. Whereas the next day, when you survey your fridge and look at all of the leftovers you have time to actually pull out all of the things and decide how to perfectly arrange them with the ideal ratio for optimum taste."
Mr. K – What will you be contributing to the Thanksgiving table?
"I will be getting together with my parents among other folks this Thanksgiving and my contribution usually which I'm going to try and keep up this year is a whole wheat walnut loaf. Which is a lightly buttered whole wheat loaf of bread infused with walnuts and secret spices which I have perfected over the years thanks to my mom's interest in teaching me how to bake bread. Baking bread is relaxing and therapeutic. It's usually a gigantic loaf, I'll leave some of the dough set aside and make some braided twirls. It should be fun and I'm looking forward to it!" 
Peer Perspectives – Favorite type of pie?
"My favorite is probably apple because every seven years when my birthday falls on Thanksgiving my parents would get this Porto's caramel apple pie and put candles in it." 
– Victoria Velazco y Trianosky Awai '22
"Pumpkin baby! And also Camille PAI, get it because her last name is Pai" 
– Shane O'Neill
"Apple pie because I like cinnamon."
 – Garrett Olmsted 
About the Contributor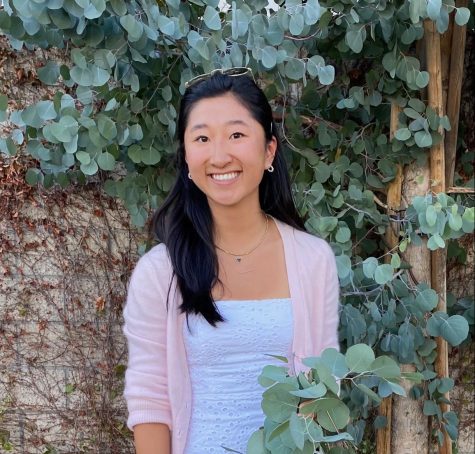 Camille-Marie Pai, Photographer
Grade: 12

Years on Staff: 2


Why are you writing for the Flintridge Press?

The Flintridge Press provides an outlet within our community where...