Wait 'Til Next Year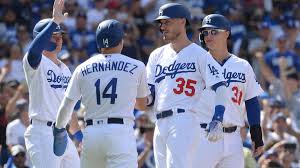 The slogan of the 1950's Brooklyn Dodgers, "Wait 'Til Next Year," resonates with this current Dodgers team. It seemed as if their decades long championship drought was finally going to come to a close in 2017, when the Dodgers faced off against the Astros in the World Series. A back-and-forth series eventually led to their defeat in Game 7. Then in 2018, they ran into the heavy-hitting Boston Red Sox, who beat the sluggish Dodgers in 5 games. However, 2019 seemed to be the Dodgers year – with MVP candidate Cody Bellinger, and Cy Young candidate Hyun Jin-Ryu leading the team, the Dodgers finally had the pieces in place to win the World Series. Then, the unthinkable happened; the supposed "unstoppable Dodgers" lost in Game 5 of the NLDS to the Washington Nationals. The Nationals, who had just come off an exhilarating wild-card game win over the Brewers, were supposed to be just a pitstop on the way to the World Series. They turned out to be the Dodgers biggest nightmare, thanks to the actions of Dodgers manager, Dave Roberts. 
A former player himself, Dave Roberts prides himself on being able to connect with the players in a meaningful way, rather than a manager who never actually played in the MLB. He has gone through all of the ups and downs of navigating a 162-game season, and beyond. However, he has proven to be one of the worst in-game managers the Dodgers have ever employed. In this age of statistics and analytics, the players, front office, and coaching staff of a Major League Baseball team have access to an immense variety of statistics that are supposed to help with making decisions in-game and out. Dave Roberts utilizes analytics and statistics often to make in-game decisions. However, Game 5 of this year's NLDS was one of the worst managing jobs of his career. 
Future Hall of Famer, Clayton Kershaw's postseason woes are well-known, and have angered Dodger fans for years. In these past 7 years of Postseason play for the Dodgers, Kershaw's pitching in all but one of those years has proven costly. However, this year's postseason woes are thanks to Dave Roberts, not Kershaw. Kershaw came in, and struck out Adam Eaton to end the 7th Inning. But Roberts decided to stick with him for the 8th, and not go to Kenta Maeda who had been so dominant for the team out of the bullpen the whole series. He proceeded to give up a home-run to MVP candidate, Anthony Rendon. After that home-run, it would have been ideal for Roberts to go to lefty, Adam Kolarek. Kolarek was a lefty specialist whose main job in the series was to get out left-hander Juan Soto, a dangerous bat for the Nationals. But Roberts, whether by faith or obligation, stayed with Kershaw. That decision proved costly. Kershaw gave up a game-tying home-run to Soto on the next pitch.
Then, when the game remained tied going into extra innings, Roberts decided to stay with relief pitcher, Joe Kelly, who had gotten 3 straight outs in the 9th. Nevermind that Kelly's ERA when pitching more than one inning ballooned to above 8, or that Kelly hadn't pitched more than 1 inning in 6 weeks. This proved to be the deadliest decision for Roberts of the night; Kelly proceeded to load the bases, and then give up a game-winning grand-slam to former Dodger, Howie Kendrick.
 Managers are supposed to set up their players for success, not failure. Roberts proved in this game, that he doesn't have what it takes to make in-game decisions for the Dodgers. With all of this information at his disposal, he made decisions that proved to be costly. It was announced that Roberts will return next season, much to the dismay of many Dodgers fans. Yet while the Dodgers front office sits and plans for how to break the 31-year championship drought, Dodger fans and players have to sit and wonder what could have been. A season with so much hope and expectation, ultimately ended in heartbreak and despair. "Wait 'Til Next Year" could not be more relevant in the lives' of Dodgers fans than today.