What the LA Clippers and Milwaukee Bucks need to do this Offseason
The Clippers and Bucks early playoff exits were disappointing for the NBA. The Clippers vs. Lakers conference finals never happened, and the Bucks never capitalized on a dominant regular season. Both of their championship windows might be shrinking due to looming free agency for Kawhi Leonard and Paul George for the Clippers and Giannis Antetokoumpo for the Milwaukee Bucks. The futures of each team are at stake this upcoming season. 
The Clippers need a reliable point guard to take ball handling duties off Paul George and Kawhi Leonard. The Bucks need another playmaker as well. Here are some of the needs of each roster and some possible solutions.
Los Angeles Clippers
The Clippers' future is at greater risk than the Bucks'. Leonard and George can leave after next season. They dumped future assets to build out this roster. If both stars leave, the Clippers are going to be in a rough spot. 
The roster is undeniably talented. Last season they had a legitimate 10 guys that could give playoff minutes. However, the Clippers weren't able to put it all together and gel into a cohesive unit. There are two main reasons for this. One reports bubbled up over preferential treatment of Leonard and George bothering teammates. Next, on the court, the Clippers didn't have a natural playmaker. Kawhi Leonard demanded the Clippers find a point guard to set up the offense this offseason. 
Leonard's demand was most likely a goal for the Clippers already. Neither Kawhi Leonard nor Paul George are naturally downhill playmakers that can set up shooters on the perimeter. They prefer getting to their spots on offense and working from there. 
One free agent that comes to mind is Jeff Teague. Teague still keeps defensive intensity and some peskiness on-ball like Patrick Beverley. Offensively, he can run the pick and roll or hit players in their spot. He isn't the flashiest name, but the Clippers can entice him with an important role on a championship contender. 
The other question the Clippers have coming into the offseason is what to do with Louis Williams and Montrezl Harrell. The two sixth-man of the year candidates had a devastating one-two punch in the regular season where they took advantage of bench units. However, in the playoffs they weren't able to effectively attack when teams slashed their rotation to seven or eight players. On the other end, Williams and Harrell are poor defenders, and it's hard to give them crunch time minutes as both are undersized for their position. 
Harrell is a free agent this offseason and is looking for his first big pay day. The Clippers need to figure out whether or not they want to spend money on him when he's close to unplayable against Anthony Davis and Nikola Jokic. The Clippers should explore sign and trade options in order to get some value back. 
Louis Williams is on an affordable deal, but he could be a part of a trade maybe involving Patrick Beverley to open some more cap space to sign a backup bigman. Nerlens Noel is an intriguing option with his rim running and versatility on defense as a nice contrast to the slower Zubac. 
The lineup next season could be Jeff Teague and Landry Shamet in the backcourt with Paul George and Kawhi Leonard on the wings and Zubac or Noel starting at center. Off the bench the Clippers have Patrick Beverley, Louis Williams, JaMychal Green, Nerlens Noel and then a three-and-d role player, such as Kent Bazemore, Garrett Temple, or James Ennis. 
The Clippers don't need much to improve next season. They don't need to gut the roster to make changes. The most important thing is developing chemistry to be ready for the playoffs. 
The Milwaukee Bucks
After a historically dominant regular season and Giannis Antetoukoumpo winning back-to-back MVPs, the expectation for the Milwaukee Bucks is playoff success. What's held them back is a lack of shot creation in a seven game series. 
It's hard to carry over regular season success to the playoffs. Teams have ample time to game plan, whereas in the regular season, opponents don't want to show their cards. The Bucks are a relatively one-dimensional team offensively. They rely heavily on their defense to create transition opportunities and a spread offense around Giannis's drives. 
Giannis's hard-headed drives sputter out in the playoffs, which leads to the scoring droughts that have plagued the Bucks at the end of games. It doesn't help that he's a poor free throw shooter either.
It's not a surprise the Bucks are struggling in tight games. Khris Middleton is ideally a secondary offensive option. The bottom line is no one on the roster is capable of consistently creating their shot through a seven-game series when they are being gameplanned for. 
The Bucks need that offensive number one to be championship contender or they need to take a more egalitarian approach to offense instead of centering their offense around Giannis. 
Rumors have swirled around Oklahoma City capitalizing on Chris Paul's All-NBA season to get value back. He led the number one rated team in the clutch this past season. He would definitely help with setting guys up and getting a good shot every possession in a close game.  
The issue with this move is Chris Paul's contract and injury history. It's a risky investment to make especially if Giannis leaves in free agency. That leaves the Bucks with Paul's contract for two more years plus no young assets.
There are a few other options the Bucks could look at. Victor Oladipo's name is floating all around the league since he and the Pacers couldn't come to an extension at the start of last season. Oladipo has made it clear that he wants to stay in Indiana, so it's possible he stays. They could also look at acquiring Caris Levert or Spencer Dinwiddie from the Nets. 
While the Bucks would love to acquire these players, they don't have much to offer. They would probably look to move Eric Bledsoe in one of these trades. He is an excellent defender, but his lack of shooting hurt his value. When the Bucks played Miami in the second round, the Heat sagged off Bledsoe and dared him to shoot, which took him out of the game. He's on the books for four more seasons totaling $54 million. 
It's easy to say the Bucks should look to acquire a player, but the Bucks don't have much to offer. A lot of these scenarios are unlikely as well. The Bucks should fill out their roster with more high-level shooters. Joe Harris should be a target because of his ability to hit shots on the move.
A schematic change on offense can also elevate the Bucks. Giannis should be played at the five. Brook Lopez's shooting came down after an outstanding 2018-2019 shooting year. The Bucks can use him as an off the bench scoring threat. Giannis's current skill set is similar to Bam Adebayo on the Miami Heat. Giannis doesn't have the same wiggle on-ball, but he is better at getting downhill.
The Bucks should mirror their offense to that of the Miami Heat: spread the ball, cut, and screen away. They have multiple smart passers and playmakers but none of them excel at breaking a guy down. By moving the ball, the offense organically creates advantages with less effort.
When the game slows down, the Bucks should look to a Khris Middleton and Giannis Antetokoumpo two man game. 
Conclusion
Both teams lack assets to move and dramatically improve the team with star power. With the financial struggles going to arise from a season without fans, free agency might be tough. There are little fixes each team should make, but the market is dry for trading as a lot of teams see themselves as buyers to get into the playoffs. 
However, the Clippers should be able to acquire a point guard. For the Bucks, getting a knockdown shooter and moving Giannis to center can take them to another level.
About the Writer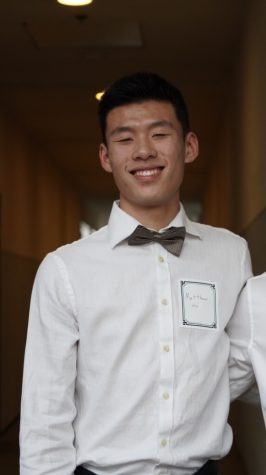 Matthew Ho, Sports Editor
Grade:  12

Years on Staff:  4

Why are you writing for The Flintridge Press? I've written for the press since freshmen year. It's a great outlet...