Why the Baseball Hall of Fame Voting Process is Flawed
Every January, baseball fandom waits anxiously to find out who will make it into the Baseball Hall of Fame. This year was no different. Despite all of the pain and suffering that we have endured this past year, we baseball fans could look forward to January 26th, when we would find out who would be worthy of enshrinement into the esteemed museum in Cooperstown, NY. Would this be the year the great Barry Bonds and Roger Clemens, two men suspected of using Performance Enhancing Drugs, would finally be elected to the Hall? Would Omar Vizquel, a man accused of Domestic Violence by his wife, be forever enshrined in the Hall as one of the greatest fielding shortstops who ever lived? Or would Curt Schilling, a man universally scorned upon for his insensitive tweets and hate-filled rhetoric, climb over the 75% of the vote needed to cement his place as one of the best starting pitchers ever to take the mound? 
The answer to all these questions, it turned out, was no. On paper, these four should all be shoe-ins for the Hall. Yet, they most likely will never be allowed entry into the most esteemed group of baseball players ever. That is due to the inconsistent and self-contradictory implementation of the character clause, which allows Hall voters to evaluate a player based on their character, along with their on-the-field performance. 
Vizquel and Schilling
Let me say that in no way do I condone domestic violence or any of the hate-filled rhetoric that Curt Schilling spews from his Twitter. I don't believe that fans should view these men as heroes off-the-field. Yet, it is tough to deny that they deserve a place in Cooperstown. Omar Vizquel is regarded as one of the greatest defensive shortstops ever to live (Career 129 Defensive Runs Saved). Curt Schilling is considered one of the greatest postseason pitchers of the last 30 years (11-2 win/loss record, 2.23 Earned Run Average, with a WHIP (walks and hits per inning pitched) under 1.00 all-time in the postseason). 
The reason they will likely never be allowed entry into the Hall is the BBWAA (Baseball Writers'Association of America, who votes yearly on who deserves to be inducted into the Hall), takes into account a person's character when evaluating whether they should be inducted into the Hall. The problem with this is that each baseball writer has their own set of ideas regarding what is and isn't moral. 
To one voter, allegations of domestic violence (that so far have come with no criminal charges) have done nothing to change his opinion of Vizquel's worthiness to enter the Hall (even though there is significant evidence of Vizquel being abusive towards his wife). Another could see any domestic violence accusation as an automatic disqualifier from being worthy of induction. Then comes the dark realization that there are most likely Hall of Fame members with worse transgressions. They range from bigots to homophobes to unfaithful spouses to even sexual abusers. Why should we keep Schilling and Vizquel when there are most likely worse people in the Hall today?
The Case for the Hall to Include Morally Upstanding Players
Another big issue that exists with the character-clause is that people who are universally considered to be upstanding are not given more recognition because of their character and integrity off-the-field. Take two men like Dale Murphy and Gil Hodges. Both have compelling Hall cases with their performance on the field, with Murphy winning 2 MVPs and belting a league-leading 332 home-runs from 1980-1990, and Hodges sporting a career 42.3 Wins Above Replacement. Yet Murphy never even got 25% of the vote, while Hodges never received more than 63%. It's honestly ridiculous that these two men who exemplified Hall-of-Fame type heart, character, passion, and leadership are left out when a specific clause is supposed to account for players like this. Sure, maybe their on-the-field numbers don't make them sure-fire hall-of-Famers. But why keep out Hall-of-Fame worthy players with bad character, but then not include similar Hall-of-Fame deserving players who are universally praised for their contributions to the game and integrity off-the-field? If the character clause has any legitimacy, it should be used to exclude unfit players and include deserving ones.
Bonds, Clemens, and the PED Situation as a Whole
On the same character and integrity issue, Barry Bonds, Roger Clemens, and a handful of other players suspected of PED use must wait another year to see if their dreams of entering the Hall will finally be realized. PED use is a tricky subject when it comes to the Hall. You have the fact that Bud Selig, former Commissioner of Baseball, was elected to the Hall in 2017. Selig, who is widely scorned for handling baseball's PED situation, knew about the league's PED problem for about a decade and didn't implement any rules until after the damage was done. Mark McGwire and Sammy Sosa already had their monumental chase for Roger Maris' single-season home-run record. Kevin Brown already signed the most lucrative contract in baseball history up to that point, with most of his production coming due to PED. Selig knew that MLB had a problem yet did nothing to stop it. He didn't even implement a comprehensive testing program until 2004. So how can you fault the guys taking PED's when there was no rule stating that they weren't allowed to, along with the fact that there are suspected PED users in the Hall today (i.e., Mike Piazza and Jeff Bagwell)?
Conclusion
Honestly, I'm still on the fence about whether or not Bonds, Clemens, Schilling, and Vizquel deserve to be Hall of Famers. On the one hand, you want the Hall to include all of the most accomplished and talented players on the field. On the other, you don't want to set an example for children of the future that doing the things these four men did is ok. With that said, there has to be some middle ground, and the BBWAA needs a solution to this issue soon. I don't have the right answer, and I'm not sure many other fans do. But every year, debates like this persist; it is a year in which MLB loses more and more precious fans. It's becoming unbearable to listen to whether or not PED users or people with destructive character deserve a spot in Cooperstown. The BBWAA needs a solution to return Hall of Fame voting to a celebration rather than a headache-inducing debate. 
About the Contributor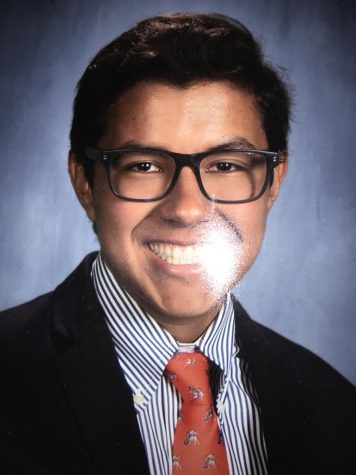 Diego Ynzunza, Sports Editor
Grade: 12

Years on Staff: 4

Why are you writing for the Flintridge Press?



I think the great thing about journalism is that we as journalists...