Doja Cat and SZA's Hit Single: "Kiss Me More"
Having sung hit songs such as "Say So" and "Good Days," this iconic collaboration between Doja Cat and SZA—two of 2021's most successful female  artists—had fans on the tip of their toes. It's safe to say that their most recent song, "Kiss Me More," did not disappoint. This single has already exceeded 37,700,000 views on YouTube as of April 28, 2021. Initially, listeners are immediately drawn into the song by its upbeat melody, leading many to already deem this the summer song of 2021.
Not only is "Kiss Me More" catchy in terms of its lyrics and tune, but it further promotes a positive view on and embraces femininity. The music industry itself is already infamous for its negative treatment of women and their work. With a reputation of shaming, degrading, and objectifying female singers and rappers, this industry has perpetuated a negative outlook on women in general as it normalizes sexist behaviors. For instance, musician Katy Perry has mentioned how Hollywood continues to pit female artists against each other by comparing their appearances rather than their music (Song). Taylor Swift too has spoken out against the mistreatment she's experienced, especially regarding her infamous ownership battle in which the rights to her own music were sold without her knowledge (BBC). As Madonna states, "we live in a world where people like to pit women against each other," which is why "it's important for us to support each other" (Lynch). Despite this, Doja Cat and SZA were able to create a single that empowers women and encourages girls to explore historically "taboo" topics like sexuality without fear.
The music video itself also continues to depict the beauty of femininity through the plot, as well as the chosen color scheme. Watching the two's infatuation with a male astronaut (who just so happened to stumble onto this mysterious planet) grow, the audience is exposed to an example of women with power. Doja Cat and SZA are depicted to be prominent and omnipotent beings on a fantastical planet rather than doe-eyed, spineless girls with a crush. Most notable about music video, however, has to be the choice in color scheme: different shades of pink. The two artists are constantly dressed in pink outfits and are even pink-toned themselves in certain scenes. As pink has always been associated with femininity, society has come to associate the color with negative connotations. Yet as "Kiss Me More" fights against these preconceived biases by depicting Doja and SZA as women in control, it subtly shows the audience that the color pink can also be associated with femininity and strength.
"Kiss Me More" is a song that should be described as influential and memorable in more ways than one. Not only does it subtly promote a positive outlook on female sexuality in the modern day, but the song itself is one that is worthy of being played on repeat without complaint. As  we jump straight into a new summer season, "Kiss Me More" is a song to be added into all playlists.
About the Contributor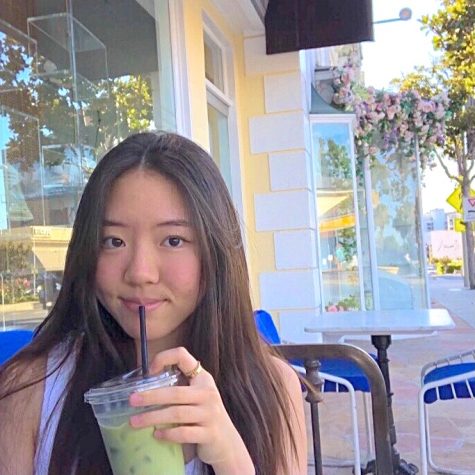 Lori Jang, Opinion Editor
Grade: 12

Years on Staff: 4

Why are you writing for the Flintridge Press?



I'm on the Press because I believe that at the core of every community...