The Big BTS Breakthrough: Just Another Story of Asian Assimilation?
Whether it be watching them dance to their heart's content with James Corden in the middle of Beverly Boulevard or speak about the importance of COVID-19 vaccinations at the United Nations last September, chances are you have come across BTS one or more times in the past few years. However, the likelihood that you have heard of groups such as 2NB or Elris isn't so high.
With 100 new K-pop groups debuting each year, beating the abysmal 5% survival rate is already noteworthy, let alone becoming successful enough to dominate both the Korean and international music industries. Aside from their impressive dance moves and comedic personalities, what die-hard fans love most about the septet is their ability to connect with listeners through their relatable and touching lyrics. Since their debut in 2013, while their counterparts were releasing singles about love and heartbreak, BTS was tackling topics such as bullying, elitism, mental health, self-love, the pressures of youth, and much more. 
When asked why they love BTS, a fan stated, "They taught me the greatest things in life I didn't even get to learn in school — hard work, persistence, speaking for yourself, loving yourself, honesty with yourself, speaking for what you believe in."
But what happens when the septet loses sight of the very thing that makes them so special?
Asian assimilation, or rather cultural assimilation, in the United States is far from a foreign concept. The influx of immigration during the 1900s coincided with an increased pattern of cultural assimilation, or the process by which a minority group alters their beliefs, traditions, and ways of life to resemble the majority group. Whether it be giving their children typical "American-sounding" names or refusing to teach their children their mother tongue for the fear that their children would be ostracized by American society, generations of immigrants have grown accustomed to neglecting their cultural identities. In fact, cultural assimilation is so deeply ingrained in our society that according to a Pew Research study in 2013, while nine-in-ten second-generation Asian-American immigrants can speak English proficiently, just four-in-ten can say the same about their family's native language.
While the rapid consumption of K-pop in the West might seem to have proven that music transcends linguistic barriers and even points toward American acceptance, BTS' claim that there was "no alternative" to releasing their three English singles shows otherwise. 
On August 20, 2020, BTS released their first ever English single "Dynamite." Written by two British songwriters rather than the group's typical team of Korean lyricists and producers, the all-English track not only includes cheerful tunes and simplistic lyrics, both of which have been proven to achieve success in the Western market, but also a slew of random American pop culture references. In an almost parodic manner, BTS nonsensically mentions King Kong, LeBron James, and ice tea in just the opening verse of the song. 
Fast forward to May 21, 2021, BTS released their second all-English single "Butter." Even though this track did feature the input of RM, the leader and main contributor of many of BTS's Korean singles, it failed to escape the pattern of the generic and juvenile lyricism that its predecessor "Dynamite" set. As if two all-English singles within less than a year wasn't enough, BTS released their third and latest English single "Permission to Dance" two months later on July 9, 2021. Although the song's core message of inclusivity and hope during the pandemic made the track slightly more bearable, its KidsBop-esque sound and questionable American pop culture references — yet again — cemented the group's disappointingly bland decline in music production.
Releasing foreign language singles, or even albums, is not entirely uncommon in K-pop, with many groups releasing multiple Japanese or Chinese songs. BTS, themselves, have released a combined total of 15 Japanese singles and albums. However, the distinction between BTS' Japanese and English singles is their major discrepancy in music quality. Through beautiful imagery and intricate lyricism, "Film Out" and "Stay Gold," two titles in BTS' Japanese discography, encourage listeners to remember their loved ones, push through hardships, and remain positive. The message behind BTS' English singles, on the other hand, is blurry and bland at best. While their Japanese singles exude BTS' unique sound, their English songs retain little to no semblance of their distinct color as artists, blending instead with various other recycled pop tunes.
BTS' sudden emergence of subpar English singles is even more disappointing given their previously firm stance on retaining their identities as Korean artists who represent Korean culture. In a 2019 interview with Entertainment Weekly, RM states, "We don't want to change our identity or our genuineness to get the number one. Like if we sing suddenly in full English, and change all these other things, then that's not BTS. We'll do everything, we'll try. But if we couldn't get number one or number five, that's okay."
While one might be quick to point a finger at BTS for losing sight of their identities as Korean artists by singing all-English songs, the better question to explore is why BTS felt the need to assimilate in the first place.
America's deeply rooted language-based xenophobia is the most prominent culprit. Rather than embrace a language and culture different from their own, many outright refuse to listen to foreign music, particularly in languages that have little to no commonality with English. The prevailing reason for this train of thought is "because I don't know what they're saying."
While this might seem like a compelling argument, Korean pop singer Chungha states it best, "In Korea we listen to pop music even though there are people who don't understand English well, just like you (the talk show host) don't understand Korean. But I think it's all the same: it's music." 
However, it isn't just the general public that refuses to give K-pop and non-English music a chance, but prominent American institutions as well. Despite boasting an exceptional list of achievements such as matching The Beatles' record of three No.1 albums in a single year on the Billboard 200, dominating YouTube streams with more than six billion music video views in 2020 alone, and earning the largest Billboard Boxscore with their recent four sold out shows at SoFi Stadium, BTS received a trivial handful of radio plays while American artists received thousands. However, the moment their first English single was released, that number shot up to 1,000 plays per day, nearly as many as their mainstream competitors. Coincidence? Hardly. 
To make matters worse, American music award shows such as the Grammys pride themselves on recognizing "outstanding achievement in the music industry," yet fail to acknowledge non-English music. To contextualize the prosperously difficult process of receiving a Grammy nomination, let alone a win, as a foreign language artist, the Italian song "Nel Blu Dipinto di Blu (Volare)" by Domenico Modugno is the only non-English song that has ever won "Song of the Year" and "Record of the Year" at the award show. After seven years of astronomical achievements with their Korean discography, it was only until the septet released their first all-English title track "Dynamite" that BTS was nominated for a Grammy for "Best Group Performance." Not only did this nomination disregard the efforts that went into creating their rich and unique Korean discography, but it also demonstrated a true limit to American acceptance. 
Furthermore, restricting foreign language artists to routine and lazy award categories such as "Top Social Artist" or "Best Pop Duo/Group" rather than categories that recognize a singer's artistic and creative abilities, highlights award shows' deep failure to take non-English acts seriously. Rather than being satisfied with BTS' five-year-long winning streak for "Top Social Artist" at the Billboard Music Awards, many fans question the authenticity of these distinctions to award the group for their achievements or rather to simply ride off of the coattails of BTS' fame.
With the direct increase of perfunctory American acceptance and their English releases, it isn't difficult to see why BTS ultimately opted for deliberate assimilation. However, the fact that BTS must sacrifice their native language, the profound and enriching message behind their lyrics, and their distinct sound to achieve this level of success is beyond disappointing and should prompt us to look at how deeply rooted xenophobia is in our society. 
As a country that claims to be open-minded and inclusive, what does the way foreign language artists must assimilate to American standards in order to achieve success say about the true nature of our society?
Sources
BTS' Explosive "Dynamite" Reveals a Limit to American Acceptance
Second Generation Americans | Pew Research Center
BTS started singing in English because they felt there was "no alternative"
Bound to Sink: BTS is Losing What Made Them Unique
Why Won't American Radio Play More BTS?
The Greatest Showmen: An exclusive look inside the world of BTS
Language Based Xenophobia in America's Response to Rising Kpop Popularity
About the Contributor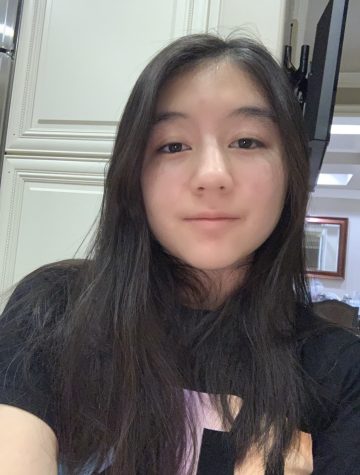 Taylor Torres, Editor-in-Chief
Grade: 12

Years on Staff: 4

Why are you writing for the Flintridge Press?

I'm on the Press because it gives me an outlet to express my opinions,...