The Real Writer in the Dark: Jack Antonoff
Dreamy pop icons Taylor Swift, Troye Sivan, Lorde, Lana Del Rey, Clairo, and more have vied for the opportunity to write and produce music with one particular person: Jack Antonoff. As a proud New Jersey native and 37-year-old multi-instrumentalist, Jack Antonoff has caught the attention of major artists and music fans for a multitude of reasons. It might be his friendly personality, his passionate songwriting abilities inspired by his own childhood tragedies, or maybe even his hit song "I Wanna Get Better" with The Bleachers, but no matter what attracts other artists to his work, Antonoff has a unique network of friends in the industry. From 2019 to 2021, Antonoff's name has been a byline to many of the biggest summer hits and saddest heartbreak ballads.
While Antonoff was first known for his role as the lead singer in the band The Bleachers, his work with Taylor Swift contributed to much of his career's success. Swift and Jack Antonoff first began working together when they created "Sweeter Than Fiction," a song for the film One Chance. While this first song united them in their love of the snare drum, their relationship grew as they collaborated on the song "I Wish You Would" which later inspired the longing themes of Swift's 5th studio album 1989. While their vengeful Reputation songs such as "Getaway Car" and "Look What You Made Me Do" received countless streams across platforms, it was folklore that landed Antonoff's and Swift's 2020 Grammy Award for Album of the Year.
Self-titled sad girl and old Hollywood fanatic Lana Del Rey met with Jack Antonoff to produce Del Rey's Norman F*cking Rockwell and Chemtrails Over The Country Club albums. "White Dress" is one of his most experimental pieces of music with high-pitched vocals and soft melodies whereas "Dark But Just A Game" is a seductive song filled with Antonoff's acoustic guitar, bass, drums, percussion, and synthesizer. While Antonoff has written plenty of songs on behalf of Del Rey, many criticized the producer for giving Lorde "Stoned at the Nail Salon," when the musicality reflects the depressed and longing themes of Lana Del Rey. 
Lorde returned to the spotlight after her four-year hiatus and trip to Antarctica with the release of "Solar Power," a single produced by Antonoff. While the song received criticism for its lyrical simplicity but praise for its upbeat vocals, Lorde still dubbed Jack Antonoff as her "songwriting husband" in July of 2021. 
Most recently, Jack Antonoff and Clairo released "Sling," a quiet and humble reflection of relationships and emotions in the form of a studio album. It has been labeled as one of Clairo's best creations, but The New York Times called out the creators for "tempos that cannot distinguish themselves" and lyrics that remain reminiscent of Antonoff's storytelling with Swift. Despite the mixed reviews of Jack Antonoff's work, his production skills are reflected in every major hit that these artists release and his lyrical abilities continue to develop with other writers. 
It is undeniable that producer and artist Kanye West has influenced rap production and producer Linda Perry has transformed Christina Aguilera's career, but Jack Antonoff fearlessly challenges himself and his co-writers. His use of acoustic guitars (see Lorde's "The Louvre") or his revival of 80s synths (all of Taylor Swift's 1989 dabbles in this production technique), showcase Antonoff as a fearless producer. His songwriting talent and gifted production skills have led many to question his own life story, much of which is kept out of the public eye. 
Antonoff's lyrics "They told me all of my cages were mental / So I got wasted like all my potential" and "Cause honey I'll come get my things, but I can't let go" force listeners to ask the questions: What has inspired Jack Antonoff? What has led him to think creatively and describe his most vulnerable emotions? The answer starts in his hometown of Bergenfield, New Jersey. 
"I love living there. There is just a certain quality about the people. I think they're inspiring," he said in an interview with Rolling Stone. At 15, he started his own punk rock band called Outline. Outline took a tour out of his mother's minivan, driven by the oldest band member (who happened to only be 18 years old) across a few states to perform in bookstores and other quaint venues. During this momentous time in his life, however, his 13-year-old sister passed away due to brain cancer. In an interview with Rolling Stone, he explains, "All my friends – their world was opening and mine was closing." While this shift in his life devastated his family when he was 18, he reflects on the experience even at 37: "I write about it a lot. I write about it from my perspective now… About what it's like to grow up through that, but drift back to that tragedy still."
Jack Antonoff has influenced not only the themes of major albums, but has also contributed to many musical shifts. Olivia Rodrigo and various other artists have been inspired by Antonoff's use of pop synths after dying down in the 90s songs and pop culture. More importantly, he has assisted major artists with their technical abilities and songwriting styles. From country to pop star Taylor Swift to Clairo's sleepy musicality, Jack Antonoff has transformed the pop scene for years to come.
About the Contributor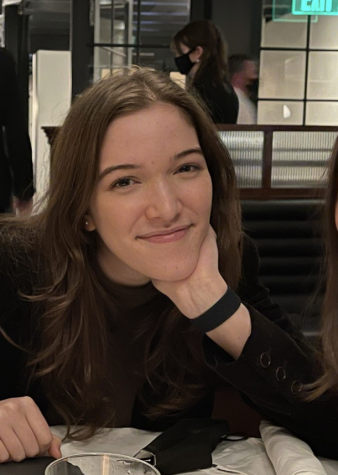 Taylor Delgado, Editor-in-Chief
Grade: 11

Years on Staff: 3

Why are you writing for The Flintridge Press?  I love to read and write. It's something I definitely want to pursue...