How to Safely Celebrate the Holidays During a Global Pandemic
Holidays–the time of year where families often get together to eat a big meal and celebrate. However, given the current COVID-19 pandemic, people are asking whether it's safe to celebrate the winter holidays together and, if so, how to do it. 
Doctor Fauci, the nation's top infectious disease expert, tells us that, even at small gatherings of four to five family members, if one person is infected, everyone present is at risk of contracting COVID-19. Amidst a second surge of COVID-19 cases, we must ask ourselves if we have to close down holidays! completely. The good news is that, instead of completely canceling all plans and staying home alone, there are safety precautions we can take that will enable us to enjoy holidays! and take a bit of stress off our shoulders. 
In the case where families really want to meet in person, they can arrange a safe, socially-distanced dinner. When families meet in private homes, it is highly encouraged that they open all windows in the house and buy exhaust fans. The best way to keep family dinner uncontaminated is to let the house ventilate as much as possible. If the weather doesn't allow for open windows, researchers say that meeting at a restaurant might be safer. In public spaces, ventilation happens as many as 12 times an hour–meanwhile, a house with closed windows only gets filtered once or twice per hour. With ventilation, the virus is less likely to remain stuck in the house. Another safety precaution that can easily be taken is to see if there are any particular people who are vulnerable to the virus, such as elders or young children, and then assess the risk. Dinner should be moved outside, if possible, so the house is less likely to incubate the virus. Everyone should wear masks, shorten the party time, and not share any utensils. 
The best way that researchers recommend to meet is online, if possible. Arrange a big Zoom or Skype call in which you don't have to wear masks or worry about COVID-19, and then invite as many people as you want. That way, you can eat in separate homes but still enjoy games online. Whatever happens, make sure to stay safe, and have a happy holidays!
About the Contributor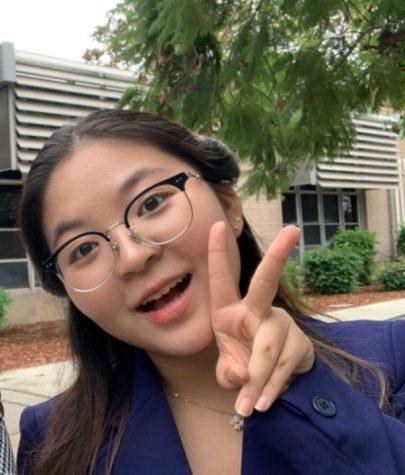 Ellie Sohn, Opinion Editor
Grade: 10th

Years on Staff: 3

Why are you writing for the Flintridge Press?



The privilege of being able to write, freely and expressively,...