The Homecoming Game
"That means you haven't known the triumphs and defeats, the epic highs and lows of high school football." -Archie from Riverdale (ironically)
The homecoming game against Chadwick, one full of twists and turns at almost every second, proves that Archie's quote isn't applicable to the Prep community. In fact, many would say that this homecoming match was one of Prep's most riveting and close games in years. Despite the loss in the end, with a final score of 37-31, this game left its mark on students, parents, faculty, and even visiting alumni as it displayed Prep's resilience in the face of the 2020-2021 school year and the desire to come back stronger. 
Huddled up, tears were shared between players while words of comfort and motivation could be heard by the audience still cheering. If the people watching knew anything, it was that everyone collectively could see the hard work these players had dedicated towards this night, this game, and their season. But the players that truly relished every second of this night and soaked up all the time they had with their team, playing on their home turf, were the seniors. 
Seniors Christian Baydaline '22, Brooks Walker '22, Nick Gonzalez '22, Alec Gharibian '22, and Eric Hong '22 were all on the field either playing with their full efforts or cheering on their team. When asked to share his thoughts on the night, Brooks Walker '22 stated that "Jack Jones '23 had his best game ever. Nnamdi '23 had some amazing catches in crucial moments, and our defense held them on many occasions. Sadly we were not able to pull off the win but we left it all out on the field." Senior Christian Baydaline '22 also mentioned, "I believe that we should've taken that game. We stayed with them the whole time despite everyone thinking they were gonna wipe the floor with us, and that game did not reflect the work we put in at practice. A few too many 'my bads' cost us this game but we will be back in action for the playoffs. We would love some support so even if it's as simple as wishing a player good luck before the game this Saturday, we'd love to have it." 
However, if the audience saw anything that night, it was the team's true appreciation for one another and the community that was more apparent than anything. In fact, Christian ended with this message: "To my team: thank you, I love y'all!" And the senior Nick Gonzalez '22 stated, "I want to thank the defense coaches for making practice fun while also being great coaches. At first I dreaded coming to practice but defense days are by far my favorite days because of them." Brooks Walker too spoke of how he "couldn't be more proud with how our team played" and thanked the audience as "the crowd was electric and helped keep the team motivated during our game." 
Just as the seniors said, the roars of the crowd, the true chaos stirred by the student section, and Spirit Line's new chants persevered throughout the entirety of the game. With signs waved in the air cheering for friends, new chants being made left and right, eyes glued to the game and scoreboard, and screams full of excitement, the game kept everyone watching captivated. It was in this moment that the community's determination to bring back everything that was so quintessential to the Prep experience was evident. The school year of 2020-2021 with Covid-19 impacted everyone in various ways and on different scales. Yet during this heated homecoming game, Prep wolves – students, teachers, and faculty – came back ready to face all the challenges in our way.
About the Writer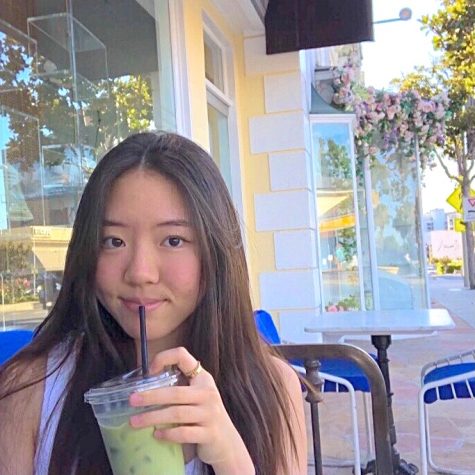 Lori Jang, Opinion Editor
Grade: 12

Years on Staff: 4

Why are you writing for the Flintridge Press?



I'm on the Press because I believe that at the core of every community...