Rebels Volleyball Beats Providence in Four-Set Win
The Rebels had trouble early in their match against Providence but quickly recovered in a four-set win, 19-25, 25-15, 25-13, 25-18.
The hitters for the Rebels stayed quiet in the first set but eventually made their presence known in the following sets. Once again, outside hitter Jada Gritton '20 led the team in kills with a total of ten. Opposite Courtney Johnson '19 and outside hitter Libby Penn '19 both got 9 kills throughout the match. Middle blockers Chloe Chanren '19 and Kaitlyn Chen '20 each got 4 kills. Setter Ani Bernardi '20 spread the ball well each set, hence the variety of top scorers.
Providence's top scorer was outside hitter Ashley Davis, who produced a total of 7 kills. Not far behind was her teammate, Maddie Morris, who got 5 kills playing as a middle blocker.
The first set ended on a frustrating note for the Rebels due to Providence receiving the final two points off of Prep's errors: Gritton hitting the ball out at game point and a double hit called on Chen that ended the game.
Providence stunned the Rebels with their strong defensive abilities in the first set, but the Rebels were able to make a swift recovery. Outside hitter Penn said, "We shifted gears and changed our mindset, and it paid off in the end."
In the second set, Head Coach Sean Beattie felt confident in the team's ability to win the next three sets that he made two substitutions: Alex Kyriakakis '20 as an outside and Melissa Grande '19 as a passer. The Rebels' momentum was high in their final points as libero Ellen Chang '20 got an ace at game point and outside hitter Penn hit the ball directly into the donut; Providence was unable to recover since their passers were playing deep.
Right side hitter Sofia Dragna '20, although not a starter, played a crucial role in the third set. Setter Bernardi was confident in her teammate as she set Dragna to get the winning kill as her first play of the game.
The Rebels kept their intensive energy up during the final set of the game. Middle hitter Chanren made sure her team finished strong, ending the match with a kill right behind the ten-foot line.
For the past three years, Prep and Providence have always gone to five sets with each other. According to Penn, the Rebels see their four-set win as an improvement and were not disappointed with the outcome of the match.
About the Contributor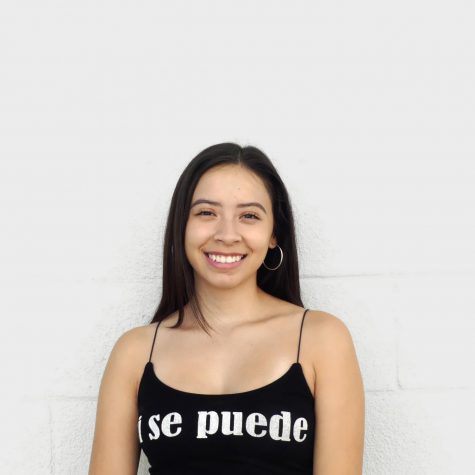 Valentina Martinez, Editor-in-Chief
Grade:  12

Years on Staff:  3

What do you like to do in your free time?  Spend time with family and friends, eat A LOT of food, watch movies,...