Chicago Razzle Dazzles
The annual Prep musical is one of the most anticipated and most entertaining events during the school year. Months of scene blocking, teaching complex choreography, costume fittings, and dress rehearsals all culminate in four spectacular showings in early March of an adaptation of a popular Broadway musical. This year's production, Chicago: High School Edition, is sure to be one for the books.
At the height of the roaring twenties in (you guessed it!) Chicago, Roxie Hart murders her lover and after her husband, Ames turns on her she is sent to Cook County Jail. While awaiting her trial she and the feisty Velma Kelly compete for the spotlight and the services of defense lawyer Billy Flynn, later joining forces to achieve fame, fortune, and their freedom.
Anticipation and excitement for Chicago: High School Edition was at a high beginning all the way in the beginning of the school year when the show's director Mr. Lewis announced it during Morning Meeting over facetime. Since then, the cast has worked tirelessly afterschool and even on weekends to make this show the best it could be. "The rehearsal process was intense in the best way possible," stated Jeffrey Pendo '20, one of the actors playing Billy Flynn. "I remember at the first rehearsal we sang 'All That Jazz' and I knew that this would be a transformative show for me."
As shownight approached, nerves were even higher in anticipation for opening night. "The night before my first show, I almost didn't sleep at all because I was so nervous and excited," commented veteran thespian Sinclaire Ledahl '19, one of the two fabulous actresses playing Roxie Hart. Charlie McCormick '20 echoed this sentiment, remarking "it was neat to see everything we had worked on for months start to payoff, but of course, the last few rehearsals are always a little sad because you don't want the show to come to an end."
This sentiment was strong amongst the show's seniors, whose final Prep musical was Chicago: High School Edition. "It was bittersweet," reminisced Luke Stiles '19, who also played Billy Flynn. "I think it was emotional because the cast around us was sad to see this class of seniors go. But I couldn't have asked for a better show to end on. It's been a real ride and I can't thank everyone who's been through it with me enough." Ledahl agreed, also stating "I am sad to be leaving, but I know that these kids are ready to take over for us seniors."
This year's musical featured a wealth of underclassmen, all of whom rose to the task during the rehearsal process. Jason Kreinberg '20, a four year veteran of Prep musicals, commented that "it was really cool to integrate so many younger kids into the musical this year and all of them really stepped up to put on an amazing show." Freshman performer Angela Henderson '22 remarked "I absolutely loved being in this year's musical. I've been in the musical all three years that I've been at Prep, but this experience was by far the best. I got closer with so many more people and really felt like we were one giant family."
While the curtain has closed on Prep's production of Chicago: High School Edition, the cast has so many memories they will never forget. "My favorite memory was at the cast party when we watched videos of Mr. Lewis in his high school theatre performances and listened to senior speeches," said Kreinberg. "It really reaffirmed the bond we all shared and how special being a part of the musical really is. Plus, it's always fun to see Mr. Lewis scold a little girl on TV." For some, watching their castmates and friends on stage was the highlight of their Chicago: High School Edition. " My favorite memory was sitting in the audience on my off-night and hearing the orchestra play the overture. I literally got chills because I knew that my friends were about to crush it and wow this audience with the work they'd been putting in since December."
Months of hard work and cough drops paid off; all four show nights were a smashing success. God save Illinois.
About the Contributor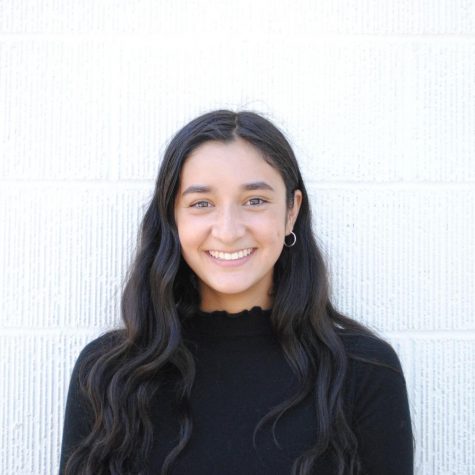 Lara Friedman, News Editor
Grade:  12

Years on Staff:  2

What do you like to do in your free time?  Rewatch The Office.

Why are you writing for The Flintridge Press? ...