Faculty Spotlight: Mr. Allen
​​If you listen carefully as you descend the staircase near Miller Theater, you may be able to hear a twinkling jazz piano tune sounding from the music room — likely one that favors dominant 7th chords in third inversion for harmonization. Or perhaps you've caught the Community Orchestra rehearsing an arrangement of a soundtrack or soul tune in the misty hour before the first school bell of the day sounds.
The mastermind behind those melodies is none other than Reuben Allen, the most recent new addition to the Flintridge Prep performing arts faculty, as well as an accomplished jazz musician. Mr. Allen studied at the Eastman School of Music and Juilliard, and has played with musicians all across the country, including Ross Margitza, Prep's former orchestra and jazz instructor.
Mr. Allen is earnest and open-minded about music of any genre, and his repertoire choices for the ensembles on campus have breathed new life into the seasonal instrumental concerts. The variety in his selections is vibrant and tasteful; for the Winter Concert, the orchestra's lineup spanned from Leroy Anderson's "Sleigh Ride" to Vivaldi's "Winter" to "Happy Journey," a song from the video game Genshin Impact. Mr. Allen's appreciation for music is infectious, whether in the realm of performance or music theory.
To get to know him some more, I asked him a few questions about his musical journey and background before coming to Prep.
Q: What has been your favorite part about teaching at Prep so far?
A: I'm very grateful that I'm able to share so many musical styles that I love and have been trying to play, compose, and arrange in. Students are so enthusiastic to jump in and play, and also to understand the music they're playing and support each other. I love being able to have so much musical variety in one day, including conducting the orchestras and jazz bands, working with eighth grade instrumentalists, and leaning more into the conceptual side in AP Music Theory.
Q: Is this your first time teaching high school students?
A: I taught at the Stanford Jazz workshop and did the mentorship program there shortly after I was an undergrad; that was a great chance to work with high school and middle school students and establish the fundamentals of improvisation. I also taught at another music camp called Eastern US Music Camp, which is held at Colgate University. That also demanded a lot of versatility in terms of piano and improvisation master classes. Apart from that, I've taught many private students and group classes in person and online in Chicago, Rochester, New York City including courses in jazz piano, arranging, and theory at the Juilliard Extension Division. It's great to be working with students in person again!
Q: Are there any other instruments that you play or teach, apart from piano?
A: I only play piano professionally, but I teach improvisation, mostly geared towards jazz. I've also taught composition and arranging classes; people tend to come to me with questions about musical concepts, like theory, improvisation, and composition.
Q: What is a memory from school — high school, graduate school, or college — that you look back on fondly?
A: Hearing music I've written or arranged come together and performed by friends or professional musicians along with having a sense of community and interplay when everyone plays each other's music. You feel connected with people on a deeper level. It's like a conversation; when you start to write a piece, your mission is to see the potential in the seed of a musical idea and develop it. Believing in that seed and allowing other musicians to improvise on it adds layers of complexity and interpretation and builds unique communities where you can share ideas together, which I was able to find all throughout college and music school. I've begun to find that sense of togetherness here as well. We're a band! What more is there to say?
Q: How did you discover that you wanted to teach music?
A: My first formal music education classes took place when I was an undergraduate and Masters student at the Eastman School of Music. I was doing a jazz piano degree for my undergrad and a jazz composition and arranging degree for my Masters. What I learned that I was especially appreciative of was that there are ways to teach music in a way that treats it more like a language in that it's heard. First you should learn to hear music, and then you should learn to read it — music is more fun and meaningful when you engage with it as if you're speaking it through your instrument or your voice. Learning these different techniques for teaching reaffirmed my love for classical music, jazz, and improvisation because I got to see them through a new lens.
Q: Do you have any hobbies or interests outside of music that you pursue in your free time?
A: I love to play tennis with my friends and family! It's super fun. I also love to run, swim, and go on hikes. Cooking can also be a lot of fun when you try a new recipe with people you like to hang out with (friends and family). And, of course, it's satisfying when you have leftovers. I'm not a great baker, though…the best thing I've made is cornbread. Maybe I'm better at cooking because it has more improvisation in it. You can get what the procedure of a soup is, but there are so many variations you can put on it — texture, flavor, timing, balance. It's a lot like music.
Q: Is jazz your favorite genre of music?
A: It's hard to pick a favorite…if I had to pick ten of my favorite recordings, maybe three or four would be jazz? I hate to put a number to it; music is a continuum, and if you look at different points in music history, there are many times during the baroque or classical periods where musical ideas were influenced by West African rhythms, and so many ties across different cultures of music that we can see even in composers like Bach. I think it's good to be proficient in a number of styles and see those connections and think of music as one universal language. There are things that make jazz special, but there are sometimes elements of jazz in other genres of music, and vice-versa!
Q: Are there any composers or artists that you particularly like?
A: Duke Ellington, Billy Strayhorn, Bela Bartok, Errol Garner, Stevie Wonder, Gustav Mahler, Emily King, Led Zeppelin, and Jaco Pastorius, among many others.
Q: What are you excited about as we head into the second semester of the year?
A: I'm looking forward to seeing all the ensembles' music come together and watch everyone continue to grow! I'm also excited about digging deeper into more music theory concepts in the AP class.
Q: Any final thoughts?
A: I think Prep is a great place to teach music because we have the flexibility to have some folks learn about playing in orchestra, some folks learning how to improvise in a jazz or rock band, and we're all playing a part in these different communities. You enjoy it more when you approach it like a language and do it surrounded by people you love. Students are so open to learning from each other and investing their time in their craft and asking curious questions. I love teaching music here because I can approach it like it's just music.
We are so lucky to have Mr. Allen within the ranks of the performing arts faculty and as a member of the Flintridge Prep community. And the next time you find yourself near the performing arts buildings, look out for those fleeting musical moments!
About the Contributor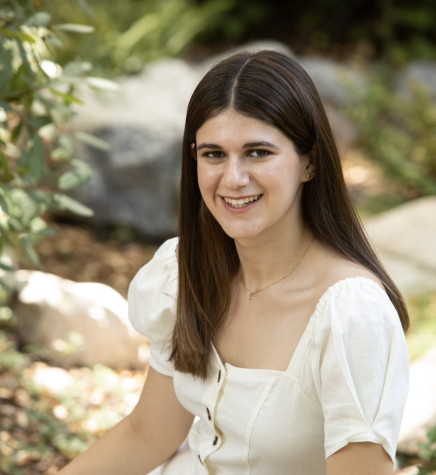 Sofie Corbett, Editor-in-Chief
Grade: 12

Years on Staff: 5

Why are you writing for The Flintridge Press?

I'm writing for the Flintridge Press because I love learning about...