Mr. Flintridge Prep Makes a Full-Force Virtual Return
Mr. Flintridge Prep is always a highlight of the latter part of the second semester. Amidst the stress and anticipation of final projects, AP exams, and general end-of-the-year responsibilities, it provides an opportunity for the Prep community to come together and enjoy itself during this home stretch. The production never fails to be entertaining — each year brings a fresh new cast of seniors with new talents, new jokes, and new personalities, keeping the show fresh and interesting each time it is put on.
What made Mr. Flintridge Prep all the more anticipated this year was because COVID-19 restrictions prevented from being live on stage last year. Even though it had been thoroughly rehearsed, the pandemic struck at the worst of times, and the performance was reformatted into a thirty minute video. This year, however, the Performing Arts department was already well-versed in putting on live online productions; events such as the musical, the winter concert, and the lower- and upper-school plays were all adjusted to be possible to follow through with on a virtual medium. Mr. Flintridge Prep followed suit, and students, faculty, and Prep families alike enjoyed the show via a live Vimeo link. There was also an optional on-campus event for anyone in the senior class to attend to watch the final video as a whole (as well as vote for who they thought should be crowned Mr. Flintridge Prep).
This year's version of Mr. Flintridge Prep was hosted by Emma Stellar '21 and Gabi Wrighten '21, and the participants were Ryan Alameddine '21, Matin Bagheri '21, David Campos '21, James Dixon '21, Leon Kuo '21, Nick Palmer '21, Marshall Smith '21, Alex Yeh '21, and Andrew Zerby '21. One of these lucky seniors would get to be crowned 2021's Mr. Flintridge Prep by the end of the night!
The production opened with introductions. Each participating senior introduced themself, and each introductory clip was accompanied by comedic snippets of a virtual interview that they had taken part in as well. This was soon followed by the first two group events: a 60-second self-portrait challenge and an egg-and-spoon race. The self-portrait challenge entailed every participant having to artistically depict themself as best as they could by creating a self-portrait in under a minute. The egg-and-spoon challenge was essentially an obstacle course: seniors had to jump through hoops and climb across tables all while making sure their egg stayed intact. Alex Yeh ended up having the fastest time for this challenge!
Following the opening challenges, there was a brief intermission-like performance done by the hosts, Stellar and Wrighten. This then led to the start of the solo acts, starting off with Bagheri's performance to "Sweatshirt" by Jacob Sartorius and Kuo's (successful) attempt to eat 60 xiaolongbao dumplings in 60 seconds.
After these acts came a solo dance routine by Campos, which was shot and choreographed expertly. Smith succeeded this performance with a comedy act entitled "Jokes with Marshall," in which he told a series of jokes, all of them delivered with an impressive amount of wit.
Yeh followed Smith's comedy with a performance of "Escape (The Piña Colada Song) by Rupert Holmes. His act, similarly to Campos's dance act, was well-shot, as well as well-styled. Alameddine did a handful of magic tricks in which he made cards and coins disappear suddenly in a single clip. The tricks were puzzling and mysterious, but notably very impressive.
The next act was entitled "I'm Gonna Miss Zoom," a Brad Paisley parody cover written and performed by Palmer. The lyrics were funny and relevant, quipping about online learning and the habits and memories students now have from doing school on Zoom every day. Another music-related act followed that one: "Turning a Howl into a Beat," which consisted of Zerby taking a sample of Alameddine saying "Awoo!" and turning it into a groovy and stunningly well-made track with Logic Pro X. Zerby manipulated the sample in all sorts of different ways with the software to turn it into a proper-sounding drum, bass, synth, and other instruments. He used all of these created instruments to compose a looping melody that was rhythmic and catchy and almost completely non-reminiscent of the initial raw sample. A conveniently-edited and frankly inspiring workout montage of Dixon came after Zerby's act. 
At last, it was time for the long-awaited group dance, which was choreographed remotely by Dri deFaria '22, Alyssa Christopoulos '21, Ella Treinen '21, and Jackie Hsu '21. The energy and effort of all of the participants shone through, even across the screen. Everyone danced to a medley of songs including "Look What You Made Me Do" by Taylor Swift, "SexyBack" by Justin Timberlake, "Up" by Cardi B, and "It's Raining Men" by The Weather Girls. The group dance was filmed on the senior lawn.
To end the night, the awards were announced and the next Mr. Flintridge Prep was crowned. James Dixon won Mr. Flintridge Prep, Marshall Smith and Andrew Zerby were tied for runner-up, and Marshall Smith and Leon Kuo were tied for Mr. Congeniality.
The online format of Mr. Flintridge Prep was surprisingly effective. Even though audience participation was essentially impossible, the production almost felt more like a comedy sketch that you would find on YouTube than an in-person performance would because of the liberties that are granted by the ability to strategically edit footage. All in all, the organizers of the event put on a fantastic show yet again. Congratulations to the winners and everyone who participated!
About the Contributor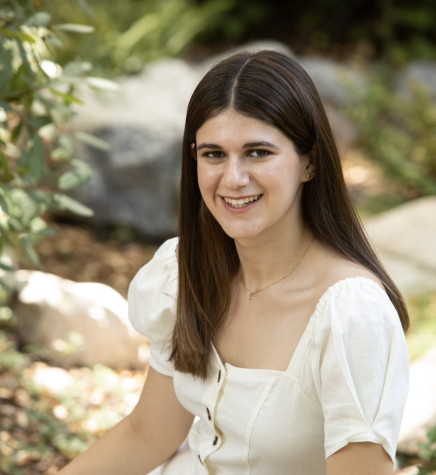 Sofie Corbett, Editor-in-Chief
Grade: 12

Years on Staff: 5

Why are you writing for The Flintridge Press?

I'm writing for the Flintridge Press because I love learning about...