Prep Artists Display Their Finest Work
On the afternoon of February 14th, 2019, Prep's visual art studios were bustling with excitement. At 2:30 pm, the ceramics, photography, and drawing and painting classes would display their second and third quarter work for the school. Sculptors, photographers, and painters hurried through the art rooms in anticipation.
When the last bell rang for the day, the show began and sounds of intrigue and admiration filled the rooms. All three arts had work spanning all grades on display. Among the three rooms, seniors displayed their progress on their individual "concentration" for AP Art, a 12 piece collection based on a single theme.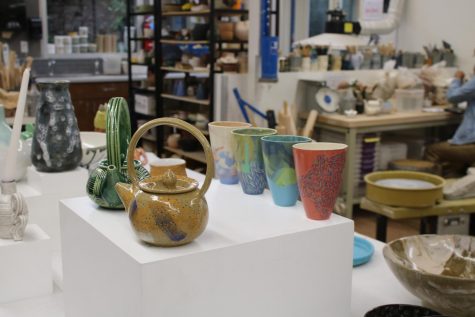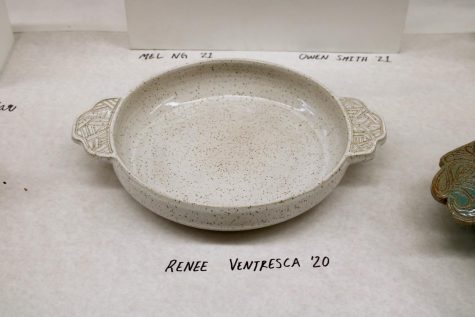 In the ceramics studio, Ms. Popova shared an exciting new development in her classes: juniors and seniors worked on individual projects this year, allowing them to follow their own artistic visions. For this reason, she noted the diversity of works, ranging from tesselated tiles to busts to casserole dishes.
English teacher and art exhibit attendee Mrs. Burton was a big fan of the casserole dishes: "Renee Ventresca's casserole dish with the art deco handles and this beautiful white speckled glaze is everything to me. I love this."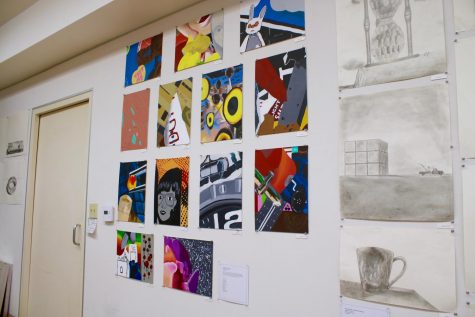 Moving from the ceramics studio to the drawing and painting studio, the smell of clay was replaced with the smell oil paints. One project displayed in drawing and painting was "Monumental Objects" in which artists from the 9th grade class took objects and made them mighty in size and stature. In another drawing project, the eighth grade created a "Collaborative Album," consisting of various album covers combined into one.
Ms. Manfull discussed the two painting projects — juniors' oil paintings using only blue, burnt sienna, and white, and the sophomores' paintings of a zoomed-in portion of a collage. Ms. Manfull expressed the success of the collage project: "They're all so different and the abstraction process I think they really enjoyed. The act of collaging is like play, so you move stuff around and layer it, I think that was really fun…it turned out really great."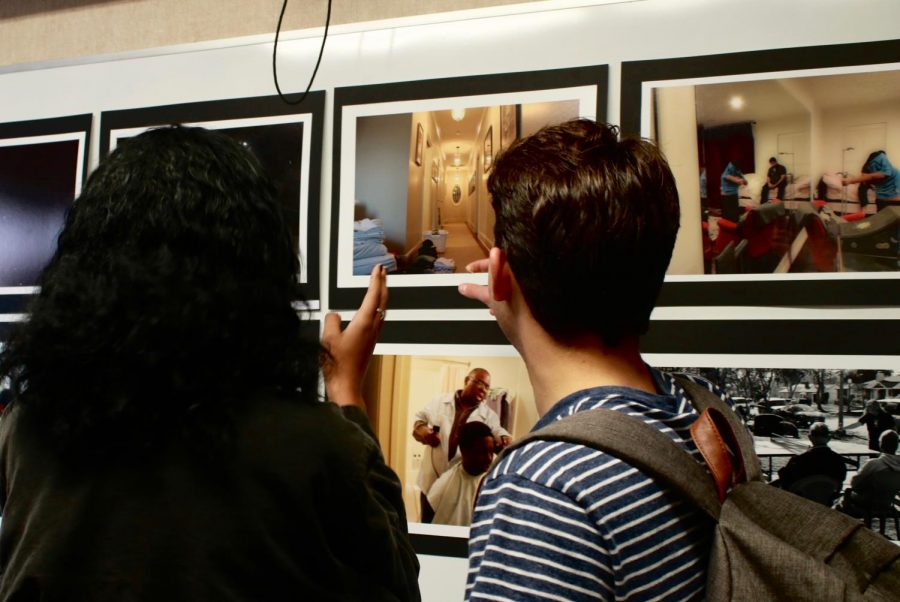 Photography had just as much going on. There were a number of intriguing projects on display. In "Working Assumptions," juniors explored their own work-family relationships. In another project, the 9th grade photography class collaborated with Dr. O'Brien, producing a photograph/poem combination.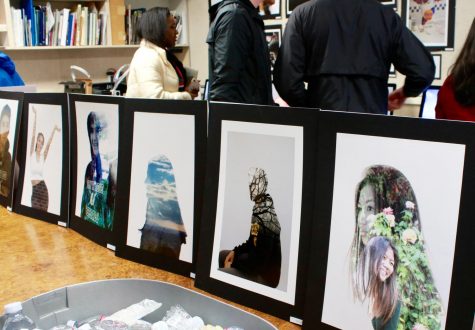 They also sent the photograph to a bot in China that turns photos into poems —the fun part is figuring out if a poem was written by a student or a machine. Sophomores produced sentimental and evocative images as they layered a photograph of themselves with a photograph of a place they love.
The work of the seniors was certainly eye-catching in every room. Because the seniors have reached the peak of their artistic careers at Prep, they are all trained, passionate, and inspired to create art that resonates with themselves and other people. Photography student Oliver Brookbanks '19 shared the theme of his photographs for his concentration: "They're based off of addictions and disorders, and I sort of want to represent that to sort of shed light on them because some people really don't know the effect they can have on people." Kailyn Chiu '19, an AP Studio Art student, had a similar concentration: she focused on the things we abuse in our daily lives. She noted, "I'm looking forward to seeing my final product and seeing all of my 12 pieces. I've come up with something that's so important to me and something that I developed all on my own."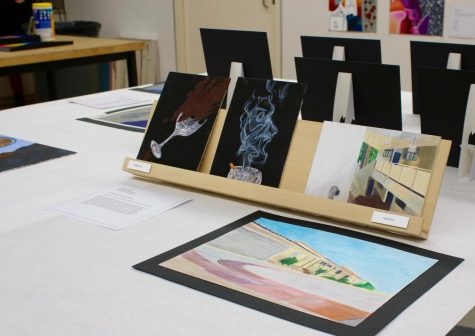 The diverse styles in the photography, ceramics, and drawing and painting rooms is a testament to the diverse and vibrant artistic culture at Prep.
The creation of art at Prep is an everyday venture, and that was evident at Prep's second and third quarter art exhibit.
About the Writer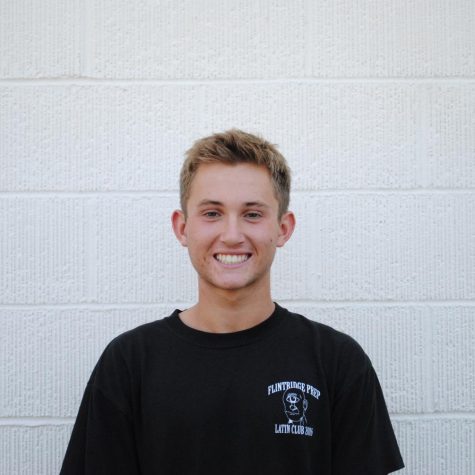 David Egan, Editor-in-Chief
Grade:  12

What do you like to do in your free time? In my free time I like to read poetry and play basketball.

Why are you writing for The Flintridge...