Prep Teachers Respond to "Persepolis"
Summer reading is seen as either a promising excuse to dive headfirst into another book or a painstaking chore that's completed in the wee hours of the night before the first day of school. The task of selecting which book (or books) to read is a crucial one for Flintridge Prep. Our PrepReads program stipulates that the chosen book is read by every student in every grade—seventh graders through twelfth graders are all to read the same piece of literature. On top of that, the selected book has to have some kind of educational value—be it teaching about history, complex moral situations, or other subjects that require deep thought and analysis. How does Prep pull off selecting a book that caters to a demographic this expansive?
PrepReads books, at least up until now, are all books that can be interpreted and taught in different ways. For example, the book that was selected three years ago, Fox 8 by George Saunders, was a simple-looking picture book on the surface, but delved into much more serious topics regarding environmental ethics. Each English class for each grade had a different curriculum to follow based on the same book, and that way each group of students was able to discuss and analyze the text in a way that made sense for them. Ninth graders, for example, made postcards written in the style of the novella's narrator with advice for the lower grades who were new to Prep at the time. The House on Mango Street by Sandra Cisneros, a collection of vignettes that compile into a broader understanding of the protagonist's life experiences, was another great book for PrepReads because the teaching focus could shift depending on the grade level being taught.
This year, Persepolis by Marjane Satrapi was the required read for the Prep community. The book is an autobiography told in graphic novel format, following Satrapi's experiences as a young girl living through the Iranian Revolution. It is a riveting story that explores themes of love, war, self-discovery, and family. The reader gets to experience Satrapi's childhood secondhand through the lens of charming cartoon panels.
"It stirred a part of me—the child, the feeling of otherness, the punk rock rebel—that I had not connected with in a while," says Dr. Van Arsdall, one of Prep's French teachers. "[and] [t]he way she describes the alienation of not recognizing your parents and your parents not recognizing you resonated with me now more than ever because I had not seen my own family for a whole year due to the pandemic. I cannot fathom the strangeness of exile in the same terms she experienced but the sensation of 'they've changed, you've changed' rang true."
However, because of its unusual format, teachers had varying thoughts on Persepolis. Was the graphic novel format too simplistic and juvenile for the students of higher grades? Were the complex political descriptions too much for the students of lower grades? While the lower school only read the first, more tame volume of the book, did it still go over their heads? What exactly was the point of reading Persepolis anyway?
Several Prep teachers greatly enjoyed the read. It had different value to everyone, but a major point of praise for the novel was its ability to evoke empathy from the reader.
"In my opinion, one important facet for great literature involves the text's ability to inspire empathy," says Ms. Balliet, a new addition to the English faculty. "I think as PrepReads must reach and inspire a large audience from a variety of experiences and ages, Persepolis is an excellent choice as a mirror/window amalgam."
Some teachers weren't as passionate about the storytelling format of the novel, though they still found the content important and were able to appreciate the book as a whole.
"Personally, I found the book difficult," says Ms. Fox. "[T]he language, the pictures…the history, and the story itself. I felt pressure to try to understand the history and try to figure out if there was extra meaning behind the pictures. Once I got to the second book, I enjoyed it much more…I imagine this book is wonderful for history teachings right now."
Another important matter to consider is the importance of learning about the part of history described in Persepolis. The Iranian Revolution is not discussed at great length in many school history curricula, and many readers of the novel didn't have a great deal of historical context for many of the events that took place near the beginning.
"​​I don't think of this book as being especially important to read in this particular point in history. I think that any good story is important to read at any point in history, because I don't think we've changed much in the few thousand years since we started writing things down," says Mr. Salzman.
"I knew next to nothing about Iran's history—and truthfully still feel mostly ignorant—so it was all very new to me. I suspect many others are in the same boat," says Mr. Johnson. "Persepolis was a good read for me because any opportunity to gaze upon the world from a new angle is an opportunity for growth." He, among many other teachers, found Persepolis valuable just as much in the historical aspect as the other teaching points the book had to offer.
"I had originally read Persepolis in French as a graduate student," Dr. Van Arsdall recalls. "Honestly, I found myself looking up references to music, art, and culture of Iran that I was unaware of or only vague[ly] knew about through college friends."
Of course, no single book could possibly appease the entirety of the Prep population — that would be quite a feat indeed! Despite that, the school works hard to find a book that can get as close to that ideal reaction as possible, and Persepolis, in general, seemed like a step in the right direction.
About the Contributor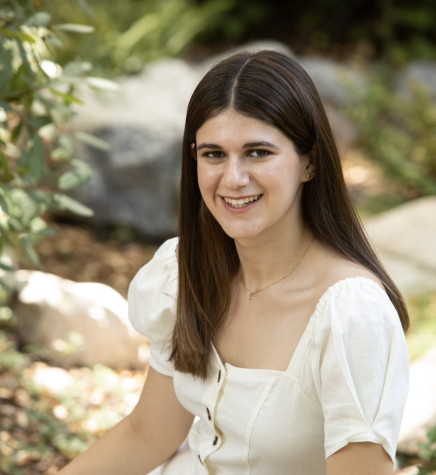 Sofie Corbett, Editor-in-Chief
Grade: 12

Years on Staff: 5

Why are you writing for The Flintridge Press?

I'm writing for the Flintridge Press because I love learning about...