Transforming the Creative Process & Content of 2020's Music
Amidst the COVID-19 pandemic and Black Lives Matter protests across the United States, musicians are creating music surrounding feelings of isolation and the social climate of 2020. Quarantine has ignited inspiration for a variety of creators, but the way music has recently been recorded and the topics tackled in their songs have shifted completely. Taylor Swift, SZA, Anderson .Paak, and a variety of other artists have highlighted COVID-19 and the Black Lives Matter's movement impacts on music. 
Quarantine has forced musicians to develop their creativity from home with bursts of energy and inspiration. Billie Eilish was influenced by the lockdown in her late July release, "my future." Eilish discussed the writing process with Zane Lowe: "We wrote the song in like two days…It was pouring rain. We were in this like.. Oh, it was such a perfect setting." The release of Eilish's song was a surprise to fans, similar to Taylor Swift's, Folklore, an emotional coming-of-age album. This fusion of indie music with dreamy pop was made possible through Aaron Dressner, a prominent songwriter in the album's development despite socially distancing from Swift. According to Dressner's Instagram, "I had no expectations as far as what we could accomplish remotely. But a few hours after sharing music, my phone lit up with a voice memo from Taylor of a fully written version of a song." Months of writing led to Swift and Dressner creating eleven of the sixteen songs on Folklore released on July 24th. Indie pop artists are not the only talented musicians composing new melodies. September fourth saw the release of SZA's "Hit Different," which was recorded as COVID-19 began to spread worldwide in February. According to Complex, this particular song was recorded in DJ Khaled's Miami home with The Neptunes, a group of producers. Not only did SZA release the song, but she also filmed and released the music video during quarantine. 
Moreover, the themes of 2020 music have evolved, where musicians have looked towards social justice projects. Anderson .Paak explores both COVID and the June protests in his song "Lockdown" where he sings, "Speakin' of the COVID / Oh, won't you tell me 'bout the lootin' what's that really all about? / 'Cause they throw away black lives like paper towels." Wale parallels this in his smooth song "MOVIN DIFFERENT" with heavy beats. His song mentions the looting of popular stores such as Target and even uses recordings of news broadcasts during the protests. This creative take on 2020's protests shows the unique and innovative direction music has recently followed. H.E.R. released the song "I Can't Breathe" with a sympathetic and beautiful tone. Her song asks, "How do we cope when we don't love each other? / Where is the hope and empathy?" These passionate artists all offer clever and deviceful ways of engaging with their audiences during a time of unrest and turmoil seen all over cities in the United States.
Ways of recording and self-expression expanded greatly this year. While some artists specifically reference quarantine and activism, others are releasing music that had been put on hold for months. No matter the release date, 2020 has brought on plenty of challenges. Today, artists have overcome these obstacles, offering a special source of unity and understanding through their music. 
About the Contributor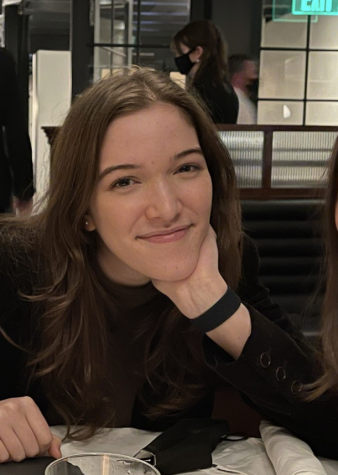 Taylor Delgado, Editor-in-Chief
Grade: 11

Years on Staff: 3

Why are you writing for The Flintridge Press?  I love to read and write. It's something I definitely want to pursue...