Rushing for Opportunities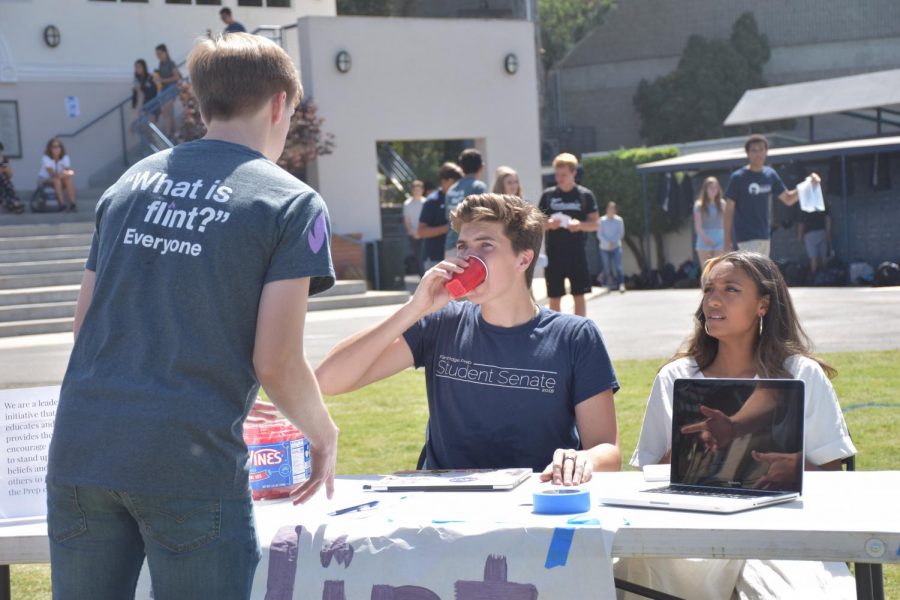 Prep students are known for their diverse interests. Whether it be playing board games (shoutout to Dr. Williams) or doing community service at a local hospital, Prep students have interests that extend far beyond simply academics.  This diversity is what makes Prep unique. In honor of this, Prep holds a Club Rush and Community Engagement Fair every year to showcase the clubs on campus and community service in the area and to give everyone a chance to explore new things and take advantage of the opportunities available to them. This year, Club Rush and the Community Engagement Fair were held on September 21, along with picture day.
Club Rush is the day for club presidents on campus to present their clubs to the Prep community.  The whole football field is scattered with tables for the club presidents to display their club's poster, tell people what their club is all about, and encourage new members to join.  During lunch, students roam around, signing up for clubs they're interested in. In addition, Senate brought in snow cones and cotton candy for refreshments in lieu of the hot weather.  
Club Rush has been in the works since even before summer. Maya Khurana '20, Assistant Commissioner General, organizes Club Rush, manages club involvement throughout the student body, and runs Club Council, among many other responsibilities.  In regards to Club Council and Senate's plan for the day, Khurana says that one of their biggest goals for this year is to make sure the club spheres are known and organized.
The club spheres — recreational, artistic, publication and spirit, cultural, advocacy and educational — are a way of separating clubs into their respective areas of interest.  This not only allows students to more easily find the club they're looking for, but also for fostering cooperation between clubs. Khurana says, "We're hoping that clubs can get together and hold joint events. [Spheres will] also make it easier for people to accommodate meeting times. We definitely will use spheres later on in the year to facilitate those kinds of interdependent events."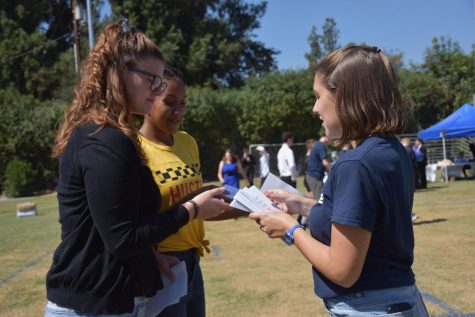 In regards to how club spheres related to the whole Club Rush event, Khurana notes, "Our big goal is getting the community engagement fair journal up and ready and making sure people know which spheres are what because a problem we found last year was that all the clubs were organized in spheres, but no one knew what spheres were which, so we're using our signs and our journals to try to remedy that problem."  During the event, Senate and Club Council members were handing out flyers detailing the clubs displayed on the field, labeling each club within their sphere.
Khurana states, "[Club Rush is] super important because it just gives everyone the chance to become involved in the community, not only in the Prep community, but also in the Los Angeles community with the organizations that SCAC brings in the gym. It just gives students the chance to figure out what other people's interests are and what their interests are by figuring out what clubs are there, what they're into."  Izzy Moon '19, club president of SAGA (Sexuality and Gender Awareness) and Girl Up, agrees, saying, "Club Rush is important not because we get new club members, but you get a good amount of the Prep community who receives what I like to call my newsletter [which are] just emails about what happens during club meetings and what's going on. I think it's important because it's the biggest publicity event for clubs on campus."
Moon also notes the importance of her clubs, saying, "As a bisexual girl, both of my clubs deal with issues that are very close to my heart. …  I think it's important for feminists to recognize that there are lots of problems going on beyond what's right in front of us and be able to look out internationally, and do what we can to help and fundraise, and educate."  Like in Moon's case, many club presidents use their clubs as a way for them to express their interests and what they care about, so Club Rush is an important way for them to share that with the whole Prep community.
Along with Club Rush on the field, the gym also hosted the Community Engagement Fair for many community service organizations to come and give students information about local opportunities so they could become more involved in service.  SCAC, the Student Community Action Council, functions as a resource to the student body, helping them implement community service into their daily lives in a way that's both meaningful and regular.
Much like Club Council and Senate with Club Rush, SCAC started planning for the Community Engagement Fair early in the summer.  Bavan Rajan '19, Commissioner of SCAC recalls, "We started contacting non-profits early this summer, actually, around mid-July, I would say, and the planning has just been going on since then, making sure everything's in order."  Among the organizations were Lineage Dance and Door of Hope, which are regulars to Prep's annual Community Engagement Fair.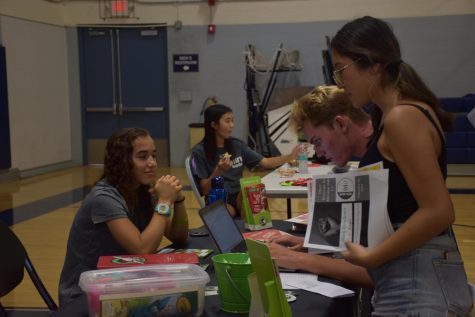 Reflecting on the importance of the fair, Rajan says that it's the first exposure for a lot of 7th-graders and freshmen to community service organizations. "I see it as just making things easier on students. They don't have to use their own time to go look for volunteer opportunities — they can just stop by during lunch and talk to an organization and continue to get emails from them and what those organizations are doing and potentially find ways to help out."  Nicole Song '19, 9th grade liaison for SCAC, adds, saying "Prep students are so busy and it's really hard to find community service organizations and find the courage and time to reach out to them, so the fair brings organizations to school, to the students, so they can be directly informed and introduced to various organizations."
One important change this year was the separation between clubs and initiatives.  Initiatives are clubs that have a singular goal of community service. Rajan explains, "[Initiatives] are student-run service projects and we're trying to make that more of its own thing. Separate from the activity proposal and separate from clubs. We want students to have a driving force behind service on campus." Examples of initiatives are Operation Christmas Child and Cause for Paws.  Initiatives were located in the gym with the rest of the community service groups, while the clubs were outside.
Aside from Prep's regular events, we should also be looking forward to a Club Rush 2.0 in the middle of the school year for any new clubs that have just started or old clubs that are looking for new members. Khurana says "[This second club Rush will be] in January when new clubs and old clubs will reconvene on the field or in the new atrium and publicize themselves once again to the school so that students can get opportunities for the second semester."  Regarding this second Club Rush, Moon says, "It's gonna be a little easier, like being able to talk about what we've already done and we'll be able to get more people in the loop who want to be in the loop."
About the Contributors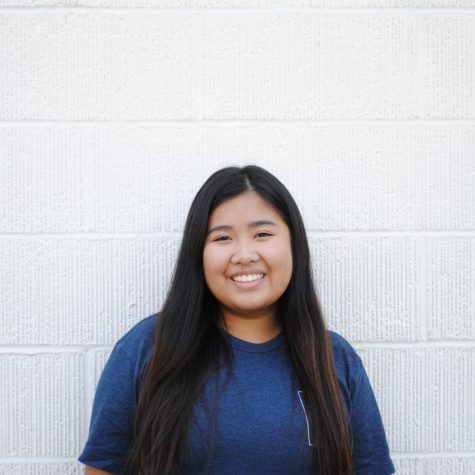 Catherine Zheng, Editor-in-Chief
Grade:  12

Years on Staff:  4

What do you like to do in your free time?  In my free time, I like playing board games with my friends, watching...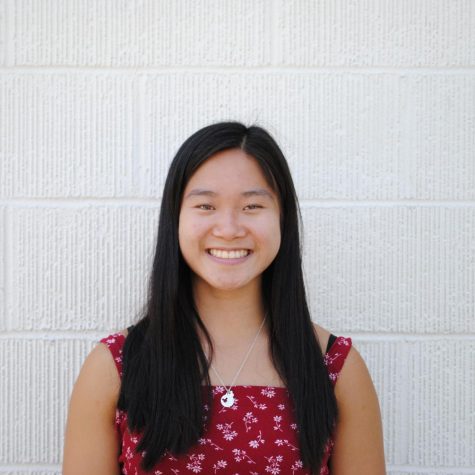 Sydney Lau, Copy Editor and Photographer
Grade:  12

Years on Staff:  1

What do you like to do in your free time?  I like to take photos, exercise, read, and spend time with family and...