Pippin Casting List & Casting Process
The musical is an annual spectacle here at Flintridge Prep. Every year, so much time, thought, and talent goes into creating the masterful productions that take place in Norris Auditorium, and of course, this year is no different. Preceded by the flashy, "razzle-dazzling" Chicago that engaged the stage last year, this year's selection, Pippin, is likely going to bring forth a more mysterious and dramatic ambiance.
Pippin, written by Stephen Schwartz, is a musical about a prince who looks forward to leading a prosperous life after he finishes school. Upon returning home and fighting in a battle alongside his father and stepbrother, he encounters sticky situations regarding his family. Narrated by the interactive character known as the Leading Player, Pippin is a dark and humorous story about growing up and how not everything is exactly how it seems.
Prep's musicals are always extraordinary, and every year, they bring something new and fresh to the table. The casting process each year is a little bit different because of what the selected musical demands the most. For Chicago, dance was the factor that was weighed the heaviest, whereas this year, for Pippin, vocals are more of a priority. Fortunately, here at Prep, talent in singing, acting, and dancing is not hard to come by.
Prep's musicals don't just mimic the way productions have famously been done: there is much more of an individual focus. The people responsible for casting the musical each year also always look for what each person has to offer when they audition. "When original productions of Broadway shows are made, they hire an actor who forges the role out of nothing through workshopping and it eventually peoples the popular idea that we identify with like Lin Manuel-Miranda in Hamilton or Idina Menzel in Wicked," says Mr. Lewis. "Our students deserve the opportunity to forge a role like it's the first time so the production truly becomes a tailored Flintridge Prep production versus trying to fit somebody else's mould."
Following Prep tradition, Pippin has two separate casts: one for opening night and another for closing night, both casts alternating throughout all six performances. Pippin will be played by Jason Kreinberg '20 on opening night, and by Jeffrey Pendo '20 on closing night. Emmie Oertel '20 and Angela Henderson '22 will play the Leading Player, Jack Elliott '20 and Matin Bagheri '21 will play Charles, Ella Treinen '21 and Madeline Montes '21 will play Fastrada, and Charlie McCormick '20 and Ben Baraga '20 will play Lewis on opening and closing nights respectively. Additionally, the actors playing Berthe, the Head, Catherine, and Theo are Carina Mankerian '20, Eli Marion '22, Sylvie Shure '20, and Ellie Choi '24 on opening night, and are Tess Robertson-Neel '20, Liam Chia '22, Violet Bretz '20, and Charlie Martin '24 on closing night. We look forward to seeing this amazing cast perform later in the school year!
About the Contributor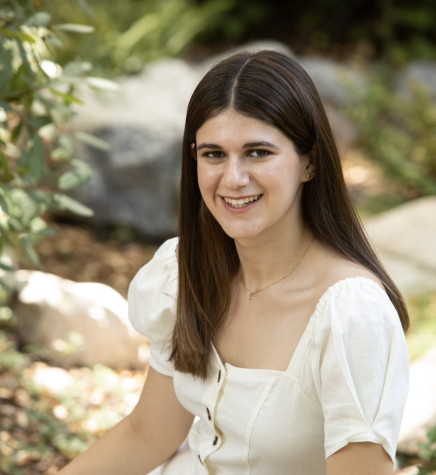 Sofie Corbett, Editor-in-Chief
Grade: 12

Years on Staff: 5

Why are you writing for The Flintridge Press?

I'm writing for the Flintridge Press because I love learning about...