W-BOO! A Halloween Radio Hour: Fall Play Preview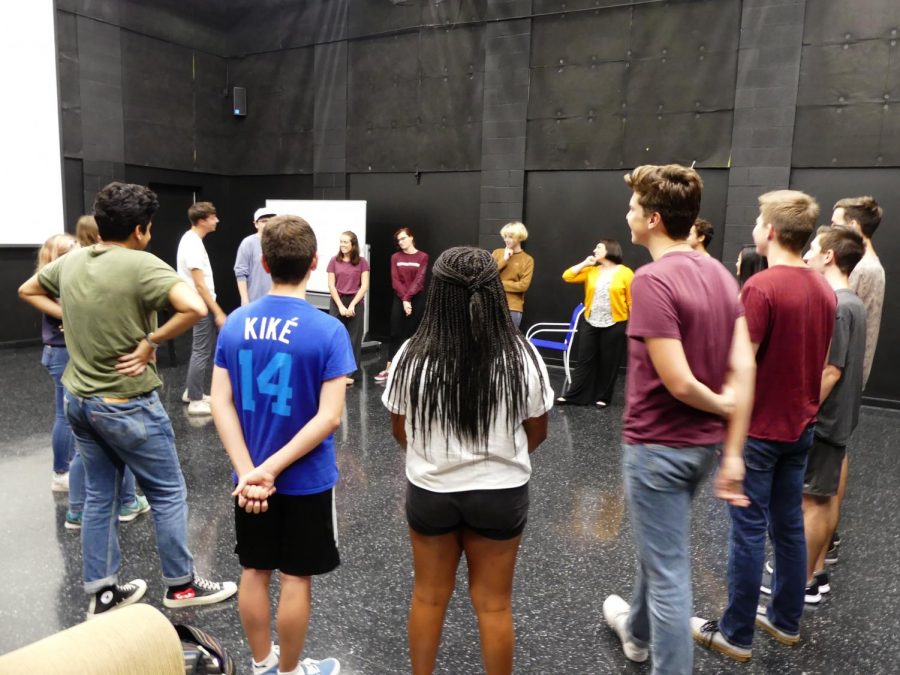 Prep's plays and musicals have always been a beloved part of the school culture.  Every year, the drama department puts on amazing shows, and this year they're going all out.  The fall play, W-BOO! A Halloween Radio Hour, is something different from plays done in the past as it's completely written and directed by Ms. Bascom with music and lyrics written by Mr. Hill and Mr. Margitza.  In addition, it relies heavily on improv and audience interaction and takes place at two different locations of Prep's campus simultaneously.
W-BOO! A Halloween Radio Hour is a Radio Variety Hour that takes place on Halloween.  The story centers around a character that goes missing, and the hosts of the radio show scrambling to figure out that issue.  The aspect of the play that makes it so unique to anything Prep has done before is that it requires audience interaction, and it's completely immersive. Throughout the play, the cast will pull people up from the audience to play the part of the character that goes missing, allowing the audience to truly interact with and be involved in the story.
Gabriel Wallen '19, one of the main actors in the play, says he's excited to see how the play will turn out, as it's certainly very different from most plays. "I'm sure it'll be great but I think it could be really cool if we can pull it off." Wallen plays a character named Ted. He explains, "[Ted is] sort of like a cheesy commercial guy who comes on during the breaks.  He advertises cigarettes and cereal and razorblade. The whole thing's supposed to be very comedic, and he's sort of the comic relief of the comedy of the show."
Another unique part of W-BOO! A Halloween Radio Hour is that it's split between two locations — Miller Theater and the study rooms in the library.  The scene in Miller Theater is the recording studio at the radio station, and the audience can watch the recording happen.  The radio will be broadcast to two of the library study rooms that each have a different setting. Ms. Bascom explains, "One of them will be an old lady's living room where she invites you in and gives you treats and you sit in her parlor and you turn on the radio and listen to the radio hour as it's being broadcast/streamed live to the library. The other room is a girl's bedroom and a slumber party that we've been invited to where we turn on the radio and we listen to it while we look at magazines and braid each other's hair and grab teddy bears and eat treats."
Bascom adds, "What you're seeing in [Miller] is what's going on sort of behind the mike and what they're hearing in the air is just what's on the mike … So the people that are listening in [the library study rooms] are just hearing commercials, live commercials."  The play makes it so that the characters in the study rooms are hosting the listening experience in a very interactive way.
In addition to these unique staging elements, this is the first show to incorporate the Flintridge Singers, the music department, and the acting company all together.  In Miller Theater, the actors will be on stage, the chorus will be singing from the catwalk, and a live student band will be playing on the side. Mr. Hill and Ms. Bascom have been writing lyrics for all the songs, and Mr. Margitza has been writing instrumentation for the band.  All music is being learned in their classes, and the music groups will eventually join the cast at the end of the rehearsal process. Bascom reflected, "I think the cast is surprised at how much the show relies on the unknown. … I think a lot of the actors yesterday didn't realize like the whole chorus is going to be in the show. So it's kind of an enormous undertaking."
Luke Stiles '19 says that the music is an aspect of the play he's most excited about. "There's going to be live music, so we're working with Dr. Margitza and Mr. Hill to like make sure everything works …There's a lot of sound effects." Stiles plays a character named Joe who's one of the hosts. He says, "I get to run around and tell you the acts are coming up things like that and a lot of stuff goes wrong so I have to deal with all of that. … I'm kind of like this angry dude who's mad at everybody."
Ms. Bascom's inspiration for this show came from her love of old radio shows.  She says, "I think there's all this interest right now with podcasts and so we're kind of returning to listening to things again … I think it's fun for people to sort of pay tribute to this art form that's somehow come back."  She adds that the radio aspect of the show will allow the students to learn voice acting as there's a lot of work in the field, and it's important for them to know that voice is one of their most important instruments.
Regarding the interactive element of the play, Bascom notes, "There's all these kinds of different mediums of theater that I think are really useful for students who want to go out and pursue theater because a lot of theatre is more immersive and interactive and experiential now than it ever has been.  With a lot of newer theater, especially in Los Angeles, the audience doesn't just sit and watch. They're somehow involved."
The play is also designed to play up the strengths of the actors.  Each year, the plays are chosen based on the talents of that year's senior class. Last year's senior class, the Class of 2018, had strong female actors and diverse actors, so the play was a female-heavy comedy with some majorly dramatic moments. Bascom reflects, "I wanted to give them like a real sink-your-teeth-into kind of play." This year, the seniors, are really strong improvisers and writers, so W-BOO! A Halloween Radio Hour relies heavily on improvisation. A lot of the jokes in the show are going to be tweaked in rehearsals to figure out what works.  The improvisational aspect also gives the audience a different show each time they watch the play, so even if they go all three nights, they could get a completely different experience each time.
Kendal Kully '19, adds, "We have a lot of ComedySportz kids which means that we're decent at improv."  Kully plays Frankie, the stage manager. Having been a part of Prep plays in the cast, Kully says that she's really looking forward to working with this year's cast. "I think we have a great group this year, so I'm just excited to like get back to doing plays and having a good time."
In regards to her plans for next year's play, Bascom says, "So I was just thinking I'm gonna write something simple this year and then it just kept getting bigger and bigger. So next year, I think I'm going to go back to someone else's script. But at some point, I think it depends on who the actors are. … Next year, the seniors that are coming up, they're all really strong dramatic actors."  No matter what the play ends up being, it'll definitely be as impressive as the others that Prep has put on in the past and is continuing to do now.
Don't forget to catch the performance of W-BOO! A Halloween Radio Hour on October 29 from 6:00 PM – 8:00 PM and on October 30 and 31 from 3:00 PM – 5:00 PM.  It's bound to make you burst out laughing, and it's truly an experience you won't want to miss.
About the Contributor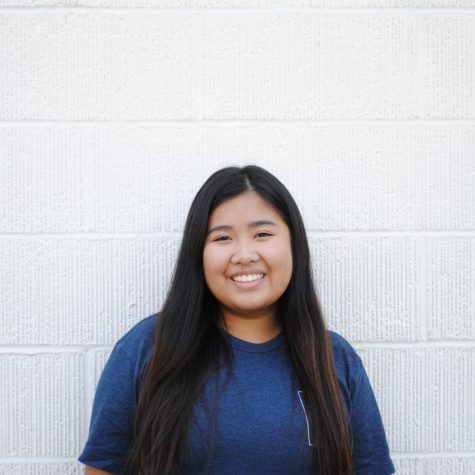 Catherine Zheng, Editor-in-Chief
Grade:  12

Years on Staff:  4

What do you like to do in your free time?  In my free time, I like playing board games with my friends, watching...